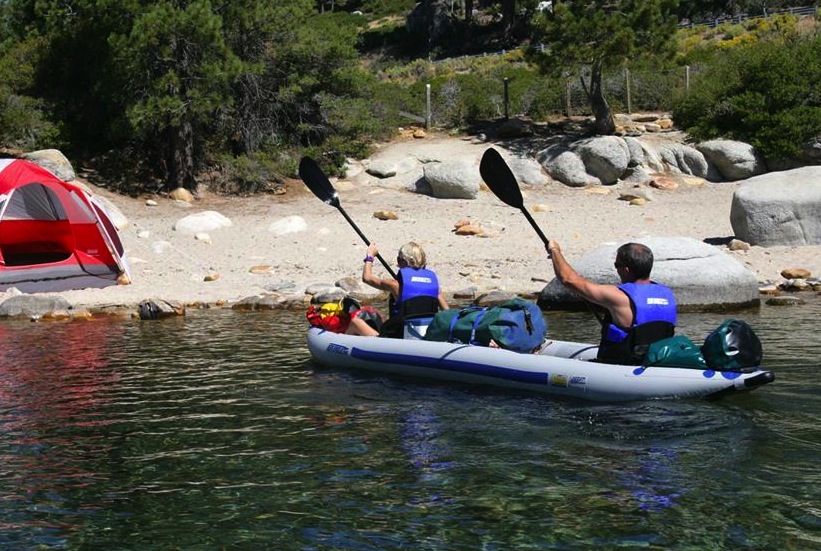 Image from SeaEagle.com
If you are anything like me when planning an overnight kayaking trip then you need a list. Without the list, I almost always forget something that I wished I brought.
There are several essentials that are extremely necessary to bring when doing a multi-day paddling trip as well as several optional accessories that are great to bring if you have the room as they will make the trip more comfortable and fun.
I have composed a list of essential items that I always bring with me as well as optional items that you may or may not want to take along for the ride.
Top Essentials
Tent – A lightweight tent for shelter and sleeping is an obvious essential if you will be camping along the way. Make sure the tent folds down small enough to easily fit in your kayak.
Pillow – A camping pillow for comfort is a must.
Flashlight – I have a headlamp and a flashlight that I bring with me but either or is fine.
Extra Batteries – Make sure you have extra batteries for your flashlight and electronic devices. Keep the batteries in a ziplock bag and store them in your dry bag.
Matches – When kayaking, water proof matches are great to bring along.
Lighter – Good to bring along as well to be on the safe side in case something happens to the matches.
Knife – A multipurpose knife for camping, hiking, etc. is essential. There are so many situations in which you might need this.
Toilet Paper – Tear some off the roll and store it in a ziplock bag to keep it dry.
Ziplock Bags – Anything that I really don't want to get wet I store in ziplock bags then store the ziplock bags in my dry bag or dry box.
Dry Bag or Dry Box – These will keep your essentials dry and safe. They come in different sizes. Choose one that will fit your gear and still easily fit in your kayak.
Cell Phone – You may not always get reception depending on where you are kayaking but it is still great to bring along in case of emergency.
Maps or GPS – A good map of the area you are paddling or a GPS unit is always a smart idea.
Water – You will need water for drinking as well as for brushing your teeth. As a general rule you should bring 2 gallons of water per person per day. You could also bring a water purifier or water tablets in case anything happens to your water supply.
Rope – You will need rope in case you need to secure your kayak to shore.
PFD – Always an essential when kayaking.
Water Shoes – Having proper water shoes or paddling booties (if the weather is colder) makes a huge difference in your comfort level and support.
First Aid Kit – You can either buy a prepackaged one or make up your own.
Sun Block – It is so easy to get burned when paddling on the water. Wear sunblock even when it's cloudy.
Chapstick – Wind and weather conditions can make your lips dry and chapped. Keep chapstick handy when on the water. I keep mine in the pocket of my lifejacket.
Hat – Will help keep the sun or rain off your face. A wide brim hat will also help keep the sun off your neck.
Sunglasses – Great to use when on the water.
Extra Clothes – Pack according to the season and the weather.
Food – The nice thing about a kayak is that you can actually store a fair amount of food if you need to. If you are trying to pack light however then dehydrated food and energy bars are a great option.
Camera – Preferably a waterproof camera is invaluable to capture all of the amazing moments, scenery, and wildlife shots.
Optional Accessories
These accessories are great to bring along as well if you have the room or if you feel they are important to you.
Camping Chair – If you can get a good camping chair that folds up quite small, they are great to bring along when camping.
Spare Paddle – Not everyone chooses to bring a spare paddle but depending on how long you are going for, it can be a good idea.
Fire Starter – If you don't want to bother making one yourself.
Garbage Bags – Take out all garbage that you have unless there are proper garbage disposal bins. Extra garbage bags can always be used for dry storage as well.
Bathing Suit – Can be used for swimming, bathing in and you might even want to wear it paddling if it's hot.
Towel – I usually bring a couple of towels. One for myself and one to use to dry things off.
Hiking Shoes – If you want to do some hiking.
Rain Gear – Rain pants and waterproof jacket will make all the difference if you should hit a rainy day. There is nothing worse than being wet and cold while kayaking.
Extra socks and underwear – Always a good idea.
Binoculars – If you want to do any bird or wildlife watching, binoculars can be a fun accessory to bring.
Water Gear – Such as fishing gear or snorkeling gear.
Backpack – Great for transporting gear or if you want to do some hiking.
Mattress Pad – A light mattress pad is essential for me when camping but not everyone chooses to bring one. They fold up pretty small so they are quite easy to bring along.
Cooler – The ice packs in your cooler will only last for about a day but they're great for keeping your first days food cold if necessary. Soft cooler bags are easier to bring in a kayak than the hard cooler boxes.
Camp Stove – Depending on if you plan to do any cooking.
Cookware and Utensils – For cooking great camp meals.
Books, Cards, Games, Music – Entertainment!
Bringing Your Dog?
If your dog is your overnight kayaking partner then you will need a few extra accessories to keep him comfortable and entertained.
The below items are easy to bring and store in a kayak.
Towel to dry him off
Mat or blanket for your dog to lie on in the kayak
Leash – but never leash him to the kayak, this is a safety no-no
PFD – You wouldn't leave without yours, make sure your dog is protected as well.
Toy – Bring along your dogs favorite toy if you think it will make him happy, more comfortable and entertained.
Chew Stick – This one is a total necessity for my dog. He's a chewer and if he's bored, a chew stick will keep him entertained for a long time.
Water Bowl – Just like you, your dog can easily get dehydrated when out on the water. Make sure he has access to fresh water.
Treats – Treats may not be totally necessary but they are great for training and rewarding your dogs good behavior.
Food – Kibble is the easiest dog food to bring along for the trip.
Click here for more great kayaking tips and advice.