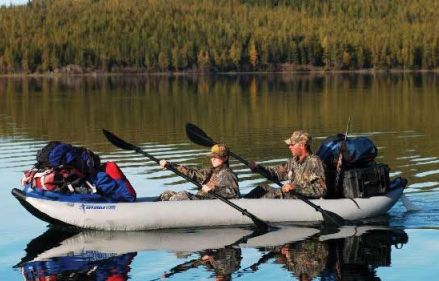 If you would like to take your inflatable kayaking experience to another level, an overnight trip can be a great adventure.
Overnight kayaking or canoeing trips can be a lot of fun with family and friends and you will likely come back with some amazing memories and stories to tell. However it is extremely important that you properly plan for such an excursion to make sure you have the essentials covered so that the trip goes smoothly.
Important things to consider for a multi-day kayaking trip
Once you have done one overnight kayaking trip you will have no problem planning more. It is just a matter of planning ahead, doing a little research and carefully packing the proper gear and supplies.
The last thing you want is to be far along your trip and suddenly realize that you left some important items at home. Below are some important questions to consider:
How much storage space do you have?
Paddling in a kayak or canoe always means you have limited storage space and often you have to get quite creative with your packing. You will have to store all your gear either in the storage compartment or in the bow and stern of your kayak.
It is often possible to pile gear on top of itself and tie it down with rope or bungees using the D-rings. Make sure everything you bring that should not get wet is stored in dry bags. Even if you are storing stuff inside the kayak, still put it in dry bags or dry boxes to make sure it stays safe and dry.
The fact that storage space is so limited means you have to be really organized and plan ahead for what you want to bring.
Do you have a map or GPS unit?
Depending on where you plan to go on your kayaking trip it may be really important to have a map or GPS unit along with you. It is easy to get confused with directions in open water and if you are out for longer than a simple day trip, you better know where you are going and how to get back!
Have you checked the weather?
Weather can change quickly. Know what you will be dealing with while on your paddling trip so you can plan accordingly.
Have you told someone where you are going?
Even if you are going with a few people, make sure to tell someone where you are going as well as when you expect to be back. This is the number one safety rule for any kayaking adventure.
How much weight can your inflatable kayak hold?
The amount of cargo capacity that your boat can safely carry will help determine how much you are able to bring along with you. Many inflatable kayaks can hold a lot of weight and still paddle well. Check the weight restrictions of your kayak model before you begin to plan for your trip.
Essential Camping Equipment Checklist
These are the essentials for camping while on an overnight paddling trip:
tent
tarp
sleeping bag
pillow
flashlight
knife
matches
blanket
fire starter
zip lock bags
garbage bag
dry storage box
cell phone
extra batteries
backpack
map
water purifier or water tablets
rope
toilet paper
food
Optional Camping Equipment
sleeping pad
camp chair
Essential Inflatable Kayaking Gear Checklist
extra paddle
pump
repair kit
PFD
map/GPS
rope
whistle
safety kit & first aid kit
dry bags
sunscreen
chap stick
sunglasses
water shoes
hat
towel
rain pants
wind breaker / rain jacket
non-cotton shirt
extra pants or shorts
clothes for layering
hiking shoes
cooler
cookware
water
snacks
ice packs
Extras you might want to bring along if you have room:
camera
binoculars
fishing gear
books
cards
music
journal
Basically you can bring as much gear and supplies as your kayak can fit and hold. Be aware of the weather and bring enough clothing options for different types if weather conditions for both day and night. There is nothing worse than having to paddle while cold and wet.
To find kayak models that work well for multi-day trips see our Top 5 Inflatable Kayak Reviews.