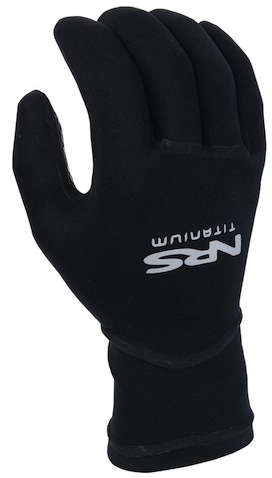 A friend of mine recently bought the NRS Rogue gloves for kayaking. Being a big fan of NRS gloves in general I was excited to have the opportunity to review another pair that I had not yet tried.
The Rogue gloves are fairly unique in that instead of a Velcro cuff they have a HydroCuff wrist seal. It is quite snug and not only seals in warmth but also keeps out water and debris.
For me the HydroCuff took a litte getting used to because I am used to a looser fit on my wrist from my NRS Paddlers gloves which have a Velcro fastener around the wrist.
However the simplicity of the HydroCuff and the fact that it can easily seal over your skin or over a wet suit is pretty cool.
Rogue Glove Features
Here's what you need to know about these gloves…
1. Good for Any Type of Water Sport
Not just for kayaking, the Rogue gloves are flexible enough to be used in just about any type of water sport and under a wide range of conditions.
2. They are Waterproof
For this reason they are great for sea kayaking in ocean waves, whitewater kayaking and rolls, whitewater rafting where let's face it, you will end up soaked, and any other type of water sport where you want some added protection and warmth for your hands.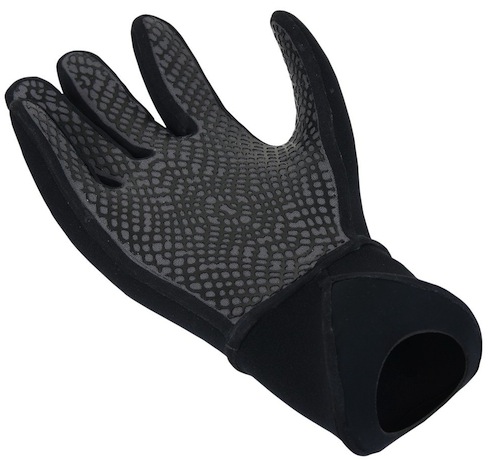 The fully taped seams and neoprene HydroCuffs are great for sealing out water.
3. Thick yet Flexible
These gloves are thick enough that they keep your hands warm and protected – but not too thick that they affect hand flexibility. However for extreme cold you will want to look for a heavier and more insulated glove.
They have a 2-mm neoprene core with titanium laminate adhesive.
3. Grippy Palm
The grippy pattern on the palm (GripCote) is great for getting a good grip on your paddle. It grips without being sticky.
There have been some comments from people who have used these gloves who have said they would prefer a little more stickiness, however others have really liked the grip.
My personal opinion is that the grip is great for kayaking or other types of paddling. If you are doing an extreme sport where grip is of utmost importance then you may want to look at a glove that has a palm with even more grip. For myself there were no issues.
4. Fits True to Size but Cuffs are Snug
Everyone including myself seems to agree that these gloves fit true to size (see the NRS glove sizing chart). However if you are debating between sizes I would recommend not going too small as the cuffs are quite snug… the smaller you go, the snugger the cuffs.
My friends gloves were a size medium and although they were comfortable there was definitely some extra room… I would have needed a small for a proper fit.
If you were unsure between two different sizes I would go for the size up. It's great to seal out moisture and cold air but you don't want to cut off your circulation while you are at it.
5. Pre-Curved Fingers
These gloves have pre-curved fingers which are supposed to help prevent hand fatigue. They feel good but I'm not sure… I'll take NRS's word on that as they are the experts.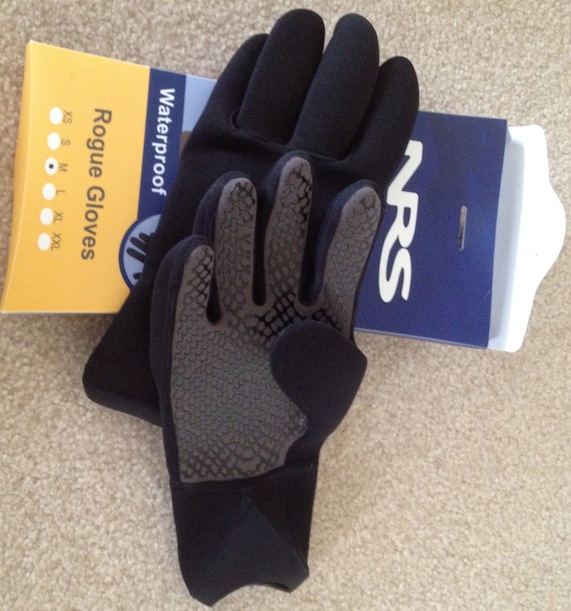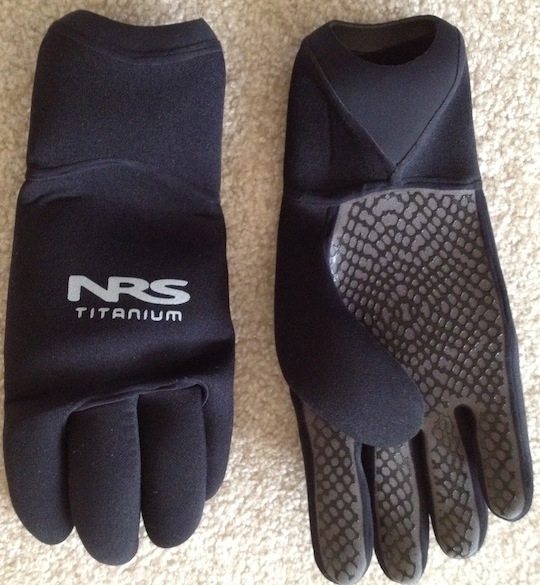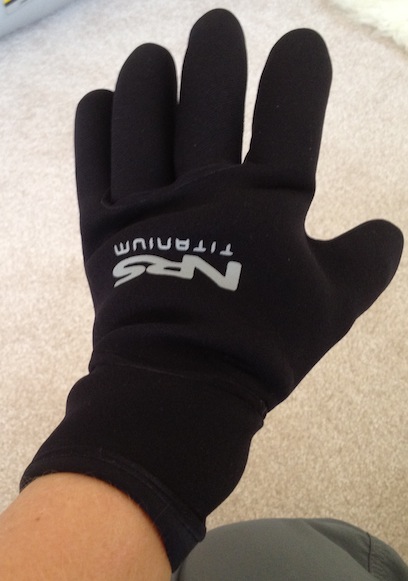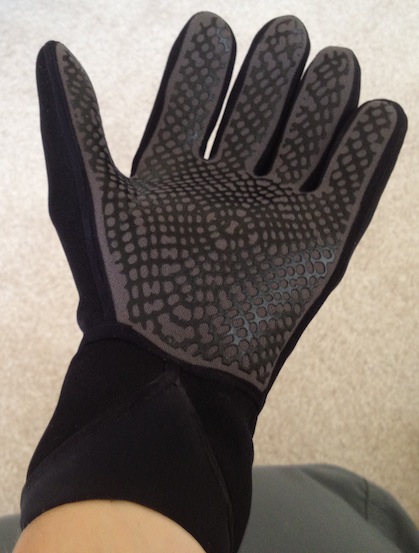 Bottom Line
I liked the Rogue gloves a lot. I have only used them for open water kayaking in semi-warm weather but they worked great.
When dunking my hand in the water, I found my hands remained dry and warm. The HydroCuff seal worked well and once I got used to it I found them to be very comfortable.
The grips were decent and I found that I definitely had enough flexibility to feel comfortable while paddling.
Some of the negative comments to be aware of are:
hands got cold in freezing temperatures – need a heavier glove
found the gloves slippery – grip could be better
a bit bulky
Average Star Rating
At the time of this writing these gloves have been reviewed 29 times at NRSweb.com with an average of 4.1 stars and the general consensus is that they are a quality product.
As with all of the NRS products these gloves are backed by their 'rock solid guarantee'. If you are not satisfied with them you can easily return them to the dealer for your money back.
One of the things I love about NRS the most is their customer service. If you have any issues with their products or are not satisfied for any reason you can give them a call and they will work with you to make sure you have the right product to fit your needs. They are super knowledgeable.
General consensus – definitely a good quality product and worth every penny.
For more information and reviews go to NRSweb.com – Rogue Gloves.