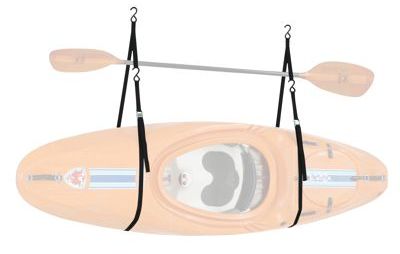 A kayak hanger is a neat idea. I don't use one myself as I usually just store my inflatable kayak away in its bag.
However I think if you have the space this kayak hanger would actually be really handy.
Below are two reasons that even for an inflatable kayak this kayak hanger could be put to good use.
You could use it to dry your inflatable kayak out. You want to make sure your inflatable is completely dry before you store it away so that you don't get any mold. If you had this hanger you could hoist your kayak up maybe in the sun and let it dry out before you pack it away.

Also if you are using your inflatable kayak often you may not want to be always deflating it. If you have a garage or a storage area you could simply hang your kayak up ready for its next use.
If you have a hard-shell kayak the NRS kayak hanger would be extremely convenient to use. Even for an inflatable kayak though it may work well for some people. It also will hold up your kayak paddle as well.
The NRS kayak hanger consists of:
Strong, adjustable nylon straps that can suspend from a wall or ceiling.
Steel J-hooks that easily attach the straps to existing structures.
An integrated loop on each strap to keep your paddle up.
A second set of loops that allow you to attach another set of hangers underneath if you have more then one kayak.
Bolts and instructions
Find more information on the NRS Kayak Hanger
.