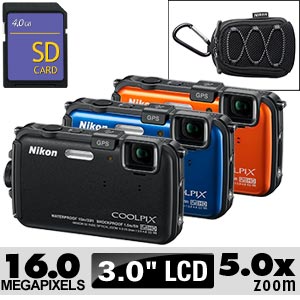 A waterproof camera can be very handy to have if you are into any type of water sports. While I was traveling this winter in Hawaii my Fujifilm waterproof camera broke while I was snorkelling. When I was trying to take pictures underwater of fish the camera just stopped working. Upon further inspection when I got out of the water I noticed that there was a crack on the side of it and I could see the water pooling in the screen.
I bought that camera a couple of years ago and it wasn't expensive. I used it all the time for kayaking and I guess I got my money's worth out of it. Especially considering that I had dropped it a couple of times and it wasn't shockproof… apparently its time was up.
I had finally conquered my irrational fear of snorkeling this year and with a couple weeks left in Hawaii I wanted a new waterproof camera… so I began my search. I narrowed it down to either the Go Pro HD Hero 2 (which is a pretty cool camera for anyone into water sports) or the one I ended up buying, the Nikon Coolpix AW100.
Waterproof cameras typically do not quite compare to a regular digital camera as far as picture quality and features. However I found that this one offered everything that a regular camera did plus had some pretty awesome extra features. I am happy with my choice and below I will explain why I chose it and my experience with it up to this point.
Why the Nikon Coolpix AW100?
I chose this Nikon waterproof camera for 6 main reasons…
1. Waterproof, Shockproof, Freezeproof
The Coolpix AW100 is not only waterproof (up to 33 feet) but it is also shockproof (for drops up to five feet) and freezeproof (for temperatures as cold as 14 degrees Fahrenheit).
I felt comfortable with the fact that if I dropped this camera it wouldn't crack, if I snorkeled with this camera it wouldn't break and if I took this camera high up on some very cold mountains it wouldn't freeze. I figured kayaking with the Coolpix AW100 would be a snap as it is nearly impossible to destroy.
2. 16MP CMOS Sensor
The majority of other waterproof cameras out there that I researched all offered around 12 – 14MP. 16MP allows for really sharp pictures even in very low light – for example when you are really deep under water.
3. Full HD (1080P) Video with Stereo Sound
Besides kayaking I really enjoyed snorkelling in Hawaii and I loved the fact that I could take HD video of the fish underwater. Also I could use it to take HD video of my kayaking.
4. GPS & Electronic Compass
This camera has a built in GPS and electric compass which is quite a cool feature. What that means is that you can track where you have taken your pictures as well as figure out where you are going . This is a little difficult for me to explain so I am going to copy the description from the Nikon website…
"Imagine you and a friend are white water rafting down an unfamiliar route. The AW100's rugged waterproof build can take the pounding action while you record photos and movies of this incredible adventure. Use the built-in GPS to track progress with Nikon View NX2 software, Nikon's myPicturetown® photo sharing site or Google Earth™. A built-in map lets you view your path, and the Electronic compass is an extra safety measure that can even help you ascertain which branch to take if there's a fork in the stream. Your geo-tagged photo travelogue will give you bragging rights as you share the adventure with your friends. "
5. Fast Action Sequences
My last waterproof camera was slow… very, very slow… meaning that I had to wait in between shots before it was ready again. I really liked that the AW100 had fast action sequences. You can take up to three shots in about one second at full resolution. After using it in several different activities such as snorkelling and kayaking I found this feature to be really fantastic and a huge upgrade from my last camera.
6. Price
I knew I wanted this camera but the price was a little steep. Prices across the web from when I did the research varied from $320 – $410. What really pushed me to buy it was I found a great deal at Costco. For $279.99 you get the camera, a 4GB SD card, and a great little padded Nikon camera case. It was a wicked deal for a great product.
At the time of writing this (April 17, 2012) the deal is still available. The store where I purchased mine only had black models but I am sure it varies store by store.
My Nikon AW100 Pics
Below are a few pictures that I took in Hawaii with this camera.  You can click on the pics to see a larger view in Flickr.
Nikon AW100 Specs
Here are a few more important details to know about this waterproof camera.
Effective Pixels: 16MP ½.3" CMOS Sensor
Lens Specifications: 5x Optical zoom lens (28-140mm) 4x Digital zoom (20x total zoom)
LCD Monitor: 3.0" TFT LCD (460,000 dot)
Motion Video Quality: 1080p Video at 30fps
Image Stabilization: Lens-Shift Vibration Reduction
ISO Sensitivity: Auto, ISO 125-3200
Images Per Battery Charge: Approx. 250 shots based on CIPA standards
Dimensions: W 4.4" x H 2.6" x D 0.9"
Weight: Approx. 6.3 oz.
Storage Media: SD / SDHC / SDXC
Other Important Features
Action Control – takes great shots when wearing gloves. The action control feature allows you to adjust your camera settings easily even when you are wearing ski gloves, kayak gloves, or any other type of glove. Or if you are too busy to adjust the settings you can set the camera to auto adjust.
Five advanced VR image stabilizing features – automatically reduces the streaky images when the camera is shaking.
Motion detector – wards off motion blur by detecting movement and adjusting the settings to keep the picture in focus.
20 Scene modes – great for all types of pictures
My Thoughts after 4 Months of Use
When I look at consumer reviews across the internet I see that the Nikon Coolpix AW100 waterproof camera gets an average of 4 stars out of 5. Most people seem to be really happy with it… just a couple of people weren't all that impressed.
After four months of use I can tell you that it is a huge upgrade from my last waterproof camera. The clarity and sharpness of the pictures are fantastic in all situations and the special features are a lot of fun.
The zoom seems decent for a camera in this price range. I think if you want a better zoom then you really need to look into the high end cameras that are capable of real close ups.
The battery life seems to be good – similar in comparison to other digital cameras that I have had.
All in all for my recreational needs, it seems to be perfect and I am very happy with it!
Check Costco.com to see if they still have their deal and if not then Amazon.com

seems to have the next best offer.