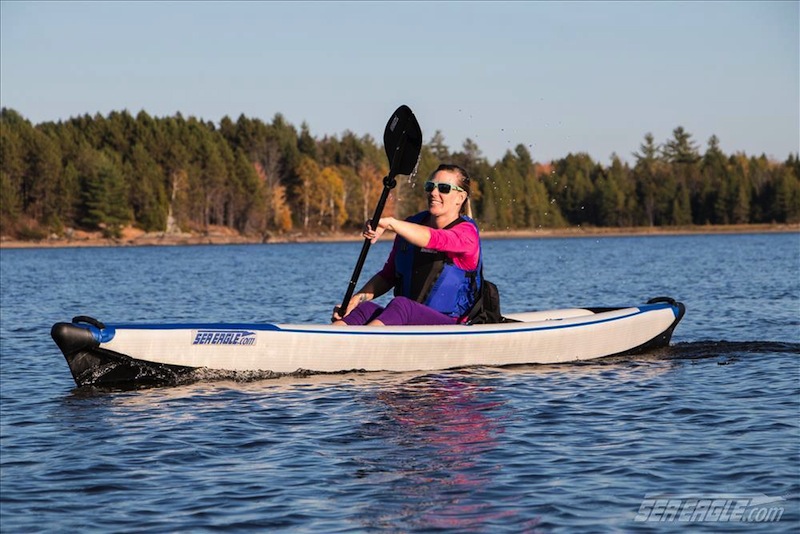 A new inflatable kayak is hitting the market at the end of November. It is called the Sea Eagle RazorLite.
I am really excited about this announcement because I think the RazorLite looks and sounds fantastic.
It is a solo model that is built for performance. It is long and lean and Sea Eagle states that it is the world's first all Drop Stitch inflatable kayak.
It is narrower than most other inflatable kayaks, lighter and apparently faster to paddle.
A new solo inflatable kayak that paddles straighter, sharper and cuts really well through the waves sounds really exciting to me. This kayak in fact is supposedly able to paddle up to 6mph and compete with any 12' hard-shell kayak.
I truly cannot wait to try it and review this new model.
Important Features
Drop-Stitch Material
This kayak has a patent pending on the design and construction. It uses 3" drop-stitch material for the floor and 4" drop-stitch material for the sidewalls.
The fact that this kayak is entirely made of drop-stitch material means that it can be inflated to a much higher PSI (pounds per square inch) level.
The average inflatable kayak can be inflated to an air pressure level up to 3 or 4 PSI. The Airis kayaks can be inflated up to 6.5 PSI, but that's the highest I've seen.
The new RazorLite can be inflated up to 10 PSI… that's unheard of. That means this kayak will be far more rigid than any other inflatable kayak on the market, which is very impressive.
Hull Design
The RazorLite has a very straight hull design. The bow and stern molds are made of durable plastic.
The straight hull combined with the bow and stern plastic molds and the narrow 28" (at the waterline) width of this kayak are what allow it to paddle fast as well as cut easily through waves, wind and water.
Without trying the kayak yet I can't comment from first hand experience but from looking at the pictures it does look like it would track straight and cut easily through the water.

Bow and Stern
The bow and stern molds are special because they reduce drag and friction as the kayak moves through the water.
The bow cuts through the water, the water then meets the side-tapered walls, which creates lift and reduces drag, then the water exits quickly at the stern mold.
The design creates a kayak that slices cleanly through the water leaving almost no wake behind it.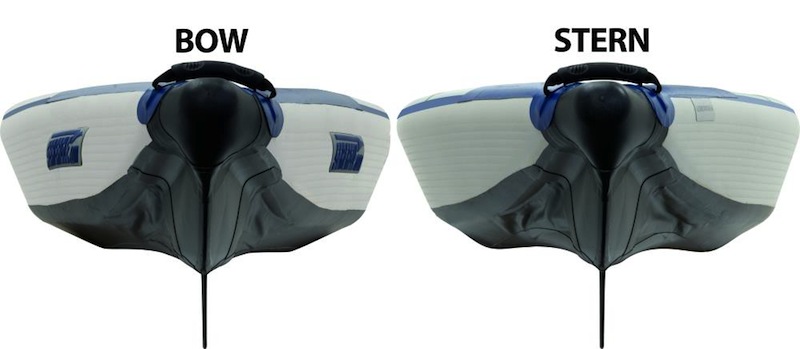 Specs
Length: 12' 9"
Width: 28" (25" at the waterline)
Weight: 28 lbs.
Weight Capacity: 500 lbs.
Chambers: 3 main air chambers
Seam: Quadruple overlap
Air Valves: 7 minutes
Pictures
Since I have not yet tested this kayak myself, all pictures on this page are taken from the Sea Eagle Website.  I will add my own as soon as I can.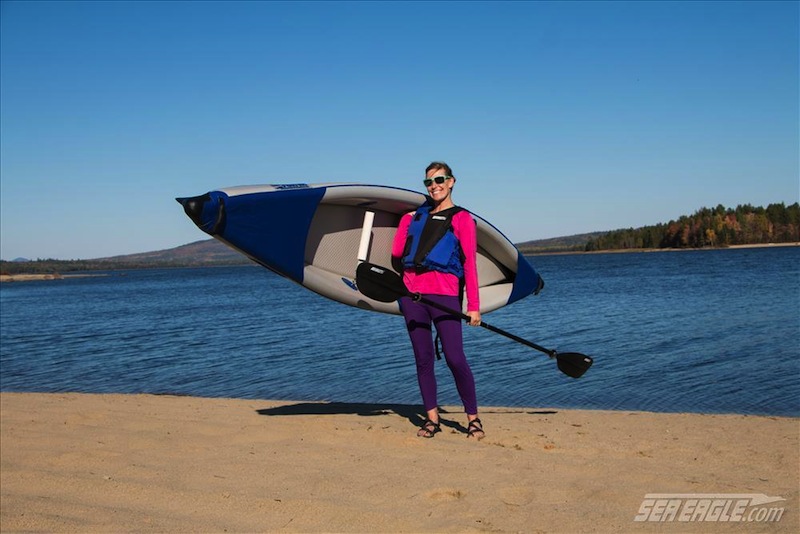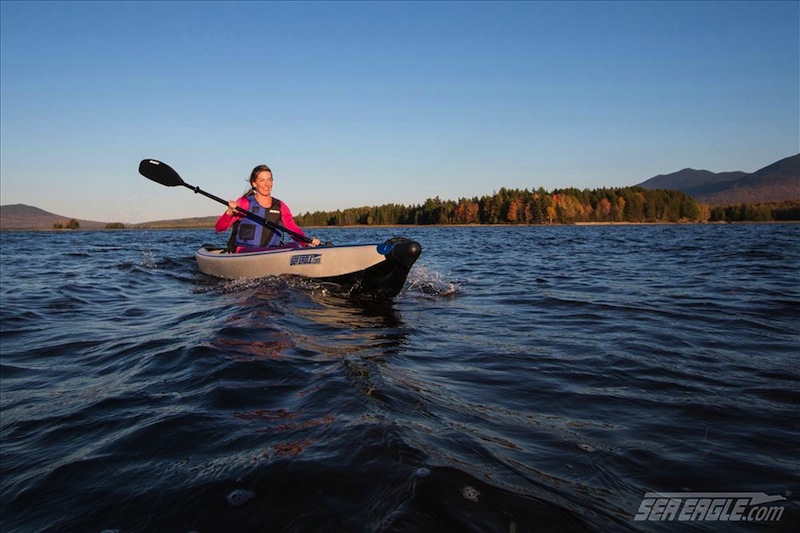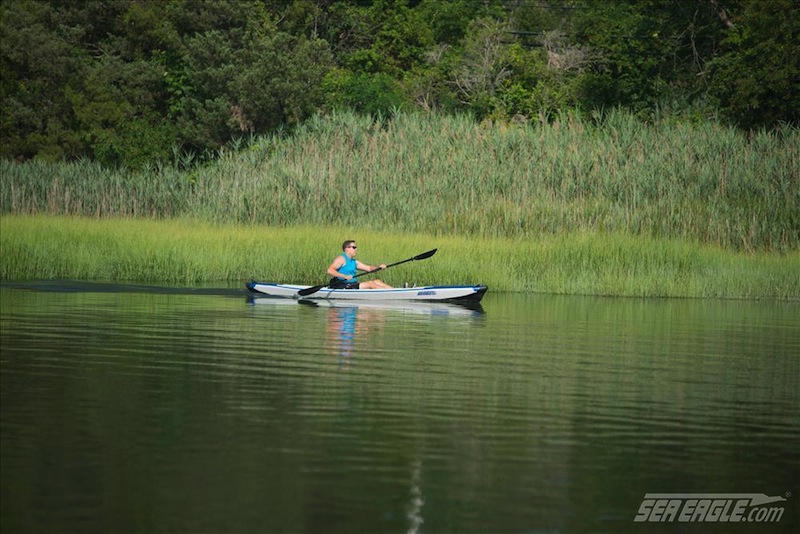 The new Sea Eagle RazorLite inflatable kayak can be ordered online but won't be available for shipment until November 26th, 2014.
The kayak is fully NMMA certified and comes with:
2 self-bailing valves
A removable rear skeg
Front & rear spray skirts and carry handles
High back cushioned seat
Footrest
6 D-rings to secure the seat and footrest
3 one-way air valves
Repair kit
Backpack carry bag
As with all Sea Eagle boats, this kayak comes standard with the 180-day risk free trial and 3-year warranty.
Package Options
Right now there are two package options to choose from.
1. Pro Package – Includes kayak, removable rear skeg, AB40 four part performance paddle, tall back seat with wrap around sides and contoured seat pad, adjustable foot rest, high pressure pump with inline pressure gauge, backpack carry bag and repair kit.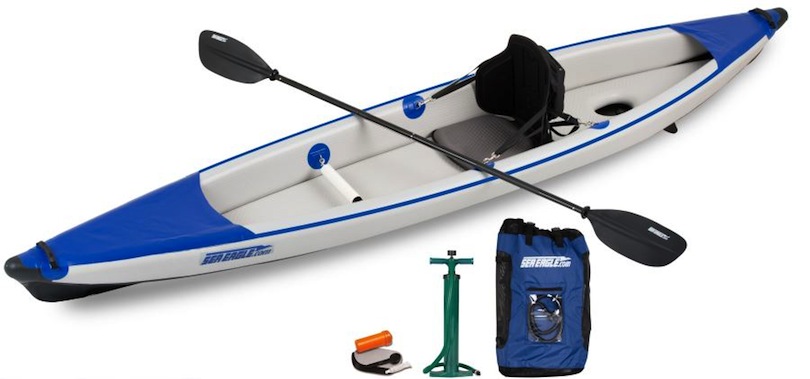 2. Pro Carbon Package – Includes everything in the Pro Package except you get the AB50 carbon fiber paddle instead of the AB40. The carbon paddle is half a pound lighter, which helps with less fatigue over longer distances. It also transfers less heat and cold to your hands.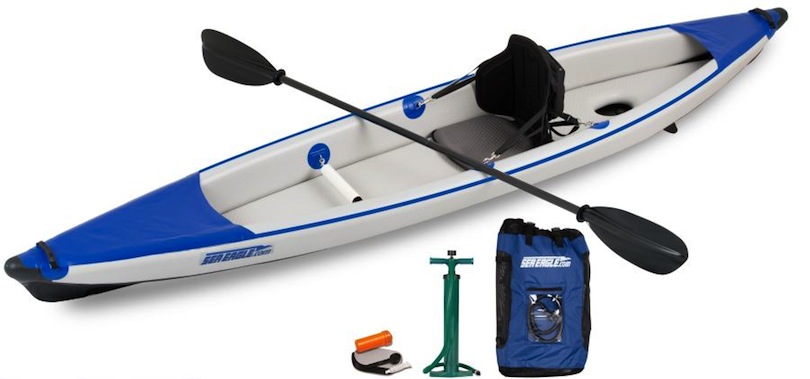 If you are looking for a solo kayak that is not only extremely portable, lightweight and convenient but also performs really well, it looks like this is going to be the one to get!
We have now done a complete review of this kayak. Click here to read our full review of the Sea Eagle 393 Razorlite.
Click here for more info, pictures and pricing on the Sea Eagle RazorLite inflatable kayak from the official SeaEagle.com website.