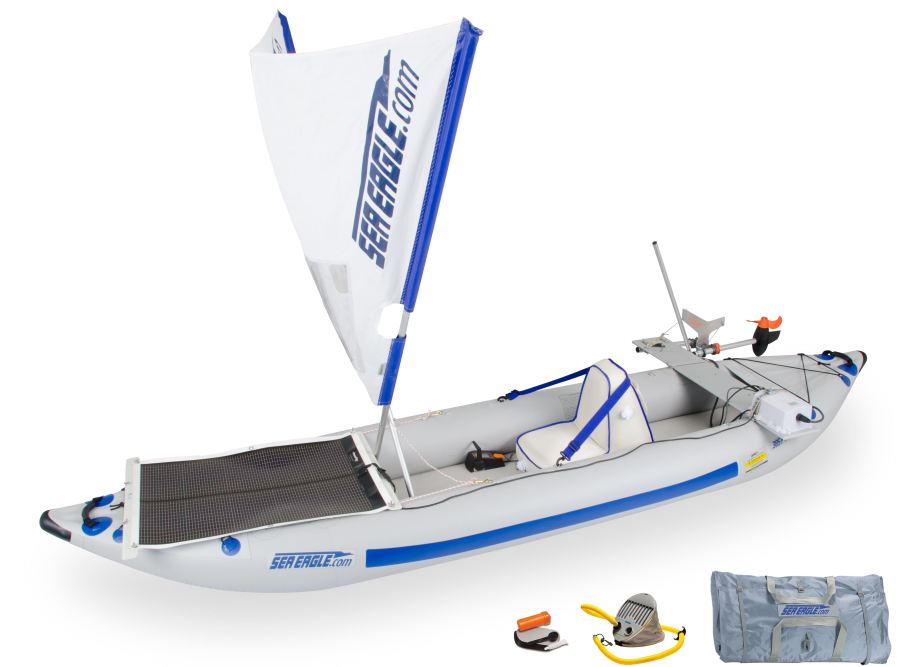 The Sea Eagle FastTrack has a cool new package now available called the Green Machine Package. It is available for both the 385 FastTrack and the 465 FastTrack.
What is the Green Machine Package?
This package allows you to power your kayak in three different environmentally friendly ways:
By Paddling – the usual self-powered way
By Wind – with the wind grabbing QuikSail
By Solar Panel – with a solar powered electric motor
Advantages of the Green Machine Kayaks
In my opinion there are five huge advantages to these additions. They are:
1.  Go Further Faster – With the solar paneled electric motor you can explore far away waterways in much less time than it would take to paddle yourself there.
2.  Perfect for Fishing – Anglers obviously want to go to where the fish are. Sometimes that means traveling a little further out to remote areas. With a motor you have far more options for finding that great fishing spot.
3.  Ride the Wind – With the hands-free QuikSail you can convert your kayak into a sailing vessel in less than one minute. That means more fun!
4.  Take a Rest – Sometimes paddling can get tiresome. With the Green Machine package you have a couple of different options for getting yourself back to shore, both of which will give your arms a break from doing all the work.
5.  Environmentally Friendly – The best part about this package in my opinion is that it is totally environmentally friendly. The motor requires no gas and none of these additions will cause any harm to the environment.
Important Green Machine Facts
The Green Machine package is available for both the 12 ft. 385 FastTrack hull as well as for the 14 ft. 465 FastTrack hull.
The electric motor is lightweight and comes with a battery, the solar panel that comes with it is from PowerFilm – 23 watt with cable.
The QuikSail is a 14 sq. foot sail with a strong aluminum frame. It is self-standing, measures 43" x 6" and weighs 3 lbs. It breaks down to 43" and can be stored in the bow or stern. It is capable of sailing up to 7 knots and comes with a nylon carry bag.
The package also includes the kayak, paddle, seat, foot pump, repair kit and carry bag.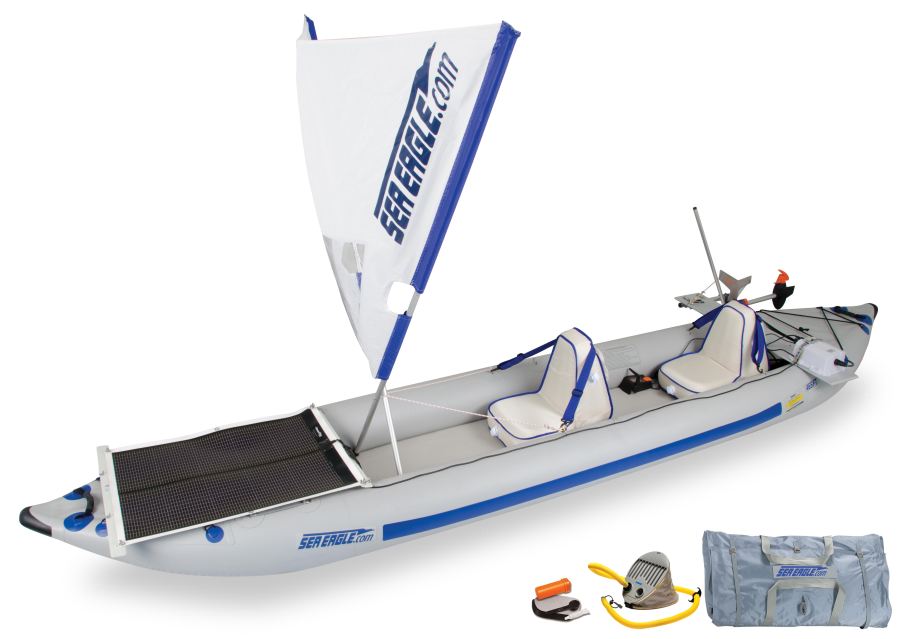 It is worth noting that with this package the 385 FastTrack only has room for one seat therefore if you want to be able to paddle with another person you would need to get the 465 FastTrack Green Machine package that comes with two seats.
Although Sea Eagle does give a hefty discount for this package it is still not cheap as the solar panel and electric motor with battery add the price up.
However if you think you would make use of it, it is an excellent package and as far as I know there are no other kayak companies offering anything that is comparable and totally environmentally friendly.
For more information on the FastTrack please see our Sea Eagle FastTrack review.
For more information on the package options and pricing please go to SeaEagle.com/FastTrack
.