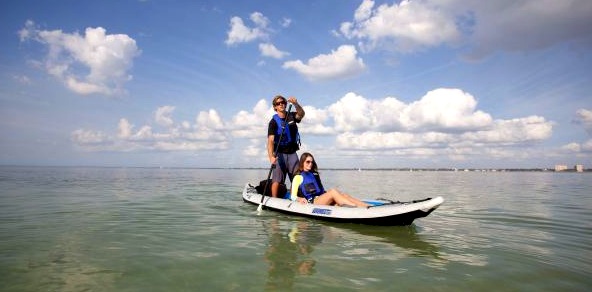 Sea Eagle has redesigned their popular FastTrack inflatable kayak for 2013.  According to the company the new model is lighter, sleeker, has a more asymetrical shape and is able to go faster with less paddling effort.
I love when manufacturers continually strive to improve their kayak designs. Especially with inflatable kayaks I find that improvements are made every year with many different models.
The only downside is that I get jealous every time a new model comes out as it is hard to keep up!
Improvements to the FastTrack
This model is brand new and I have not had the opportunity to try it. However knowing how much I love my 'old' FastTrack, I have no doubt the new model is pretty awesome.
These are the improvements that have been made…
1. Lighter – The 2013 model is several pounds lighter. This makes it easier to transport, to carry and especially to travel with. The lighter the kayak is, the easier it is to take with you anywhere.  This is a huge bonus in my opinion.  The lighter the kayak is, the easier it is to use and most likely, the more you will use it.  This means exploring more great places and waterways.
The new 385 FastTrack (solo and tandem model) weighs 31 lbs. whereas the older classic model weighs 35 lbs.
The new 465 FastTrack (the three-seater) weighs 38 lbs. whereas the older classic 465 model weighs 44 lbs.
Each hull has been reduced in weight by approximately 10%
2. Sleeker Design – The new design features a sharper, narrower bow which is supposed to help the kayak to move faster through the water, especially through the wind and the waves.
The design also helps with the 'glide'. Sea Eagle states that the new FastTrack will glide much better and keep going even when you stop paddling. This should make for a faster ride, which will really appeal to a lot of people… especially those who plan to paddle for several hours at a time. The FastTrack is supposed to be able to reach up to 3 to 5 mph.
The new more asymmetrical design will make your job paddling far easier.  I never mind the workout but if you can go further with less work that is always a good thing!

3. High Pressure Drop Stitch Floor
One of the features I have always loved about the FastTrack is the super rigid floor. It really helps with the tracking and with keeping the kayak solid – meaning there is absolutely no flex in the middle.
It seems that Sea Eagle has even improved upon what I thought was already a pretty great kayak floor. Their new high-pressure drop stitch floor will keep you going straight and keep the kayak rigid. The more air pressure the floor can hold, the more rigid it will be. This floor is so rock hard that you can even paddle your kayak standing up.
Make sure when inflating your kayak that you really make sure the floor is inflated to the maximum air pressure.  This will make sure your kayak is performing as it should be.
Deals on the Classic Model
Although I have yet to try this new model I am really impressed with the improvements that have been made to an inflatable kayak that I already thought was quite good.  This has always been a great model and I imagine the changes in the performance are subtle but will be appreciated by those who paddle it.
As before, this is a kayak that is best suited for flat water paddling such as on lakes and ocean bays.  Although it can handle some whitewater, keep it in class II rivers or below. That means basically slow moving rivers only.
I use my old FastTrack a lot. It is stable, easy to paddle and ideal for families, friends, dogs, multi-day adventures and/or fishing. It can be used for just about any type of flat water paddling fun. The new model still comes with the 3 year warranty and Sea Eagles 2-part guarantee.
The new models are available now but if you want to save a few bucks, you can still get the classic model that I have for an excellent deal. I imagine Sea Eagle will keep selling these classic models until they run out of stock.
Package Options
For the 385 FastTrack, you have the choice of the:
385FT Deluxe solo package
385FT Deluxe tandem package
385FT Pro package
385FT Fishing package
385FT Pro Carbon package
385FT QuickSail package
385FT Solar Kayak package
For the 465 FastTrack, you have the option of the:
465FT Kayak package for two
465FT Deluxe package
465FT Pro package
465FT QuickSail package
465FT Pro Carbon package
465FT Kayak Fishing package
465FT Solar Kayak package
Click Here For More Details And To See Our Comprehensive Sea Eagle FastTrack Review.