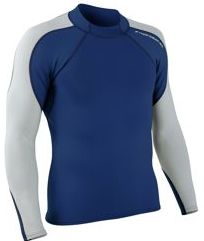 Layering for cold weather paddling is always a bit of a challenge. Figuring out the right kayaking clothing to wear takes some consideration.
The air temperature will likely be a lot warmer than the water temperature. Dressing for the air temperature is one thing but what if your kayak should capsize? You will lose your body heat twenty-five times faster in water than in the air.
Before you dress for your kayaking trip make sure to consider the air temperature, the wind as well as the water temperature.
One of the more popular choices for cold weather clothing for kayakers is neoprene.
Facts about Neoprene
Neoprene is one of the best insulation materials, especially when it is wet.
Kayaking clothes made of neoprene are usually 3mm thick. The thickness will determine the amount of insulation. Too thick means extra insulation but it is not comfortable. 3mm is a good amount of thickness for ease of movement as well as for good insulation.
When wearing neoprene clothing the thin layer of water between the neoprene and the body is heated by your body warmth and stays there without being replaced by cold water.
You will not normally find kayakers wearing one-piece neoprene suits. This is because their mobility will be restricted and the ventilation will be poor.
If you wear neoprene clothing for insulation you will want to then layer on top with either fleece or wool – not cotton, for extra warmth.
Neoprene is very durable. It tends to be one of the longer lasting insulation type of materials for clothing.
Neoprene tends to be quite economical. It is possible to get neoprene kayaking clothes for an affordable price.
Types of Neoprene Clothing
Types of neoprene clothes for kayaking are:
Wetsuits – usually consists of pants and attached bib – no arms
Shorts
Gloves
Footwear – wet shoes and wet boots
Wetsocks
Long sleeve tops
Short sleeve tops
Vests
Helmet and head liner
Where to Find Neoprene Clothing
Just about any kayak shop will sell neoprene clothing. See our list of kayaking online retailers for a list of kayak shops.