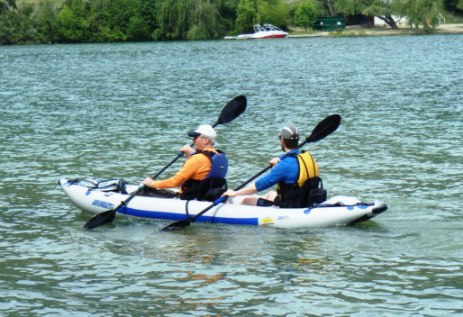 Two-person inflatable kayaks are usually much longer than the solo models and consequently weigh a fair amount more.
However it is still possible to get a tandem inflatable kayak that is light enough to still be very portable and easily transport anywhere you want to go.
Below are some of the lightest tandem inflatable kayak models on the market.
Tandem Inflatable Kayaks – 35 lbs. or Less
Airhead Roatan – 25 lbs.
The Roatan is a cheap model that does not have the same good quality of the other inflatable kayaks listed here. The material is not as strong and consequently it does not weigh as much. However for just playing around in the water and family fun, the Roatan is a very affordable option and works well for traveling because it is so lightweight.
Sea Eagle 330 – 26 lbs.
The SE 330 is another very affordable option but also offers great quality. With the 330 you truly get a lot for your money and at only 26 lbs. it is very easy to bring anywhere. Although the 330 can accommodate two people, I personally prefer the slightly larger Sea Eagle 370 which offers more leg room and comfort.
Innova Sunny – 29 lbs.
The Innova Sunny is a flat water inflatable kayak that gives great performance and good speed. It is excellent quality and ideal for two people who want to kayak mostly on lakes or calm water.
NRS Bandit II – 31 lbs.
The Bandit II is a two person whitewater inflatable kayak that can handle up to class IV rapids. It is constructed with environmentally friendly PVC-free material and would suit a beginner to intermediate whitewater kayaker.
Sea Eagle 370 – 32 lbs.
The SE 370 is the slightly larger version of the Sea Eagle 330 sport inflatable kayak. Great for all kinds of water… the 370 is versatile, affordable and still light enough to bring anywhere.
Innova Helios II – 33 lbs.
The Helios II is very popular with those who love to travel. There are no seats or extra parts to pack, it is versatile enough to handle sea kayaking, lakes or slow rivers and is excellent quality.
Bic Yakkair 2 – 33 lbs.
The Yakkair 2 has a cool design but also a few quirks that I think still need to be worked out. Although it has many great features and is only 33 lbs., it would not be my first choice for a tandem inflatable kayak.
Advanced Elements Lagoon 2 – 35 lbs.
The Lagoon 2 is a fun little kayak that is best suited for flat water. It does not give a perfect performance but paddles decently. The AE Lagoon 2 would suit beginner kayakers looking for an affordable and easy way to get out on the water.
Sea Eagle FastTrack – 35 lbs.
The FastTrack is the tandem inflatable kayak that I use most and will suit beginner to intermediate kayakers. It is still light enough to bring anywhere and offers excellent quality of construction as well as a great performance. The FastTrack is best suited for flat water kayaking but can handle some mild whitewater as well.
To see a full list of tandem inflatable kayaks see our Tandem Inflatable Kayak Comparison Chart.