Many of us who regularly paddle in an inflatable kayak know how strong, sturdy and stable they can be. We paddle in lakes, whitewater rapids and in ocean surf. There are sometimes obstacles along the way that might make us a little weary but I think most of us make out pretty good and don't have anything too serious to worry about.
I came across this great story that made all of my inflatable kayaking experiences seem extremely tame! I can deal with a lot but this guy's experience was quite impressive… not to mention a little bit nuts!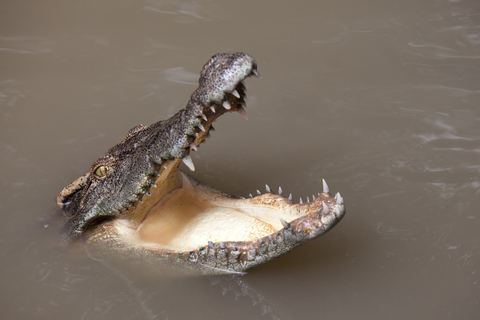 For Christopher Reichert – a brand new inflatable kayaker – rocks and downed trees were the least of his worries. He chose to take his inflatable kayak out for the first time in water with crocodiles and hippopotamus… good grief!
Christopher Reichert has lived in many parts of the world over the last nine years working and traveling and spent three of those years in Zambia.
In his blog "Life is Never Dull" he recounts how he purchased a two person inflatable kayak from Amazon and had it shipped to Zambia. His first time out was in waters littered with signs warning of crocodiles and hippos.
Although the whole excursion sounds fascinating and vaguely exciting I have to wonder what on earth he was thinking!! I can tell you one thing… he is far braver than I. I have done a lot of ocean kayaking where there is the possibility of seeing sharks but for some reason that does not scare me as much as seeing a crocodile or a massive hippo for that matter – likely because shark attacks are very rare.
Kayaking is a fantastic way to enjoy the natural beauty of different environments and there are ways to avoid any type of predator attacks. However for your first time out I would suggest staying out of the croc and hippo areas or at the very least get yourself the most puncture proof inflatable kayak available!
Christopher's story and his blog in general are well worth the read. To read the whole story visit his blog 'Life is Never Dull' – scroll about half way down the page to read his crocodile story.
Want to experience your own inflatable kayak adventures?  Read our inflatable kayak reviews to find the right kayak for you.