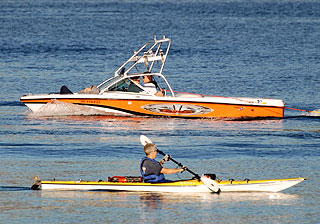 I live close to Okanagan Lake which is 135 km long, 4-5 km wide and has a surface area of 351 km. This lake is extremely popular in the summer months with locals and tons of tourists. It is FULL of speed boats, sail boats, kayakers, wakeboarders, water skiers, etc.
Although I prefer a less populated and noisy waterway, I do kayak this lake often as it is so close to where I live.
This summer Lake Okanagan has proved to be deadly for many unfortunate boaters and kayakers. There has been so many drownings, accidents and deaths that it has prompted me to write a short post on kayaking safety protocol.
PFD's Are a Necessity
Most of the deaths have been because people were not wearing a lifejacket. The number of boaters and kayakers who have sadly died on Lake Okanagan this year because they were not wearing a lifejacket is staggering. In fact the numbers have been so high that the police are now patrolling the lake and handing out very expensive tickets to those who are not wearing a PFD.
No one ever thinks that they are going to fall out of their boat, tip their kayak or have some kind of freak accident while enjoying the water… but it happens and most of the deaths could have been prevented had they been wearing a lifejacket.
Speed Boat Terror
The other type of accident that has occurred too many times this years is kayakers have been literally run over by a speed boat. As someone who is used to kayaking around speed boats, this absolutely freaks me out.
As kayakers we have no control over the other boats we are sharing the water with. Unfortunately some speed boat owners seem to forget that they share the water with others. In the past two weeks alone, two completely innocent kayakers were hit by speed boats that were driving recklessly on Okanagan Lake. One person is still in critical condition, the other has major injuries.
Both boat owners stated they did not see the kayakers… witnesses have said that the boat owners were looking behind the boat as they were towing people behind them (possibly towing a water skier or something like that).
What Does this Mean for Us Kayakers?
I have had many instances where I have been worried that a speed boat doesn't see me. You cannot rely that the person steering the boat is paying attention and watching not only what is in front of him but also what could be behind the waves.
My advice would be to pay attention to what is around you at all times and steer clear of motorized boats long before they ever become an issue. If you choose to venture out into speed boat territory… meaning out in open water then make it a priority to stay out of their way. Fact is they are far more powerful than our little kayaks and if a speed boat is coming right at you it can be very difficult to get out of the way in time.
If you are unsure if a boater sees you then the protocol is to wave your paddles up in the air to hopefully catch their attention.
Sometimes if I feel a little uneasy about the amount of boaters on the water I may stick closer to shore where the power boats are not allowed to go over a certain speed. Also a bright colored PFD can really help you to stand out in the water.
Bottom line… whether you are paddling in a hard shell kayak or an inflatable kayak have a great time but please paddle safely! All of these accidents are upsetting and when you can't control the actions of others then it becomes even more important to take your own safety precautions.
Find more kayaking safety tips and keep your paddling trips happy and accident free.