This is a guest post by Ben Slow. Ben lives and works on Ometepe Island in Nicaragua. He owns a guided expedition company that offers inflatable kayak tours, fishing expeditions and guided hiking tours. More information on Ometepe Island and Ben's tours can be found at www.ometepe.info.
Ometepe Island in Lake Nicaragua is comprised of 2 large volcanoes joined by a volcanic sand isthmus. The volcanoes make an impressive backdrop for any soul blessed with being in a kayak, surrounded by warm water, fabulous bird life and other amazing fauna such as caimans, abundant fish and howler monkeys barking from the tree tops.
Ometepe is the world's largest fresh water lake island and resides in the worlds 10th largest lake. The volcanoes rise respectively to 1600m (Concepcion) and 1400m (Maderas). They are both impressive and distinct. Concepcion has the iconic cone shape any child would draw if they drew a volcano and is very active, burping out occasional clouds of ash.
Maderas, an erupted giant, now sleepy and tree covered, wears an almost permanent mask of cloud but occasionally reveals herself to show the thickly crowded forests that stand proudly on her sides.
The island makes amazing scenery from the lake, sunset and sunrise being particularly beautiful and of course the best times for wildlife watching.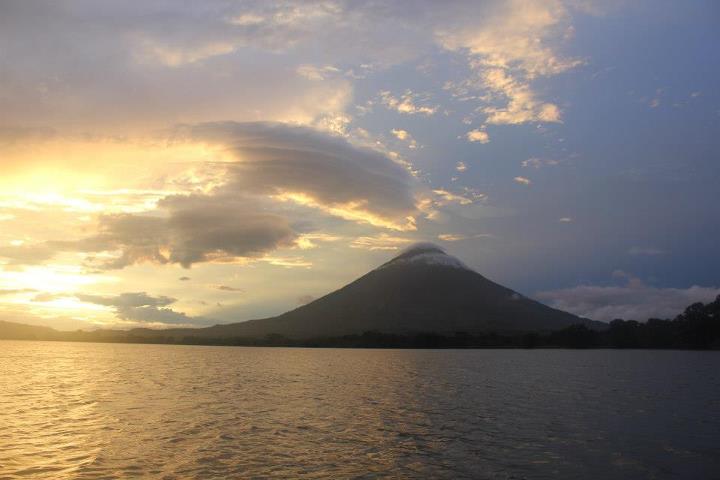 Inflatable Kayak Tours
I currently have 2 Sevylor Colorado inflatable kayaks but will upgrade this year to some Sea Eagles as my kayak tour business really gets under way. I am offering 2 trips at the moment:
One a wildlife and scenery tour on the Rio Istaim
The other a fishing tour
However over the course of the next few months I will be adding night trips and longer tours around Ometepe's sister islands – Zapatera and the archipelago of Solentiname, as well as the Rio San Juan, a 7 day trip down the only river leaving the lake which forms the border between Costa Rica and Nicaragua.
Ometepe is very accessible from the mainland of Nicaragua and is an excellent area of exploration for the intrepid and adventurous.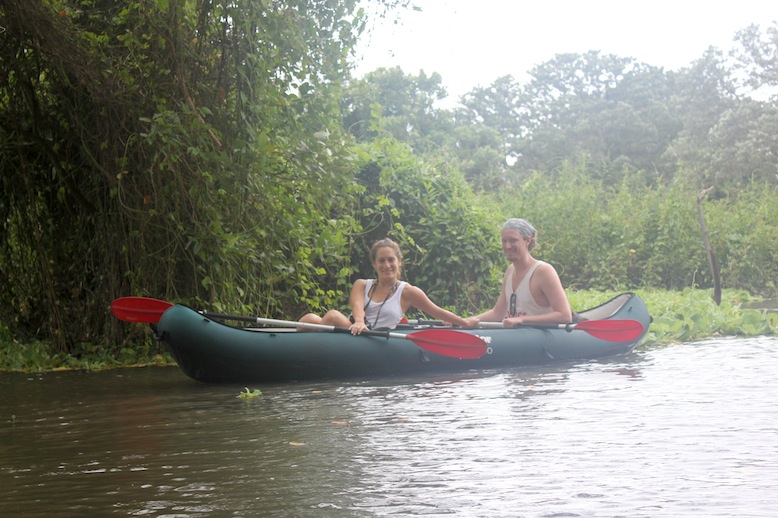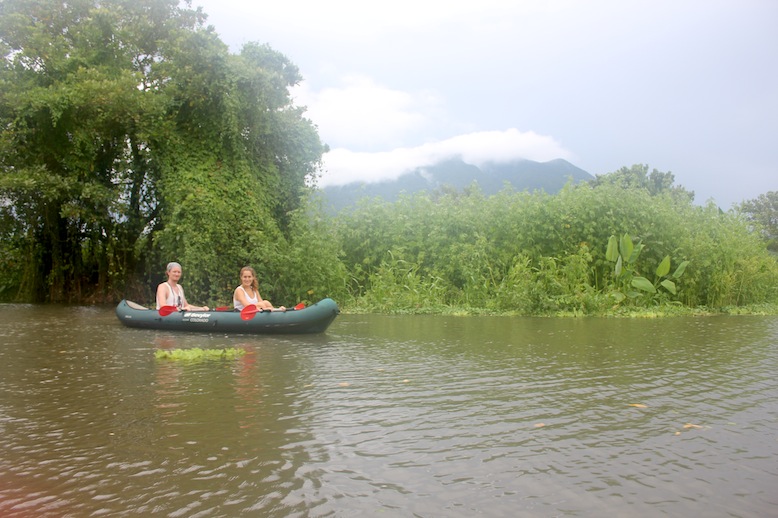 The Rio Istiam isn't really a river. It's really a wetland and in rainy season would split the island in half as the lakes waters rise were it not for the road sat on its raised sand bar that connects the 2 volcanoes.
Ometepe is surprisingly large, occupying some 276sq km's and having a population of about 40,000 people. It has a fascinating, long and torturous history and is itself well worth exploring for its secrets and adventures as well as the ever present views of the volcanoes. The wetland has only 1 access point but a pretty labyrinth of canals can be explored from within.
The setting is absolutely unique, you are half way between both volcanoes and set in a dense green jungle of trees and grasses and other floating plants. The herons and egrets are abundant as are many other varieties of water birds but always close are Ospreys, Cacaras, Vultures and other eagles as well as water birds such as Jacanas and Whistling ducks.
Early in the mornings one can find Caiman up to 2 meters long which feed on the abundant fish that lurk beneath the "water lettuce".
Fishing Expeditions
Indeed the Rio can make for an amazing fishing destination being full of "Guapote" (Rainbow Bass), a beautiful tropical cichlid species which when adult has a large bump on its head and is flanked with blue and purple. These fish can be found to 4 or 5 pounds in the Istiam but can go to 8 pounds or more elsewhere in the lake.
Other species include the abundant "Mojara" which are another form of cichlid in many different varieties and Tilapia which were introduced to the lake some years ago and now form an important commercial fishing economy for the island.
There are other excellent fishing areas on Ometepe and I explore those on my fishing expeditions which I also offer as overnight camping adventures. We fish the sunset session before grilling our catch over an open fire and indulging in some of Nicaragua's fine rum whilst watching the stars.
In the morning we make the best of the early session before heading to my restaurant "Café Campestre" for a full Nica Breakfast, hopefully including some fish roe from the baby Tarpon (Savalo) we hope to catch. The Tarpon are amazing fighters and watching them leap against the volcano backdrop is pure delight if you're a fishing nut such as me!
My intention this coming November is to add the Rio San Juan kayak tour to my expeditions. The river forms the border between Costa Rica and Nicaragua and offers a multi night 120 mile fishing expedition through its dense jungle covered banks.
There are some incredible side trips to be had and astonishing fishing with 200 pound Tarpon lurking in the shallows. One can only imagine what handling a fish that size from an inflatable kayak can be like!
The island of Zapatera also offers an incredible opportunity to delve into the past of Nicaragua with many relics to its indigenous history being found in plain sight. The views from there on to Mombacho volcano and Ometepe Island alone will make it worth the trip.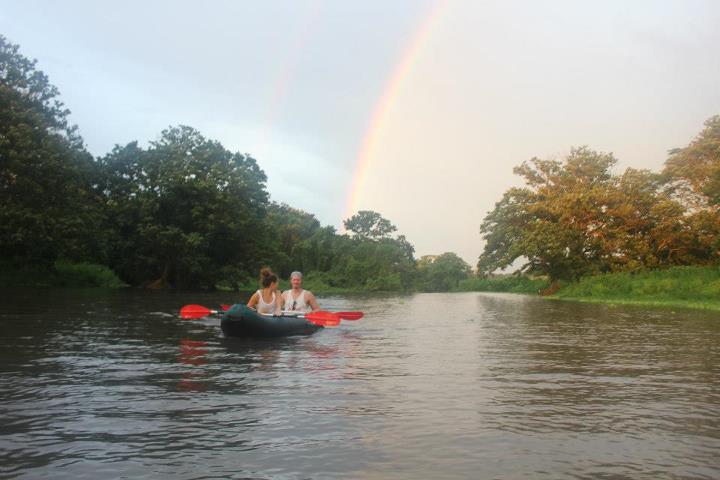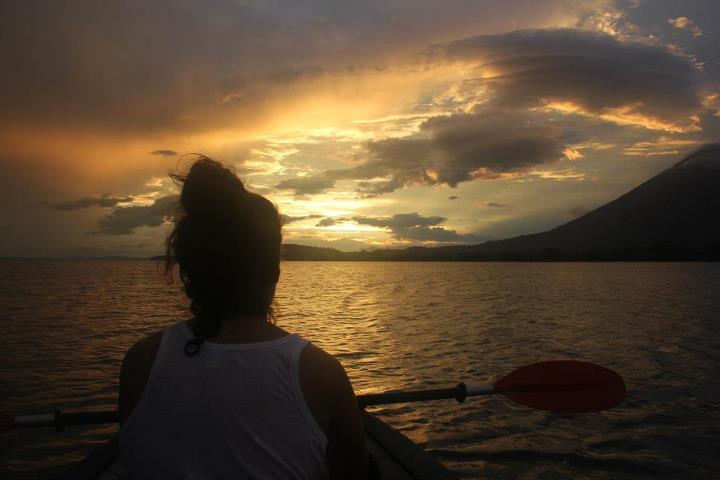 Volcano Guided Tours
In addition to kayak adventures I also take guided tours of the volcano and its cloud forest. Ometepe is fascinating to explore with its amazing history, many hundreds of Petrolglyphs (indigenous rock art dating back some 4500 years), incredible trees, great fresh fruits and dense jungle as well as lots of wildlife including the very noisy Howler Monkeys who love to raise hell from the tree tops.
They can be heard from miles away and make a great sight when we're out walking. Shouting back can be great fun!
The Rio Istaim by Night – Floating with Caimans
I just returned extremely excited and amped up from my new kayak expedition on Ometepe – "The Rio Istaim by night – Floating with Caimans". Having had my efforts to study the Caimans well either early morning or late afternoon thwarted I returned again at night armed with a powerful flashlight and threaded my way gently through the wetland.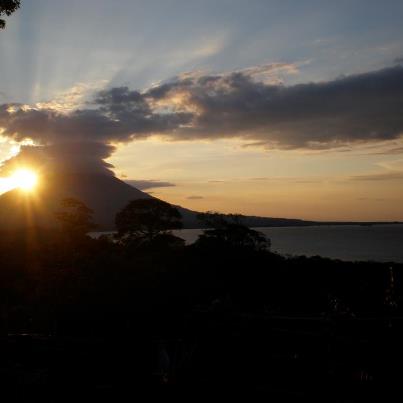 Bats, spiders jumping and hunting on the surface of the water, night herons and fish were visible everywhere. Then in the distance there was a small marble sized glowing orange ball skimming slowly across the top of the water. Heart slightly in mouth I glided in.
Inflatable kayaks are SO quiet and manoeuvrable in the water making them perfect for "hunting", so I slipped in on low beam, inching closer towards my quarry. The glowing globe was unblinking and as I got closer I knew I was for sure onto a Caiman but I had no idea how much I would see or how it would respond.
10 feet out and moving at snails pace I could see its head on the water as I drifted in, the moon lighting it nicely and my head torch on its lowest setting keeping the red eye clearly visible.
I inched in further and hanging there in the water, apparently oblivious to me and my kayak lay a 6 foot Caiman. Its tail hung under the boat, I could have reached out and stroked its head
The water was clear and shallow and I could illuminate its whole body with my torch and was able to see it and its markings clearly. I hovered over the creature for fully 5 minutes in awe and wonder before gently moving off in search of more.
As I turned the kayak I heard a gentle "whumph" and looking behind me in place of the Caiman was now a large circle of fizzing bubbles and she'd gone!
Elated I went in search of more and found no less than 8! Whilst not every other Caiman gave me the opportunity of the first, some moving off quickly when spotted, others ducking under as I arrived, I still remained utterly fascinated and overjoyed at pursuing these amazing animals under the moon and stars with the permanent silhouette of 2 volcanoes to my sides.
The trees hanging roots into the water and the other wildlife added to the mystical atmosphere of this wetland reserve and I truly appreciated what an incredibly fortunate individual I am to live in such an amazing place. An unbelievable sight, an amazing night and a truly memorable experience. I can't wait to return.
If you find yourself traveling to Nicaragua and want a true local adventure be sure to check out Ben's Ometepe Island Tours and Excursions as well as his local organic restaurant Cafe Campestre.