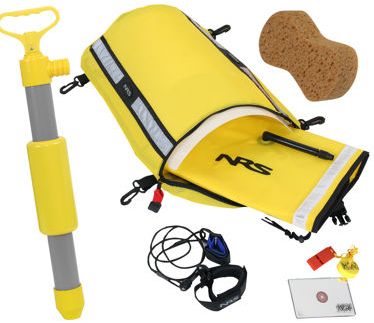 Kayak safety is obviously an important issue if you are going to do any paddling. If you have the proper safety kit on board you can feel confident that you are ready to deal with any challenge that comes your way.
For paddling on open water such as on lakes or on the ocean there are 5 key items you need to include in your kayak safety kit:
Safety Kit Essentials
1. Kayak Bilge Pump
A bilge pump is important because it will help rid your kayak of water if it should capsize or get hit by a big wave. An inflatable kayak is not going to sink even when filled up with water however it will become near impossible to paddle unless you can get the water out of the kayak.
If an accident occurs and your kayak fills up with water you will have to use a bilge pump in order to empty the kayak of water so that you can continue on along your way. A bilge pump is extremely light weight and easy to use and should be kept in every kayak.
A smart idea is to have your bilge pump somehow attached to your kayak, either with tie down bungees or in a bag that is tied to the kayak. That way if your kayak should capsize you will not lose the pump!
2. Whistle
Your whistle should be attached to your PFD. You may never have to use it but if you are ever in an emergency situation and you need to somehow attract attention to yourself, you are going to be very happy that you have a whistle.
Often with the noise of the water, the waves, and the wind it can be difficult for your voice to be heard. A whistle however is much more likely to draw attention to you.
3. Paddle Float
A paddle float is used if you have capsized and need to re-enter your kayak from the water. It slips onto one of the blades of your paddle and is used to help steady the kayak so that you can climb back in.
You may not find a need for a paddle float for re-entering your kayak from calm water, however if you are in heavy wind or choppy waves, the paddle float will become essential.
4. Paddle Leash
A paddle leash can be used in two different ways:
You can use it to attach the paddle to your wrist
Or you can use it to attach the paddle to the hull of your kayak
The purpose of course is to stop you from losing your paddle (It can also be a good idea to have a spare 4 piece paddle tucked away in a bag on your kayak). In high winds or choppy water, if you drop your paddle in the water it will be swept away much faster than you would be able to reach it.
If you capsize and you lose your paddle you are in big trouble. Without your paddle there is no way to manoeuver your kayak. However, if you capsize and hold on to your paddle but your kayak gets swept away in the wind or in the waves then you are in even bigger trouble.
For this reason I personally like the idea of attaching my paddle to my kayak. However you will need to make sure that if you should tip you do not let go of the paddle. Otherwise you could be without kayak or paddle.
A paddle leash is especially useful when kayaking in heavy winds or rough seas or if you are doing some kayak photography where there is a good possibility of dropping your paddle in the water.
5. Signal Mirror
I don't normally bring a signal mirror along with me on my kayaking trips; however I am learning that it can be a very important safety tool. Your whistle will assure that you are heard but the signal mirror will assure that you are seen and is a good idea for paddling in open water.
A signal mirror works like this:
You hold the back of the mirror close to one of your eyes
Then you reflect sunlight into your hand
Then you look through the inner hole in the mirror and you will see a red spot
You can move the red spot to the target where you want to signal
The red spot is an optical illusion created by the red reflective material that surrounds the inner hole in the mirror
Build Your Own or Buy Pre-Made
Each of the above items can be acquired separately and then either attached to you or stored in a dry bag on your kayak. Just make sure the bag is secured to your kayak somehow so that if you should capsize you won't lose all your important safety items.
If you would like to buy a pre-made safety package NRS has two great options:
A deluxe touring safety kit that includes each of these five items plus a boat sponge (which is not essential for safety but really helps to mop up water on the floor of your kayak – I use mine all the time).
Their safety kit comes in a yellow mesh deck bag that has reflective tape on it and corner clips that can clip onto your d-rings or your bungee cords.  A safety kit will make sure you are totally prepared for any common emergency you may encounter.