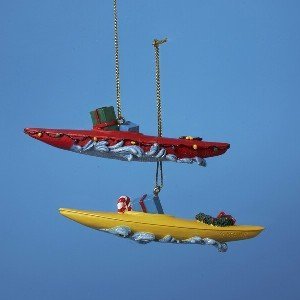 If you are looking for the perfect gift for the kayak enthusiast or if you are simply looking to spoil yourself over the holidays I have compiled a list of great kayak accessories that any kayaker would love.
Many of the below items I own myself and love and some of them are on my own special wish list. They are categorized by price so there is something to fit everyone's budget.
Gifts for Under $15
Kayak Ornaments – These are a really cute idea for the person who has everything. They are very inexpensive and can be hung from a tree, from a mirror or from anywhere you choose. There are some really cute ornaments that would make any kayaker smile.
Dry Bag – If you kayak and you want to bring any type of gear along with you for the ride you will need a dry bag. Dry bags can vary in price depending on what size they are.
Nose Plugs – These are great for whitewater kayakers who have a habit of taking on some big water and doing lots of rolls.
Ear Plugs – Same as above, great for whitewater kayaking to avoid water getting in your ears.
Wetsuit and Drysuit Shampoo – If your kayaking friend uses a wetsuit or a drysuit they will need shampoo to clean it. This tends to be very inexpensive and to last a long time.
Gear Deodorizer – This is great for getting rid of odors that aren't easily washed away.
UV Inflatable Boat Protectant – If you use an inflatable kayak, canoe or boat then you will need some UV protectant to help preserve the quality and life of the material.
Boat Sponge – An excellent tool for soaking up extra water which really helps with comfort.
Kayaking Books – There are so many good ones to choose from that talk about everything and anything to do with kayaking.
Gifts from $15 – $30
Kayaking DVD – Always inspiring to watch.
Waterproof cell phone case or camera case
Kayaking Gloves – A must for all season kayakers, whitewater kayakers and from those who suffer from blisters.
Wetsocks – Will protect your feet in cooler weather
Gifts for $30 – $50
Kayaking Survival Kit – Hopefully you will only ever need one of these
Waterproof Cooler – This is a fantastic idea for those who like to bring food along for the ride.
Gifts over $50
H2O Waterproof Headphones – Bring the tunes along with you
Paddle Bag – Protects the paddles and great for traveling
Now for those who really want to splurge… you can never go wrong with a new kayak!
To find the best shops to purchase these gifts see our list of popular kayaking online retailers.