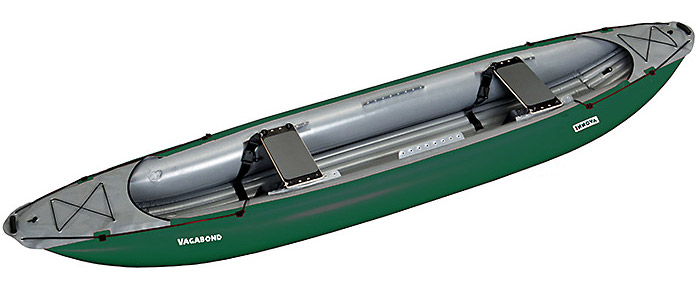 Best Uses: Recreation, flat water rivers, whitewater up to class III, fishing, families, traveling, multi-day expeditions, river trekking
Brand: Innova
Number of Paddlers: 2
Stats: Length 12' 5", Width 38", Weight 38 lbs, Load Capacity 528 lbs
Accessories Included: Drybag backpack, repair kit, 2 year warranty
Kayak Material: 1200 Denier Nitrylon
Pros: Rugged, light-weight, easy entry and exit, stable, versatile, optional spraydeck
Cons: No real back support, not self-bailing (but there is an optional spraydeck)
Available At:
More Detailed Info
The Innova Vagabond is an impressively rugged inflatable canoe that can be paddled easily with single-bladed canoe paddles or with double-bladed kayak paddles. It is made for two people but can easily be converted for solo adventures as well.
The Vagabond was designed with trekking and multi-day excursions in mind. It has a little extra width which offers better stability in whitewater as well as a low profile which will help to stay steady in windy weather.
I would think the Innova Vagabond would really appeal to those who want to explore long rivers and possibly do a little camping along the way. It is very well made and the fact that it can handle up to class III rapids gives it a lot of versatility in the water.
There is an optional spray deck that can be purchased which gives excellent protection from the elements in rougher conditions.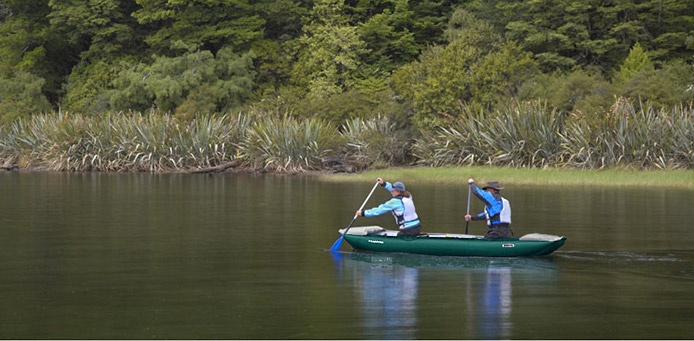 Although it can be paddled in lakes as well I wouldn't recommend it for longer flat water excursions as there is no real back support. It is truly best suited for rivers.
Final Thoughts
The Innova Vagabond canoe is an excellent river trekking canoe. It is light enough to take traveling anywhere you want to go and rugged enough to explore windy rivers with up to class III rapids.
It can hold a ton of gear and be paddles easily by two people or converted for solo use. It is another great European design by Innova.
Where To Buy
Click Here For The Innova Vagabond at Outdoorplay.com
Did You Know?
By clicking on the above seller links you can help keep InflatableKayakWorld.com growing. When you make a purchase after clicking on our links, the retailer will contribute a portion of the sale to help support this site. It won't cost you anything extra and it's a simple way to help us fund our kayak and gear reviews. Thanks!