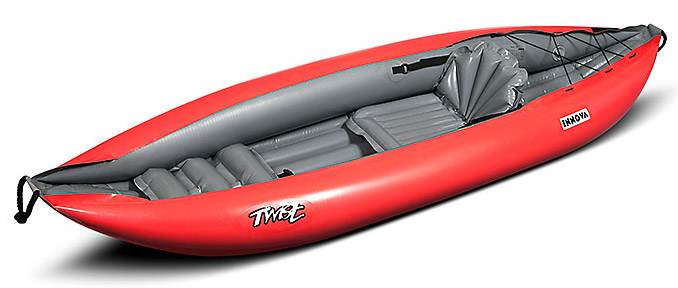 Best Uses: Day trips, flat water, calm rivers
Brand: Innova
Number of Paddlers: 1
Stats: Length 8' 7", Width 30", Weight 16 lbs, Load Capacity 220 lbs
Accessories Included: Nylon bag, repair kit, removable fin, fold down backrest
Kayak Material: Polyester fabric/Natural rubber laminate – PVC free
Pros: Extremely light weight, highly portable, stable, easy to lift, comfortable, compact, easy entry and exit
Cons: Basic, not very fast
Available At:
More Detailed Info
This is a small and extremely lightweight inflatable kayak. The Innova Twist weighs a mere sixteen pounds and can literally be carried on your back and taken absolutely anywhere.
It is a great little kayak but not a high performer. This inflatable kayak is great for anyone who is looking for a smaller watercraft that can be transported very easily to anywhere in the world and paddled on flatwater.
The Twist has a fold-down backrest that can be adjusted via inflation. It also has a removable fin that I would highly recommend using to improve the tracking in flat water.
There is bungee rigging on the stern deck that can be used to hold down gear and carry handles to help bring the kayak to the water.
It can actually be inflated within five minutes and is extremely well constructed. This is a great little kayak for playing around in the water, to take camping or to bring on board a larger boat.
For under $500 you shouldn't be expecting high performance from this little boat but you can expect Innova's great quality and a lot of fun.
Final Thoughts
The Innova Twist provides an inexpensive way to get out on the water. This is a great little kayak that is about as lightweight as they come.
It is a great option for a new kayaker looking for a convenient and fun playboat.
Where To Buy
Did You Know?
By clicking on the above seller links you can help keep InflatableKayakWorld.com growing. When you make a purchase after clicking on our links, the retailer will contribute a portion of the sale to help support this site. It won't cost you anything extra and it's a simple way to help us fund our kayak and gear reviews. Thanks!