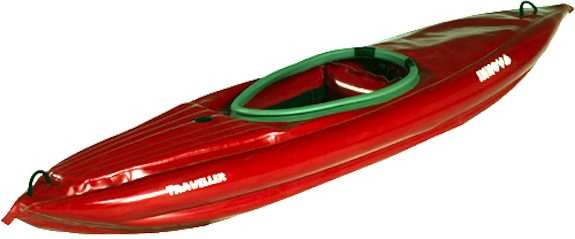 Best Uses: Whitewater up to class IV, flat water
Brand: Innova
Number of Paddlers: 1
Stats: Length 10', Width 28", Weight 30 lbs, Load Capacity 220 lbs
Accessories Included: Drybag/backpack, repair kit, deck and spray skirt
Kayak Material: 1200 denier Nitrylon
Pros: Stable, rugged, easy to lift, comfortable, great maneuverability, compact, easy entry and exit, great protection from elements
Cons: Very little cargo room
Available At: No longer available
More In-Depth Info
The advantage of the Innova Traveller is that it offers a semi rigid cockpit coaming and sprayskirt as well as an inflatable deck that provides extra warmth and dryness when paddling in rougher water.
It was designed to handle whitewater with up to class IV rapids and is highly maneuverable.
Keep in mind however that this inflatable kayak is not self-bailing… although it is more closed in than many other whitewater inflatable kayaks and shouldn't have too much problems with excess water in the cockpit.
The Innova Traveller is fast, stable and sporty and offers great protection from the elements.
It is lightweight and great for traveling however there is not much room for anything else in the kayak besides your legs.
This is definitely not the kayak for camping or multi-day trips. It is best suited for shorter whitewater paddling trips where maneuverability and protection are key concerns.
The Traveller will also hold up very well in salt water and is a lot of fun as a surf kayak.
Final Thoughts
This is an attractive looking whitewater inflatable kayak that is extremely rugged, very well made and has the look and feel of a hard-shell kayak. Excellent for day trips and recreational use.
The Innova Traveller has been very popular in Europe and on the West Coast. It has earned a reputation for being a great performer and a solid inflatable kayak.