Best Uses: Day trips, flat water, fishing, rivers (class I), ocean, camping, traveling
Brand: Innova
Number of Paddlers: 2 (can be converted for 1)
Stats: Length 12' 8", Width 31", Weight 33 lbs, Load Capacity 396 lbs
Accessories Included: Removable tracking fin, dry bag backpack, owner's manual
Kayak Material: 1200-denier Nitrylon and Lite-Pack
Pros: Stable, rugged, easy to lift, light weight, comfortable, great maneuverability, compact, easy entry and exit, very fast
Cons: Definitely needs tracking fin for easier paddling
Available At:
More In-Depth Info
I very much like this inflatable kayak. The Innova Sunny has a long history of being a very popular model and is well known as being one of the faster inflatable kayaks out there.
It is very solid and is slightly longer than the Innova Helios. The seats can be adjusted so it can be paddled as a single or a double and has plenty of space for a dog or a child.
As the name implies it has an open concept and lots of room.
The Sunny comes with a large removable tracking fin and many people have commented that it tracks much better with it on.
I would definitely recommend using it in flat water to keep the kayak going straight and to make your paddling efforts more efficient.
This kayak is truly best suited for flat water paddling such as lakes and calm ocean shorelines. If you want to take it down a river I would recommend only padding it in class I rapids, it is not suited for anything higher than that.
For an inflatable kayak that is over twelve feet long it is extremely light weight and can easily be taken just about anywhere including on an airplane.
As with most of the Innova kayaks, it rolls up into a super small package and is very easy to transport and store away.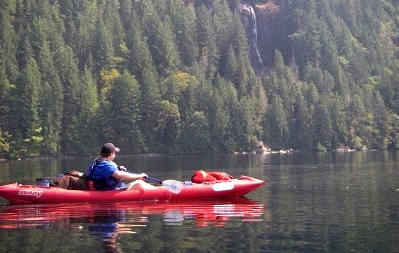 Quality, Simplicity and Convenience
The quality of this kayak is unmatched and Innova has a great reputation. The simplicity of it is fantastic and I love that there is absolutely no setup besides inflating it.
The seats can even be left in the kayak while it is being inflated and the metal skeg can stay attached.
This model is ideal for exploring lakes and smaller channels that a larger boat simply will not go. It is excellent for fishing and as mentioned before perfect for traveling.
If you have done much research on your quest for an inflatable kayak you will not find many others that will give you this kind of quality for the price.
If you are looking for a flat water kayak that is comfortable, stable, can be paddled as a tandem kayak or as a solo and is easily portable for traveling, this is one of your best options.
Even with two people in it there is still enough room for a large drybag in the bow as well as a large backpack in the stern. If you do happen to be paddling in choppier water you will want to have a bilge pump with you as the Sunny has an open cockpit and you will get wet.
One thing that a few people have mentioned in their reviews is that when you attach the skeg try and balance the wing nuts on the skeg.
For example put two screws in one side and two in the exact same spot on the other side. By doing this and lining it up straight along the hull you will find the Sunny tracks beautifully.
Final Thoughts
Bottom line… The Sunny is an excellent inflatable kayak. It is fast and sleek but not overly versatile. It was designed for flat water paddling only and is ideal for the recreational paddler.
It would work well for fishing, camping, traveling, families and dogs as well as anyone looking for a fast, stable and convenient kayak that weighs less than 30 pounds. I believe the Sunny is a great buy.
Where To Buy
Click here for the Innova Sunny inflatable kayak at Outdoorplay.com.
Click here for the Innova Sunny inflatable kayak at InnovaKayak.com.
Did You Know?
By clicking on the above seller links you can help keep InflatableKayakWorld.com growing. When you make a purchase after clicking on our links, the retailer will contribute a portion of the sale to help support this site. It won't cost you anything extra and it's a simple way to help us fund our kayak and gear reviews. Thanks!