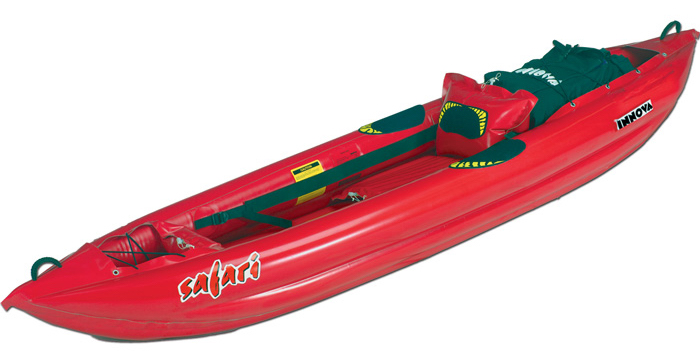 Best Uses: Whitewater up to class III, ocean surf, flatwater
Brand: Innova
Number of Paddlers: 1
Stats: Length 10', Width 28", Weight 24 lbs, Load Capacity 220 lbs
Accessories Included: Drybag/Backpack, removable tracking fin, thigh straps, repair kit
Kayak Material: 1,200-Denier Nitrolyn
Pros: Extremely fun whitewater kayak, rugged, easy to lift, comfortable, great maneuverability, compact, easy entry and exit, can take class III water.
Cons: This kayak is narrow and not very stable. For Intermediates to Advanced paddlers. Not very fast for flat water paddling.
Available At:
More Detailed Info
The Innova Safari is an excellent inflatable kayak for playing in the river with up to class III rapids or for taking on the ocean surf. With its narrow frame this kayak is not as stable as many of the other inflatable kayaks.
However because of its lower stability it has the advantage of being able to surf the Safari in holes, maneuver it easily in class III rapids and perform more turn carving and j-leaning.
The Safari is very rugged and will hold up nicely in huge waves, high winds, bumping into rocks and stumps and good ol' river playing fun. The Safari is best suited for intermediate to advanced whitewater kayakers.
The Safari is impressively light and compact. Therefore it is extremely easy to take traveling with you. It packs up small and will fit under most airline seats or in the overhead bins.
It comes with thigh straps, so it is possible to roll the Safari and it also comes with a removable tracking fin should you feel like puttering around on flat water.
Although this kayak is advertised as being great for flat water as well as whitewater, I would have to caution anyone who wants to use it mostly for flat water kayaking.
It will be difficult to keep steady until you really get used to it, and it will not be as fast as many of the other inflatable kayaks that are designed strictly for flat water.
It can definitely be used in both types of water but will perform best in whitewater.
Performs Best in Whitewater
The Innova Safari is a whitewater kayak first and then being able to use it on flat water as well is simply a bonus.
Basically you want to have some experience with kayaking before purchasing this kayak. Once you do decide to buy the Safari you will be highly impressed with how much it will remind you of a hard shell kayak.
The Safari is really sophisticated and performs great on whitewater. One quick suggestion is that if you do plan on using it at all on flat water you may want to purchase some more comfortable, high-back seats as your back will get sore quickly while flat water paddling.
The Innova Safari is a self bailing kayak which means any water that gets in will drain out. The Safari can easily hold up to 220 pounds and still perform well.
Final Thoughts
The Innova Safari is a super fun whitewater inflatable kayak that will have you reveling in how closely it performs like a hard-shell kayak.
There is plenty of room even if you are well over six feet and it will give you hours of fun on fast water. Best suited for intermediate to advanced whitewater kayakers.
Where To Buy
Click the links below to find the best deal on the Safari inflatable kayak.
Did You Know?
By clicking on the above seller links you can help keep InflatableKayakWorld.com growing. When you make a purchase after clicking on our links, the retailer will contribute a portion of the sale to help support this site. It won't cost you anything extra and it's a simple way to help us fund our kayak and gear reviews. Thanks!