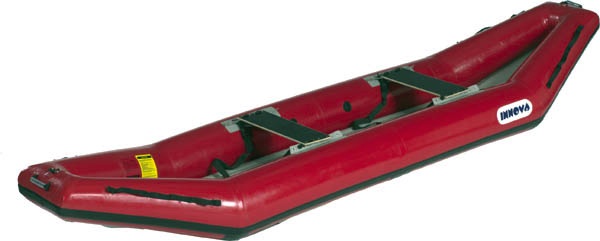 Best Uses: River trekking up to class IV rapids
Brand: Innova
Number of Paddlers: 2
Stats: Length 13' 3", Width 41", Weight 55 lbs, Load Capacity 770 lbs
Accessories Included: Drybag/Backpack, repair kit, owners manual, quick release thigh straps, multiple hand grips, no-slip bench seats
Kayak Material: 1200-denier Nytrylon
Pros: Stable, rugged, easy to lift, versatile, comfortable, great maneuverability and agility, compact, easy entry and exit, loads of baggage capacity!
Cons: Swept-up ends tend to catch the wind
Available At: Unfortunately the Innova Orinoco is no longer available.
More Detailed Info
The Innova Orinoco is a really interesting inflatable canoe. With the bench seats it can be paddled from a kneeling position using thigh straps or from a sitting position (on the benches) in calmer water.
It was designed for river trekking and will hold a weeks worth of gear plus two people easily without being cramped, as well as allow for maneuvering through up to class IV rapids.
Costing a little bit more money than many other inflatable canoes the Orinoco is not for everybody. It is a specialized inflatable canoe that is a little heavier, a little pricier and for a specific use.
It is especially geared for the outdoor enthusiast that wants to do long river treks in a boat that can handle just about any situation and easily be converted for flat water paddling all the while holding an excessive amount of gear and supplies.
It comes equipped with pressure relief floor valves, adjustable rigid thwarts and multiple hand grips.
Flat Water Troubles
This is an impressive river boat that will likely surprise many in its agility and maneuverability.
However, though it is advertised as being great on flat water as well, it has a tendency to stall on flat stretches and can get caught in the wind with its swept-up ends.
Also there is no real back support for longer flat water paddling. That being said, if your main purpose is to do some pretty major river excursions the Innova Orinoco will impress even the hardest skeptic.
Final Thoughts
This inflatable canoe means business and it will get you where you need to go with ease and style as well as with one heck of a large load capacity.
The Innova Orinoco is rugged and sturdy and is one of the best inflatable river trekking canoes around. If this canoe suits your needs, it is well worth the money.