Best Uses: Sea kayaking, traveling, day trips, lakes, slow rivers, camping
Brand: Innova
Number of Paddlers: 2
Stats: Length 12' 6", Width 30", Weight 36 lbs, Load Capacity 396 lbs
Accessories Included: Drybag backpack (fits everything including kayak, pfd, 4-piece paddle, spare paddle, bailer, throwbag and footpump!), thin nylon bag that fits over kayak
Kayak Material: Low stretch polyester and heavy duty rubber coated 1,200 denier Nitrylon exterior, Lite-pack interior to reduce weight and packed size.
Pros: Stable, light weight, easy to lift, comfortable, good tracking, good storage space, great maneuverability, compact, easy entry and exit, inflates very quickly
Cons: You have to sit on the floor of the kayak (you will get a wet bum) – you can add a seat cushion to alleviate this problem
Available At:
More Detailed Info
This inflatable kayak is completely perfect for traveling as it is light weight and stores so small that you can fit it under most airline seats. The Helios II performs best on the ocean or on a lake but can handle some mild rivers as well (class I only).
For better tracking with this tandem model I would highly recommend purchasing the optional rudder – it makes a huge difference in keeping your kayak going straight and makes it easier to manoeuver turns, especially when sea kayaking.
The Helios II is constructed with PVC-free Nitrylon material which is rugged and solid. This kayak has the potential to last a very long time with a little care.
Please read the review for the Innova Helios I for much more detail into the specifics of this model.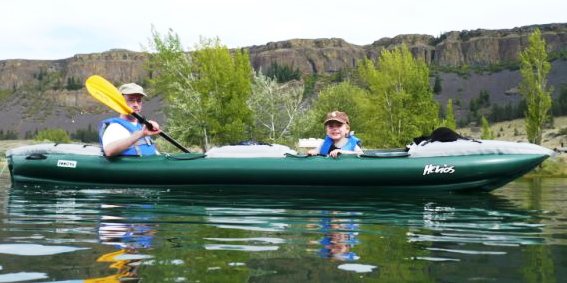 Final Thoughts
Innova has made a really great name for themselves in the inflatable kayak market especially in Europe and on the West Coast. The Innova Helios II inflatable kayak is not only excellent quality but also very affordable. It is ideal for lake, ocean and calm river paddling and is perfect for traveling.
The only downside to the Helios is the fact that there is no real seat. You have to sit on the floor of the kayak. It is not uncomfortable but you will get wet.
Although it is not a really big deal, it has been recommended by some to try adding a rubber or inflatable seat cushion to keep your bum of the floor and alleviate this issue.
Note: If you plan to do a multi-day trip and need to load in a lot of gear, you may find it a better option to have two solo Helios models as opposed to one tandem model as the solo models offer far more room for storing cargo and gear.
Where To Buy
Click here for the Innova Helios II inflatable kayak at InnovaKayak.com.
Click here for the Innova Helios II inflatable kayak at Amazon.com.
Did You Know?
By clicking on the above seller links you can help keep InflatableKayakWorld.com growing. When you make a purchase after clicking on our links, the retailer will contribute a portion of the sale to help support this site. It won't cost you anything extra and it's a simple way to help us fund our kayak and gear reviews. Thanks!