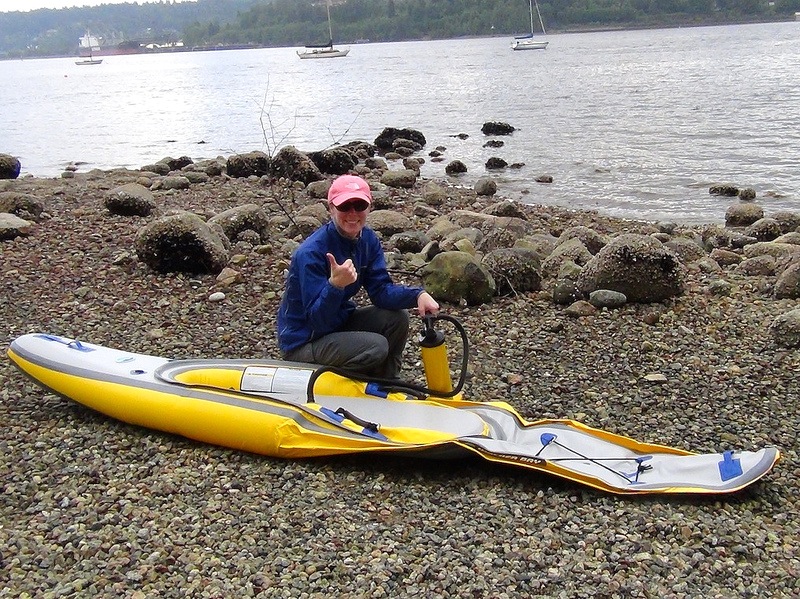 Inflatable kayaks offer the ultimate in convenience as they are easily transported to and from the water and able to be stored in small spaces.
Inflating your kayak is easy but the first time out can take a little figuring out.
There are a few different types of pumps you can use and depending on the type of valves your kayak has you may need extra attachments.
The most standard ways to fully inflate your kayak is:
with a foot pump
with a hand pump
or with an electric pump
Most kayaks will come with their own pump with attachments to properly fit the type of valves they have, which usually works well.
Some people choose to upgrade to a better pump that can make inflation easier as well as faster.
Over the years I've used many different pumps and some I definitely like more than others.
The Foot Pump
My first inflatable kayak came with a foot pump and I got used to using that pretty fast.
I find the foot pump works well, it is easy to pump as you don't have to bend over and you can alternate legs if you get tired.
Overall the foot pump inflates the kayak fairly quickly and is easy to bring along with you to and from the water.
The foot pumps are not expensive and they definitely do wear out. I have had a couple, the first one I broke just from excessive use and I got quite a bit of sand and gravel in it at a certain point.
They're not super strong so you do have to be semi-careful with it when pumping.
I also find that I sometimes need to tighten the hose a bit when it is attached to the valve when I am pumping.
It's not a perfect device, but it does the trick and I have used it for years.
The Hand Pump
The typical hand pump has been improved upon over the years and some of them have low and high-pressure modes.
The majority of inflatable kayaks and canoes come with a hand pump.
Lot's of people use them, but I have personally never been a big fan.
You either have to kneel or bend over when pumping and I find that to be not only exhausting but also hard on my back and knees.
So I usually will choose the foot pump over the hand pump.
However there is another type of hand pump called the K-Pump. The K-Pump does not come standard with the kayaks but can be purchased for an extra price.
It's not cheap but it is an awesome pump. The quality is excellent and it is able to inflate to a very high air pressure. It's compact, portable and works really well.
If you wanted to upgrade your hand pump, the K-Pump would be the one to look at.
The Electric Pump
The electric pump can be pricey so is a bit of an investment. I only started using one last year and oh wow does it make a difference.
Now I can inflate my kayak in only a minute or two with absolutely no effort. It's pretty cool.
There are different electric pumps out there and they don't all work that well.
The one I like the most is the Sea Eagle BTP Electric Turbo Pump… it is a little higher priced but it was made for inflatable kayaks so it is really easy to use.
You can get it with a battery pack or without. If you don't have the battery then you will need to hook it up to a 12V power supply.
The electric pump allows you to choose the air pressure you want it inflated to. This allows you to make sure it is inflated properly, as well as not over inflated.
There are cheaper electric pumps out there but the BTP Electric Turbo pump is my favorite and works like a charm.
When To Inflate Your Kayak
When you inflate your kayak will depend on how you are going to transport it to the water.
If you are going to transport it in the trunk of your vehicle then you would inflate it once you get to the water. This is what I usually do.
However if you have a roof rack and don't want to have to deflate your kayak all the time if you are using it often, then you can inflate it at home first.
Once inflated it is no problem to leave it inflated if you choose.
Just make sure it is stored out of direct sunlight and that you check the air pressure before taking it out. You may need to top it off before hitting the water again.
Attaching The Pump
The foot pumps and the hand pumps will usually come with the proper attachments for the different types of valves used on inflatable kayaks.
Sometimes it will take a little fiddling to secure the hose and the attachment in the valve but after you've done it once it is normally a snap.
Inflating The Kayak
Inflatable kayaks usually have 3 main air chambers. Check the instructions for the specific kayak you have before inflating.
Normally you would inflate the floor air chamber first, then each side.
It may be necessary not to fully inflate each side right away… just inflate one side part way, then the other and make sure the floor is positioned properly. Then finish inflating.
If your kayak comes with a skeg you will want to attach the skeg before inflation.
Pumping up an inflatable kayak is not difficult and won't take very long.
With the foot or hand pump you can expect to be pumping for about 5 – 8 minutes, depending on the size of your kayak.
With the electric pump it will be done in about 2 minutes.
Over time you will learn what best works for you and your kayak.