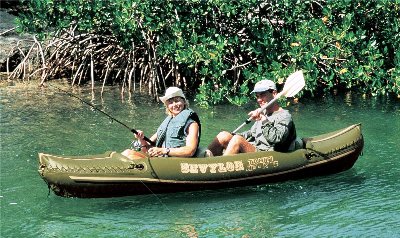 Are you looking for a budget inflatable kayak? One that perhaps you are not expecting to last a long time but will get you, your friends, your family and your kids out on the water a few times this year.
A cheap inflatable kayak can be used as a fun play toy for lake or river paddling and also can make a great kayak for guests to use as well.
If performance and high quality are not a big concern and you only have a few bucks you are willing to spend then there are a few options available for under $150.
Each of the below models are not necessarily models I would recommend myself but they do serve their purpose and may be suitable for some. The best place to find all of these models is at Amazon.com
.
Inflatable Kayaks – $0 – $100
Intex Challenger – I would never have looked twice at the Intex Challanger except that I knew of two people who purchased it and really liked it. It is not fast and it can sag slightly in the middle but all in all it is quite fun to paddle. This IK works best for easy lake paddling and is ideal for kids to paddle along the shoreline. It comes in a solo version (the Intex Challenger K1) as well as a tandem version (the Intex Challenger K2).
Kwik Tec Travel Kayak 2 Person – This Kwik Tec model is not highly rated and has not had a good rep. In fact I think the cheaper Intex Challenger has been more popular. It is best suited for really calm water. Be careful of winds as this one could get blown around.
Airhead Recreational Kayak 2 Person – This model is identical to the Kwik Tec travel kayak. Once again the rep is not good. It will likely last you for one season but will paddle more like a raft than a kayak. However if you want to float around in the water, it will do.
Inflatable Kayaks – $100 – $150
Kwik Tech Airhead Roatan 2 person – The Airhead Roatan is more solid that the Airhead recreational and will paddle a little better. It can seat two people and comes at a very good price. It is supposed to be able to handle moderate whitewater but I would personally keep this kayak in fairly calm water.
Sevylor Tahiti Classic – The Tahiti Classic is a pretty good cheap inflatable kayak and has been quite popular. The Sevylor name is better known and although typically their fleet does not tend to be high quality, they have stood the test of time and will last a little longer than other models mentioned here. The Tahiti Classic seats two people and is best suited for calm lakes or rivers.
Sevylor Tahiti Fishing – The Tahiti Fishing kayak is probably the most popular of the bunch. It is a little more durable and tracks better than the rest mentioned above. It is ideal for flat water padding, fishing, and traveling. It is camo-coloured for low visibility while hunting.
Sevylor Quickpak coverless sit on top – The Sevylor sit-on-tops are constantly being reinvented but their price remains very affordable. This is not a bad little kayak for the price and is very convenient as it packs really small into a backpack. This model is great for cruising along shorelines.
Each of these models can be found at Amazon.com
.
For higher quality inflatable kayak options please see our inflatable kayak reviews.