In my experience when I tell someone I mainly paddle inflatable kayaks, they are always a little wary of a) how safe they are b) how they perform, and most of all c) their resiliency.
One of my closest lifelong friends lives roughly 365 miles from where I live. Sometimes we meet up in the middle to do some camping. The first year I brought my inflatable kayak with me, we camped alongside the gorgeous Kootenay Lake and were excited to spend some time kayaking.
The first morning, my friend, her dog and I all piled in my kayak to go paddling.  The water was beautiful on this stunning mountain lake. Everything was good until I realized that she did not want to stray too far from shore. I didn't realize how nervous she was in my kayak.
She told me later she kept thinking that her dog's claws would puncture the material and we would sink or that the wind would pick up and we would not be able to get back to shore.  Even though she knew I paddled inflatable kayaks for the last few years, she did not trust it.
I couldn't help laughing as I explained to her how strong the kayak material is and how there was no way we would sink or not be able to get back to shore.  I explained the resiliency of the material and how a good quality inflatable kayak like the one we were in is super tough.
Once she understood that she was just as safe, if not more in my inflatable kayak than in a canoe or hard-shell kayak, she loved it and used it often during our camping trip.  My kayak was in fact ideal for her dog as well as it is so stable even when her dog would move around – in fact far more stable than if the dog was in a hard-shell canoe or kayak.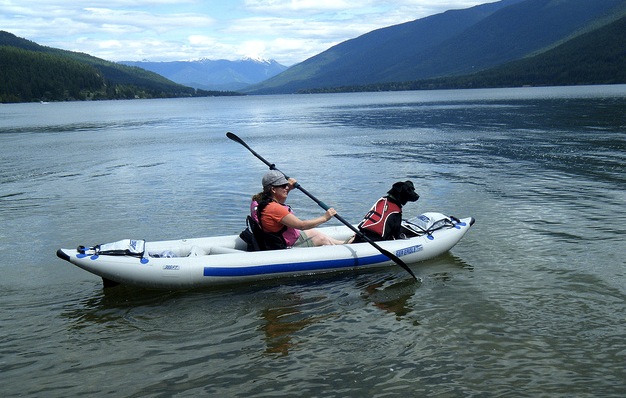 Her reaction however is not uncommon and is simply because she truly did not know how resilient and strong many inflatable kayaks are.
It is true that some of the very cheap models will not be as strong or resilient.  As with most products, the quality can differ dramatically.
However the majority of inflatable kayaks are extremely strong and made to withstand the elements as well as obstacles and debris.
Resilient Material
Different types of inflatable kayaks are made with different types of materials. The most common materials used are:
Each of these materials has their positives and negatives but one thing they have in common is that each can be very strong.
In fact these materials are so resilient that they are often used on boats in the US Coast Guard, Green Peace, whitewater rafts and with Zodiacs.
PVC and Hypalon are two of the most common materials used to make inflatable boats. They are known to be resistant to chemicals, extreme temperatures, salt water as well as ultraviolet light.
Nitrylon is actually even stronger than PVC and is very abrasion and puncture resistant.
We wrote an earlier post on the types of inflatable kayak material if you would like to learn more about them.
Harsh Conditions
Inflatable kayaks are able to survive and withstand some pretty harsh conditions including extreme cold and extreme heat.
Punctures are rare but if a leak does occur it can be patched easily. Sinking is not an option as the majority of inflatable kayaks have three main air chambers.
If one air chamber should get a leak, you will still stay afloat and able to get back to shore because the other air chambers will keep you up.
I am always conscious of keeping my inflatable kayaks strong by storing them out of direct sunlight, spraying them with a UV protectant spray and basically just making sure they are not abused unnecessarily.
However my kayaks have easily held up even after being dragged on gravel and rocks, hitting debris and sticks in the water, dogs claws, kids jumping and hundreds of paddling adventures.  I've never had to patch them and after a little cleaning, they still look almost brand new.
Of course there are different types of inflatable kayaks and it is necessary to get one that will suit the type of water, paddling and activities you plan to use it for in order for it to hold up as well as it is supposed to.
A good quality inflatable boat is tough and can last you a lifetime – they are just that resilient.