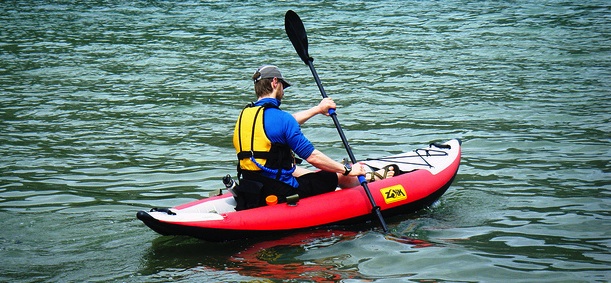 The easiest way to know which kayak is right for you is to read informative inflatable kayak reviews that give you real life opinions.
Our detailed reviews were created by doing lots of research, reading every review we could possibly find, as well as incorporating our own personal experience with many of the kayaks.
Consequently we have created the largest and most comprehensive inflatable kayak review site that helps people get to know the facts before making the decision to buy.
We are well aware how difficult it can be to make a large purchase online without having seen it in person.  We do our best to help you get a feel for the products and understand as much about them as possible.
Reviews, information and insider tips is what InflatableKayakWorld.com all about. We have done our very best to provide detailed information, important facts and figures as well as all the pros and cons and suggestions on where to buy.
What You Will Find
In each review you will find:
number of paddlers that it is designed for
the pros and cons of each model
the important specifications such as length, width, weight and load capacity
material used in construction of the kayak
the included accessories and features
the type of water it is best suited for
whether or not the seats can be adjusted for solo or tandem use
the quality of construction
how it performs and handles
where to find the best deal online
When possible we have added our own pictures,  our own videos and our own experiences.  You will notice that we have our own opinions about just about everything.
We have many years experience paddling inflatable kayaks and we know our stuff.  However we also encourage you to research and read as much as you can to make sure the kayak you choose to buy is the right choice for your needs.
Although quality and price can vary, the majority of these kayaks are quite well made and with the proper care can last a very long time. It is important that the model you choose is the right fit for you.
Fortunately we LOVE inflatable kayaks and it is a real pleasure to test the models out and write down our findings. We hope you find them very helpful when doing your research.
Where To Start
There are so many options for different IK's and more arriving on the market yearly.  They get better every year and it can be difficult to keep up with the new materials, construction and technology used… not to mention all the different brand names and models.
If you are not sure where to start check out the Top 5 Inflatable Kayaks page for a list of five of the most popular and best performing models.
Or you can search the detailed Comparison Charts to get a grasp of the different models and how they differ.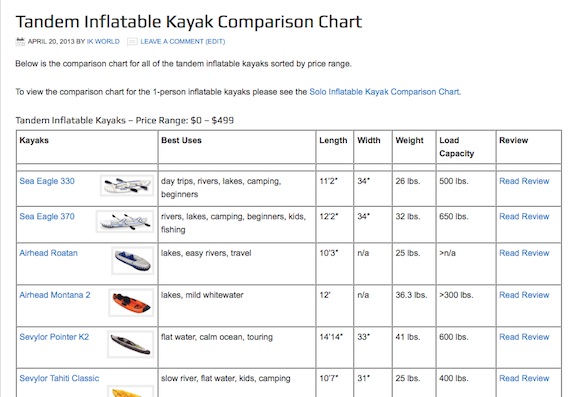 In each review you will learn what type of water the craft is best suited for, how many people can paddle it and the style and size.
You will also find important information such as the weight, load capacity, material, quality and accessories that are included.  Basically you will find everything you need to know to get a grasp on the kayak without actually seeing it in person.
Our reviews are ever growing. We try to add more when possible and keep them honest and straightforward. We hope you find them helpful on your search for more information.
At this time our reviews include models by:
Advanced Elements
Aire
Airhead
Bic
Coleman
Infinity
Innova
NRS
Pakboat
Sea Eagle
Sevylor
Tributary
Zoik
We would love to see as many people as possible out on the water paddling, having fun, enjoying the nice weather, watching sunsets and sunrises, fishing from their self-powered watercrafts and all the while enjoying the awesome fitness benefits that go along with it.
Click here for a complete list of our comprehensive inflatable kayak reviews.