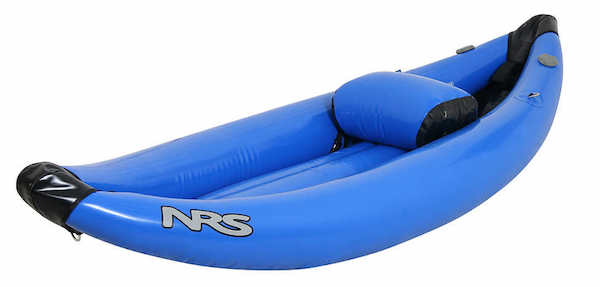 Update 2016: This kayak is no longer available.
Best Uses: Whitewater, traveling, kids
Brand: NRS
Number of Paddlers: 1
Stats: Length 8' 6", Width 32.5" , Weight 17 lbs., Load Capacity unknown
Accessories Included: Inflatable thwart seat, 3 year warranty
Kayak Material: 840 denier nylon base coated with highly abrasion resistant polyurethane
Pros: Very lightweight, stable, self-bailing, highly maneuverable, PVC-free, great for kids, excellent for traveling or backpacking
Cons: Quite small – not good for a larger person, material is not as tough as many other NRS inflatable kayaks, no room for extra gear
More Detailed Info
The NRS Rascal is a small inflatable kayak that will mostly suit someone who is looking for a decent whitewater inflatable kayak that can be taken traveling anywhere and carried on one's back.
It will also suit families that want a smaller inflatable kayak for their child.
The Rascal is tough and RF welded seams will ensure great durability. However this is a little kayak and the material is not as tough as many others.
The quality of the Rascal is very comparable to the just slightly larger NRS Bandit. Anyone who has tried the Bandit can likely attest that it is a great little kayak.
Therefore do not be too worried that the tiny Rascal will not hold-up. NRS knows their stuff and has been in the inflatable kayak business for a long time.
The Rascal is made small but will be very appealing to a certain market… kids and those who like to travel and anyone who wants one of the lightest inflatable kayaks possible.
A couple of good points to know about the NRS Rascal are:
The thwart seat attaches with straps that lace through the drain holes and can be placed anywhere you want to sit in the kayak.
The Rascal is very maneuverable as well as very stable.
The Rascal has Leafield valves, C7 fill valves and an A7 pressure relief valve to protect the floor – all of which are of excellent quality.
Final Thoughts
I can't help but like the NRS Rascal. Its small size does not make it ideal for larger people or for carrying large loads. However it is perfect for kids who want to learn to whitewater kayak and for those who love to travel.
The price is great and the quality for what you are getting is good too. It wouldn't be my personal choice but I can see how it would appeal to a lot of people.
Plus the fact that it weighs only 17 pounds makes it perfect for anyone looking to backpack to remote areas.
Where To Buy
Unfortunately this kayak is no longer available.