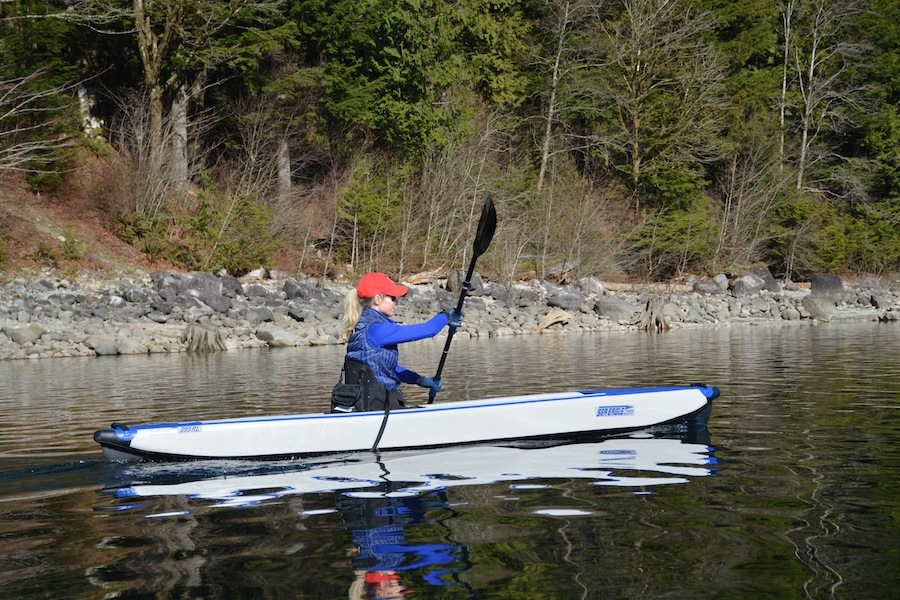 Best Uses: Lakes, ocean bays, calm rivers
Brand: Sea Eagle
Number of Paddlers 1
Specs: Length: 12'9", Width 28" (25″ at waterline), Weight 28 lbs., Load Capacity 500 lbs.
Accessories Included: Small removable rear fin, adjustable footrest, tall back seat with comfort seat pad, either the AB40 4-piece kayak paddle or the AB50 2-piece carbon paddle, high-pressure pump with pressure gauge, repair kit, and convenient backpack carry bag for transport
Kayak Material: 1100 Decitex Reinforced, all drop-stitch material
Standard Features: 3-one-way air valves, 6 D-rings to secure seat, footrest, 2 open and close drain valves, fully constructed with drop stitch technology, NMMA Certified, front and rear spray skirts with padded carry handles, printed instructions, QR code on kayak that you can scan with your smart phone for video instructions
Pros: Lean, strong , fast, great tracking, very comfortable seat, compact, light weight, very responsive and easy paddle, can hold a lot of weight, very fast set-up.
Cons: The narrow width makes this kayak more 'tippy' and a little less stable
Available At:
More In-Depth Info On The RazorLite Kayak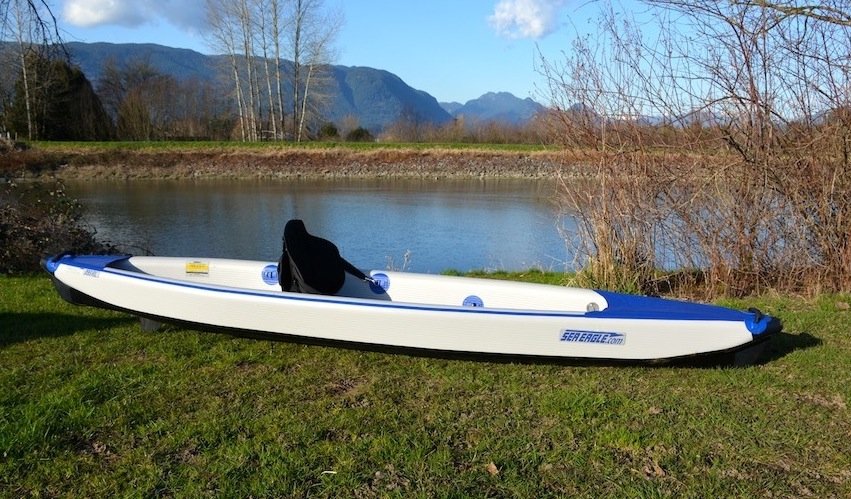 The Sea Eagle 393 RazorLite is new for 2015 and to date it is the most unique inflatable kayak I have tried.
It has some nice features that really make it stand out. However the one main reason I found it to be so unique is that it is far narrower than any other inflatable kayak I have seen or paddled.
Most IK's are between 30" and 40" wide. They are known for their wider pontoon-like sides that make them extremely stable.
The RazorLite is only 28" wide and only 25″ wide at the waterline. The lean width makes it feel much more like a sleek hard-shell kayak when you are paddling.
It is an interesting design and feels completely different from paddling any other inflatable kayak.
Sea Eagle states that this is the world's first and only kayak made entirely of drop stitch material.
Basically what that means is that it is able to be inflated to a much higher air pressure.
In fact it can be inflated up to 10 PSI… which is unheard of for an IK. Most IK's can only be inflated up to 3-4 PSI. There are a few that can be inflated up to 6 PSI but I've never seen as high as 10.
I imagine with the narrower sides, the higher PSI is necessary to keep it strong and rigid…. And it is very strong and super rigid when inflated anywhere from 7-10 PSI.
The extra rigidity allows this kayak to move smoothly through the water with very little effort.  It cuts through chop and waves and moves quickly (Sea Eagle says it can reach paddling speeds up to 6 mph).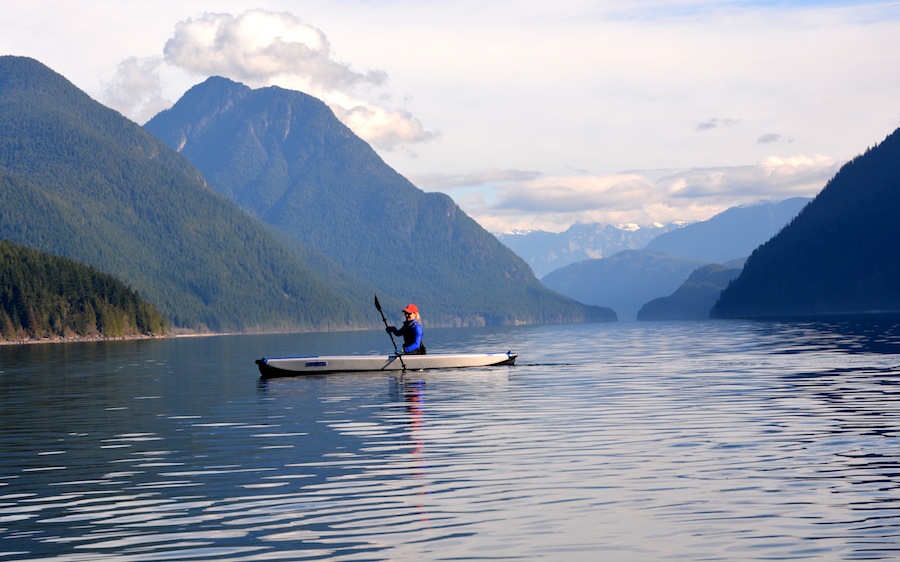 RazorLite Setup and Weight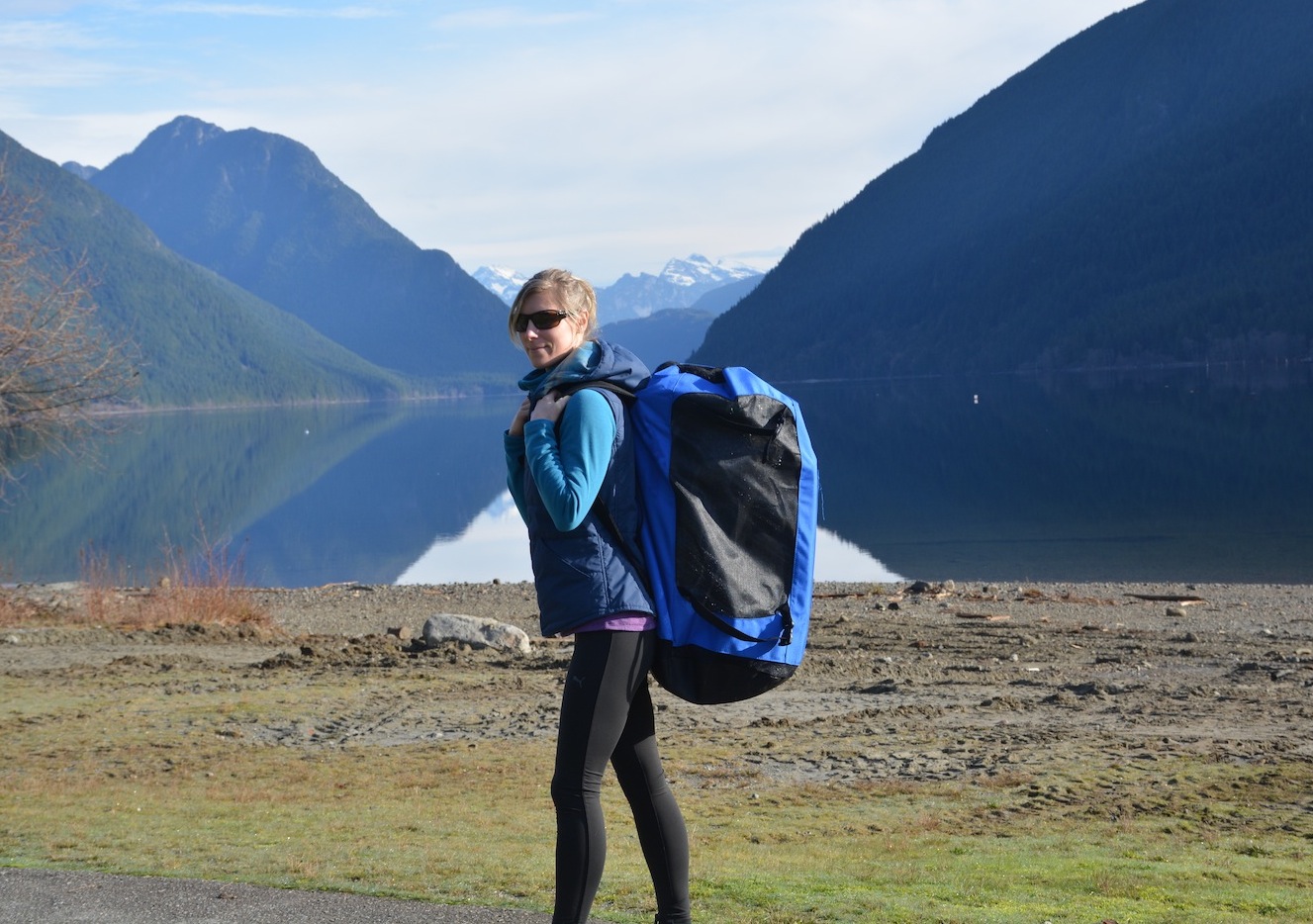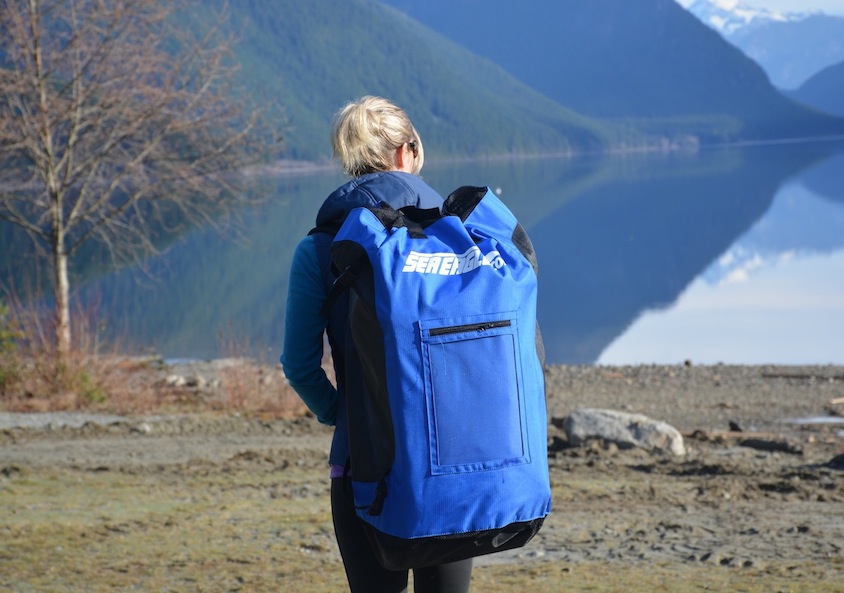 The RazorLite is all one piece and setup is really easy. Take it out of the bag, unroll and inflate, clip in the seat, the footrest and the skeg and you're good to go.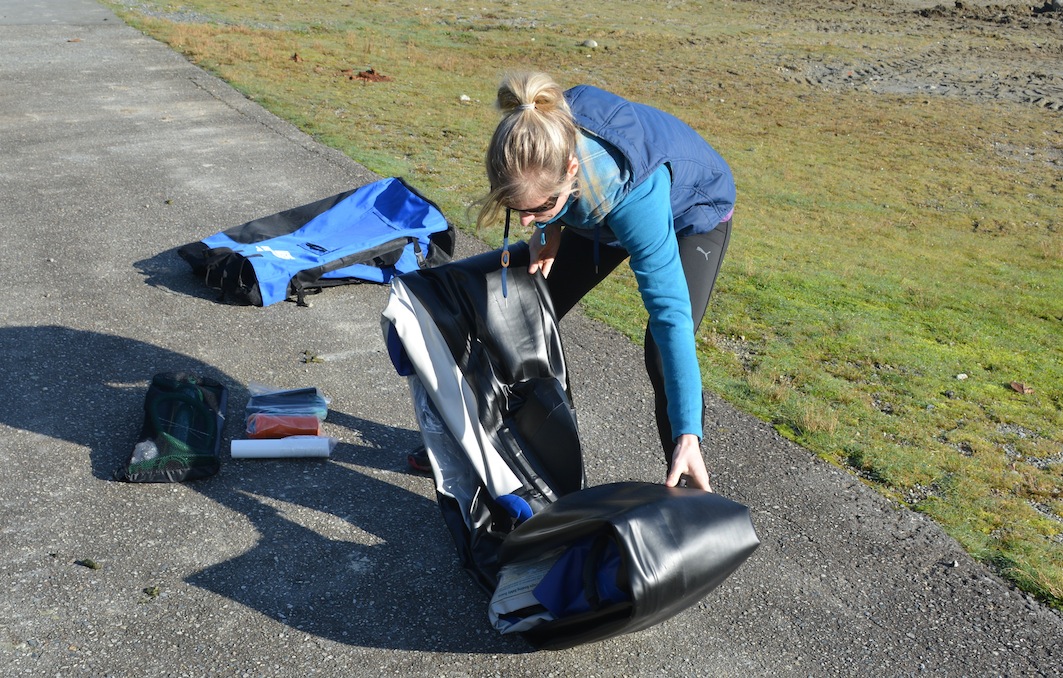 There are three main air chambers, one on the floor and one on each side.
Inflate the floor first then each side. The sides are so narrow that I found it much faster to inflate than other models.
The pump that comes with the package is awesome. It is capable of inflating up to 20 PSI and inflates the Razorlite up to 10 PSI really fast.  The inline pressure gauge is easy to read and works great.
I found that the Razorlite inflated extremely fast.  The hand pump worked great and I had the floor then each side inflated in six minutes… and that included taking two quick breathers in between pumping.
I found pumping the kayak up to around 7 PSI was really easy then the pumping action got a little harder.  However the last few PSI inflated really fast.  Before I knew it I had passed the 10 PSI mark and ended up at around 11 PSI.  It is by far the fastest and easiest inflatable kayak I've ever manually inflated.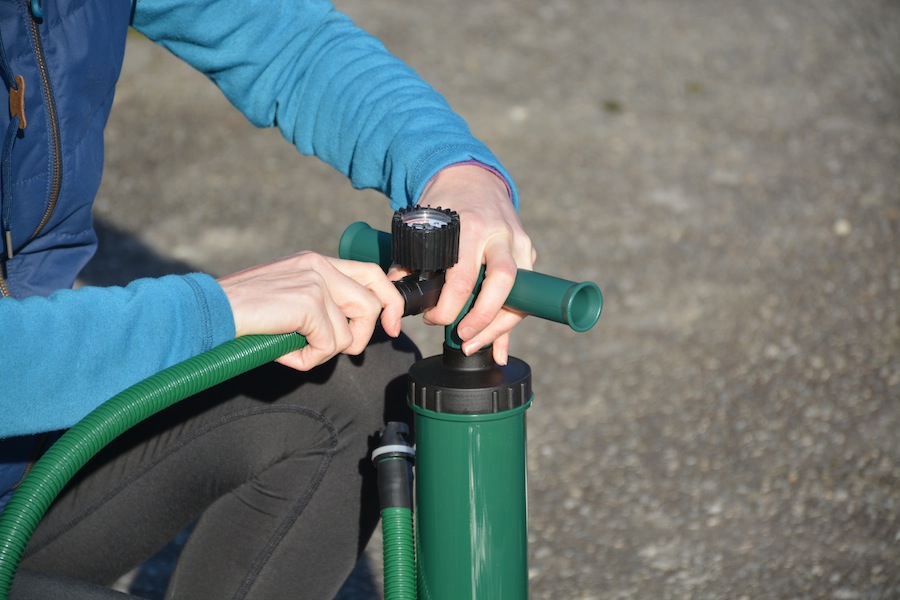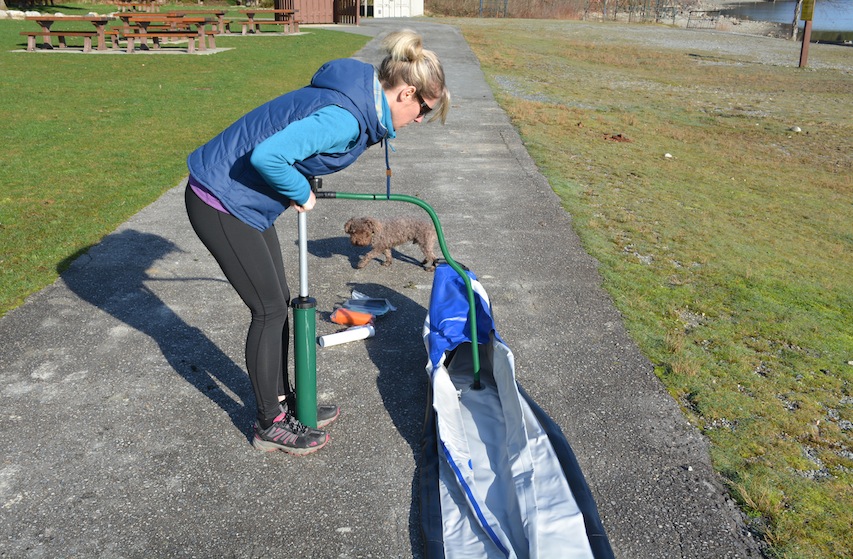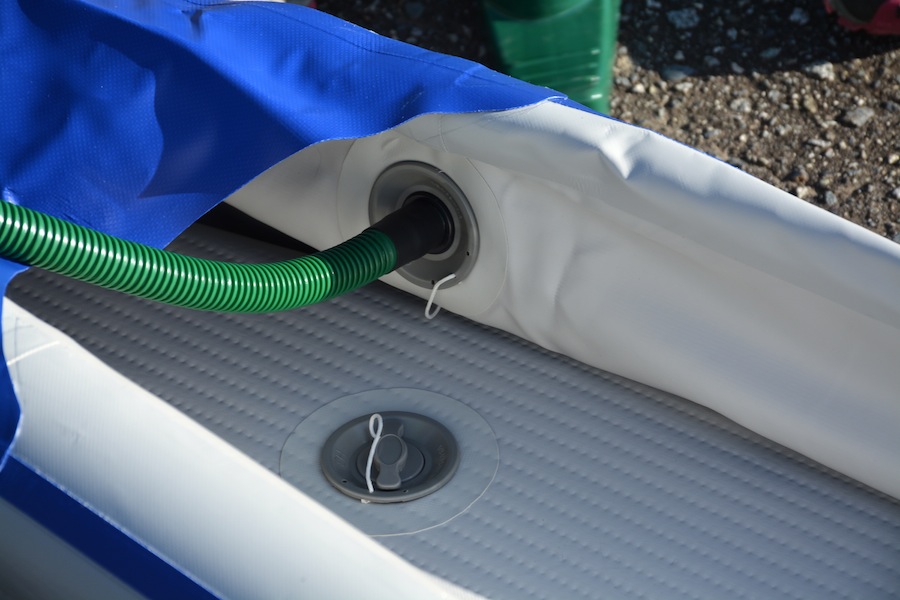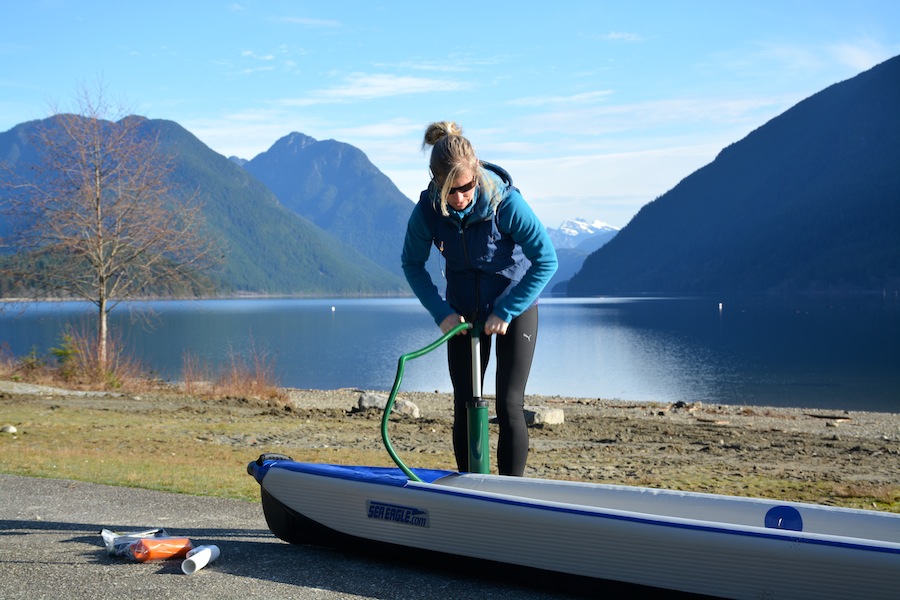 Sea Eagle states that this kayak is ultra light. I have to say that I didn't actually find it to be ultra light and there are many solo IK's that are much lighter.
However it is fairly light (28 lbs.) if you consider that this kayak is almost 13' long . With two people it is super easy to carry. By myself it took more effort but still possible.
Sea Eagle sells an EZ Cart wheel system that is ideal if you are by yourself and need to transport your kayak any distance to the water.  This would be my choice to use if I was out paddling solo.

393rl Performance
The performance is excellent. Paddling the RazorLite feels totally different from paddling any other inflatable kayak.
The narrow width makes it super responsive and glide extremely well through the water.
The narrow sides also make it feel a lot less stable than the other Sea Eagle kayaks like the FastTrack or the Explorer.
This is not a negative, it simply feels different and takes some getting used to if you have previous experience with other IK's.
To me the RazorLite felt much more like paddling a sleek hardshell kayak. It took me 5 minutes to get fully comfortable in it and in the groove.
It tracks in a straight line and it cuts through the water beautifully.
The wind picked up pretty good while I was out my first time in it, making me work hard on my way back to shore.
I noticed that the RazorLite kept tracking well and handled the chop and wind with no problems at all.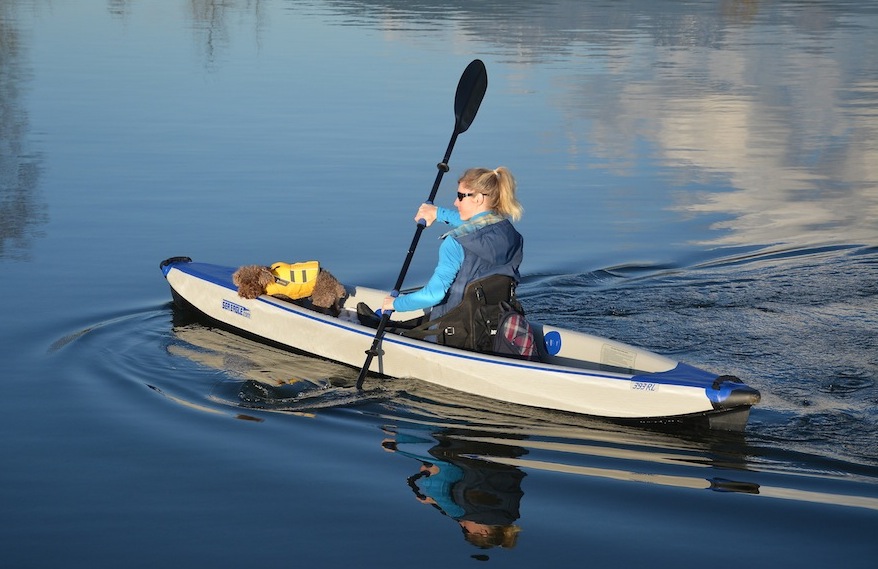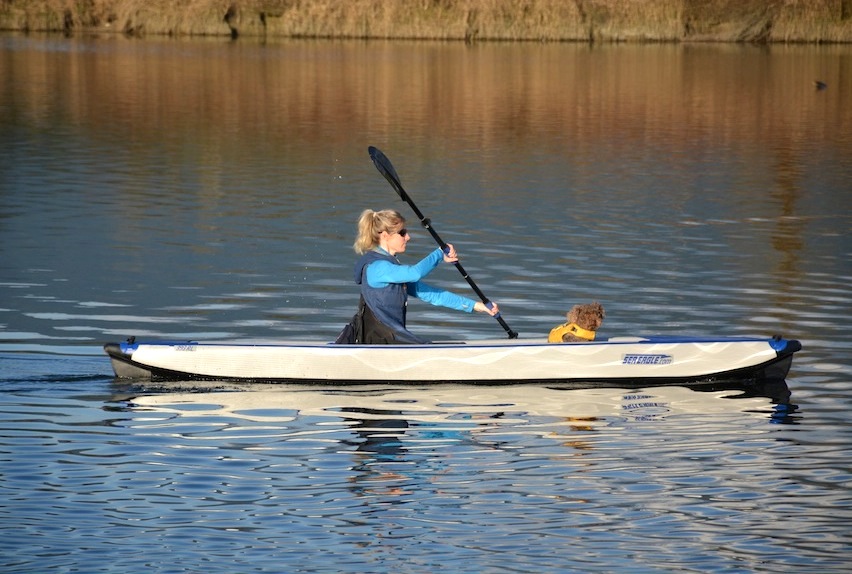 Use The Footrest
This kayak comes with a white plastic footrest that you attach to the D-rings with the included black strap.
I found the footrest necessary to paddle well. With the thinner width I found that I really needed to brace my feet on the footrest to keep proper control and to paddle efficiently.  I also found that bracing my knees on the sides of the kayak helped as well.
It takes a bit of fiddling with the footrest to figure out how to attach it properly so that it provides the right amount of tension (at least it took me a few tries).
Once attached, it works well. I'm not super fond of any of the footrests I've tried with any inflatable kayak up to this point.
It can sometimes be equally as effective or even more effective to just roll a towel up into a dry bag and wedge it between the sides of the kayak on the floor so it stays put.
However this footrest does the trick and it weighs almost nothing so it's easy to pack in the backpack and take with you anywhere.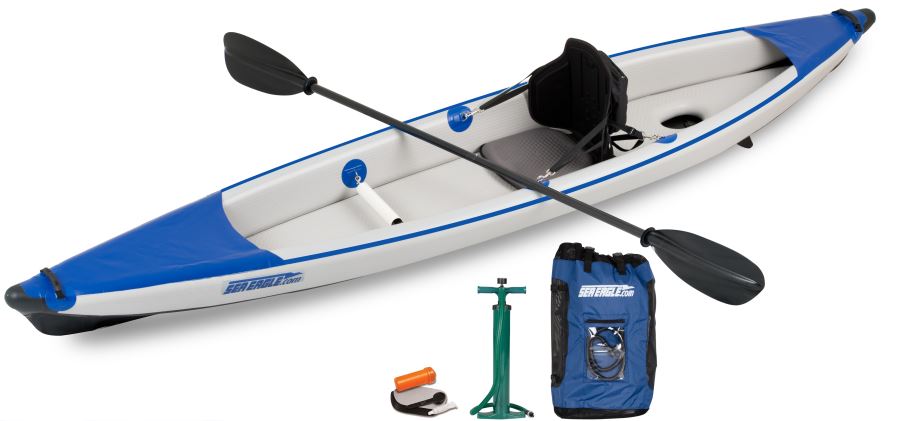 Stability of the RazorLite
As mentioned the stability is different than other IK's. The thinner side walls will make it rock back and forth far more than with the pontoon-like sides of other IK's.
If more stability is what you need then consider their other models, the FastTrack or the Explorer.
I found that getting into this kayak from the shore was quite easy although it's a little more wobbly than I'm used to. Mounting from a dock will take a little more strength to keep the kayak steady.  No big deal however, especially if you've paddled hard-shell kayaks before.
I don't want to overdo talking about the rockiness of this kayak. It is not that it is totally unstable… it is just a different feel from the other models.
The design of the RazorLite and the narrower sides however are what make this kayak perform so well…. And it really does paddle well.
Sea Eagle states that it can reach speeds up to 6 mph. I haven't tested that, but it is impressive and it is a lot of fun to paddle.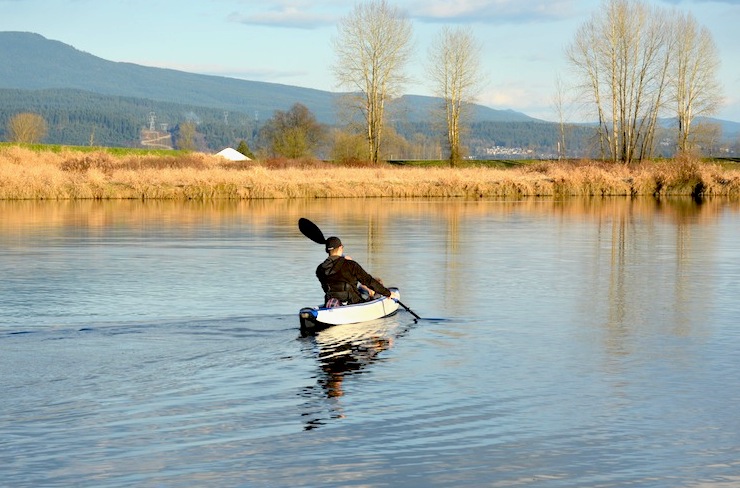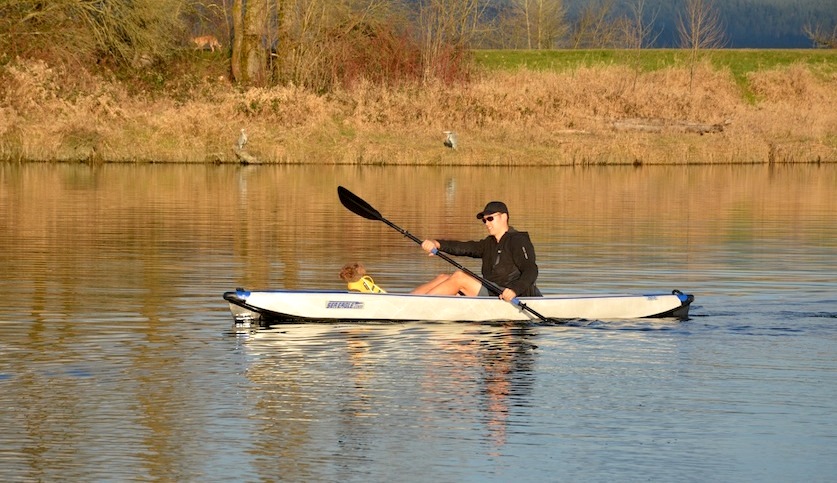 Drop Stitch Technology
This is the only IK out there that is fully constructed with Drop Stitch Technology.
The kayak is all one piece, the floor included. The kayak itself uses 3" Drop Stitch material and the floor uses 4" Drop Stitch material.
What that means is that it can be inflated up to 10 PSI. No other IK on the market is able to be inflated to that high of an air pressure.
This makes for a super rigid kayak that performs extra well.
I have to admit I'm pretty psyched about the extra high air-pressure level.
I also paddle inflatable SUP boards and they are able to be inflated up to 15 PSI, so I know how rigid that air pressure is and what a difference it can make for performance.
To see an inflatable kayak that is finally able to hold a much higher air pressure is exciting.
Attached Floor
Some IK's have a separate floor and that is usually a good thing because a separate floor typically means it can be inflated to a higher air pressure than the rest of the kayak, improving the stability and performance.
The all drop-stitch design of this model however means the floor is attached and I love this feature.
The attached floor material is thicker than the rest of the kayak material and it along with the rest of the kayak can be inflated up to 10 PSI.
The nice thing about an attached floor is that it is easy to dry off after use. You don't have to worry about lifting the floor up to dry up the water that usually will get underneath it.
I found that it saved a lot of time when drying it off after use and putting it away.
RazorLite Design Features
You might notice from the pictures that the RazorLite has a very straight hull.
It is quite sleek looking, far more so than I was expecting. The straight hull and the narrow width make this kayak paddle straight with maximum efficiency.
The length to width ratio makes it really stand out.  It also has a hard edge bow and stern with tapered sidewalls. This is another unique design feature that allows for extra speed while paddling.
I am not great with the technical talk so I'll provide a quote from Sea Eagle to help explain the benefit of the tapered sidewalls on the bow and stern.
The RazorLite™ Kayak's rigid bow and stern molds create the worlds very first speed entry system that leads into a double concave and then opens into a flat planing surface. The double concave design at bow allows pockets of air to enter in between the hull and the water creating lift while reducing friction and drag. The double concave at stern creates a super clean exit. The Tapered Drop Stitch Side Walls provide a rigid chine at the waterline and secondary buoyancy and stability. These features combine to enable the RazorLite™ to glide quickly and effortlessly through the water!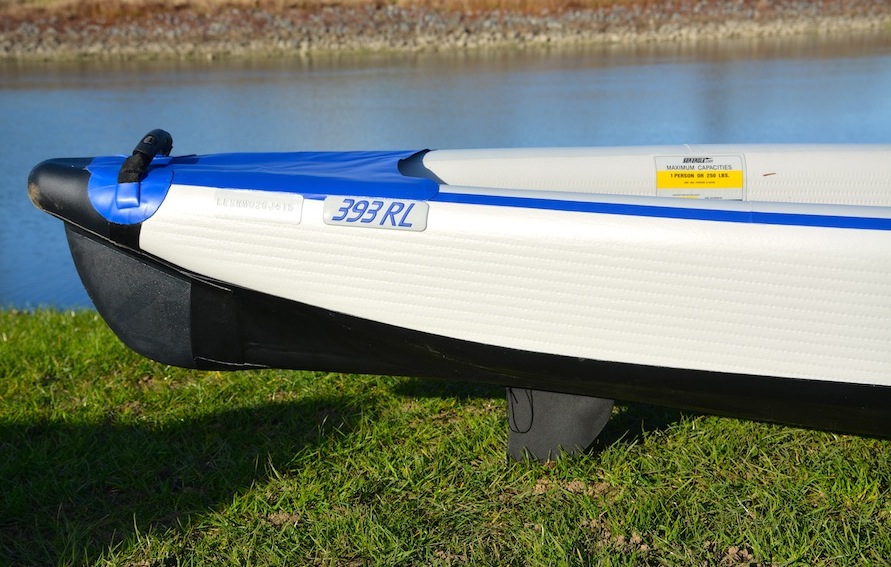 One thing to note about the bow and stern is that it may be optimal for performance but it is not ideal for rolling the kayak up when deflated and storing in the backpack.
Take note of how it is folded when you first get the RazorLite. Otherwise you'll try several times over before figuring out how to fold it back up properly to fit it back in the bag… which is exactly what I did.
I wouldn't say the kayak package is tiny but it does fit in the backpack and can be easily taken anywhere or stored in a small space.
Front and Rear Skirts
The blue front and rear skirts that you see in the pictures work well for keeping water from spraying inside the front and back of the kayak.
The only water that got inside while I was out was a few drips from my paddles.
The spray skirts are solid and fairly strong. I don't think I would load them up with gear but to they work well for protecting anything stored underneath.
Additional Features
A few additional features to be aware of are:
2 open and close drain valves – I mistakenly paddled out with one of my drain valves part way open one day and I didn't notice until I returned to shore.  The drain valves are a little lower than the actual floor so any water that gets in when they are open does not water-log the kayak.  They work fairly well.  I never even noticed they were open until I docked at the end.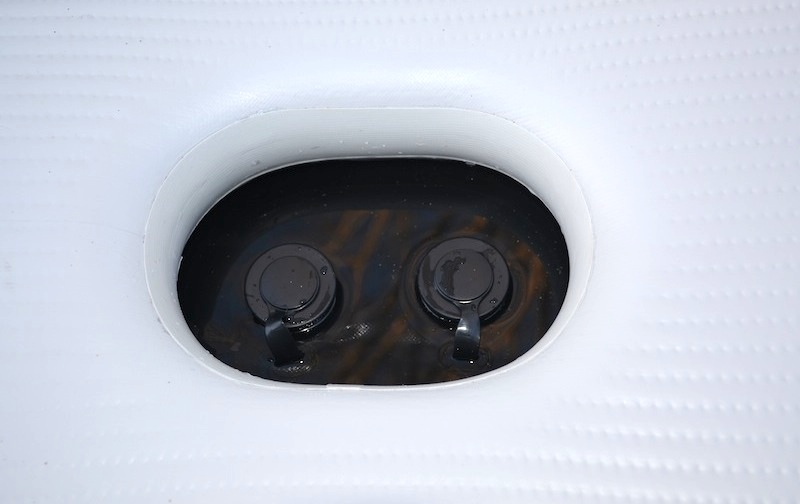 Small removable skeg. The skeg is smaller than I expected but works really well. The smaller size means it won't get caught up in any weeds or debris in the water. It also allows you to paddle in very shallow areas.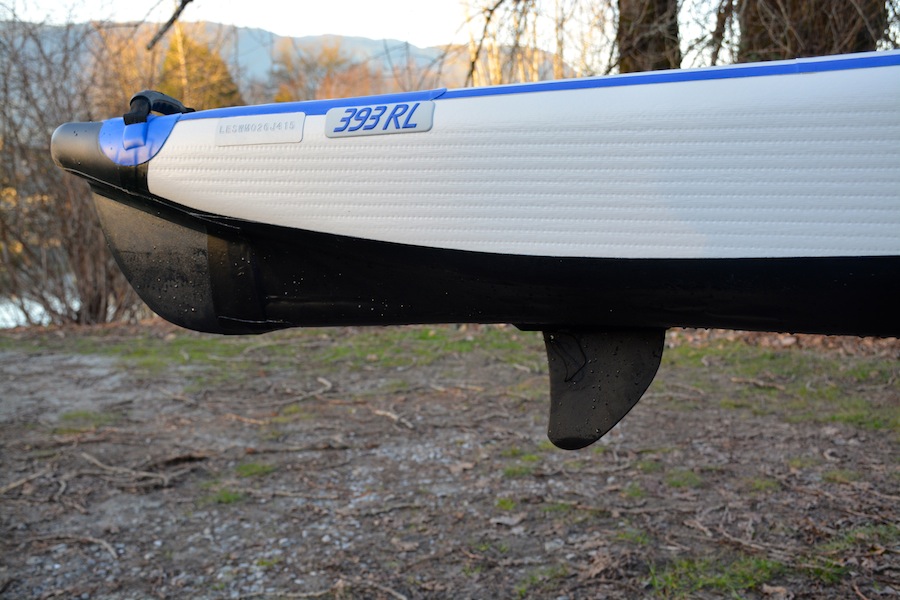 6 D-rings – There are a total of 6 D-Rings that you can use to attach your seat as well as the foot rest. They can also be used to tie down gear. Extra D-Rings can always be purchased and glued on if needed.
Carry Handles – The carry handles at the bow and stern are padded and comfortable to use. No issues with these at all.
Comfortable Seat – Sea Eagle upgraded their tall back seat for all their kayaks. The new seat is padded and extra comfortable. I absolutely love it. It provides decent back support and the extra padding keeps your bum from getting sore.  This new seat is a great improvement over previous models.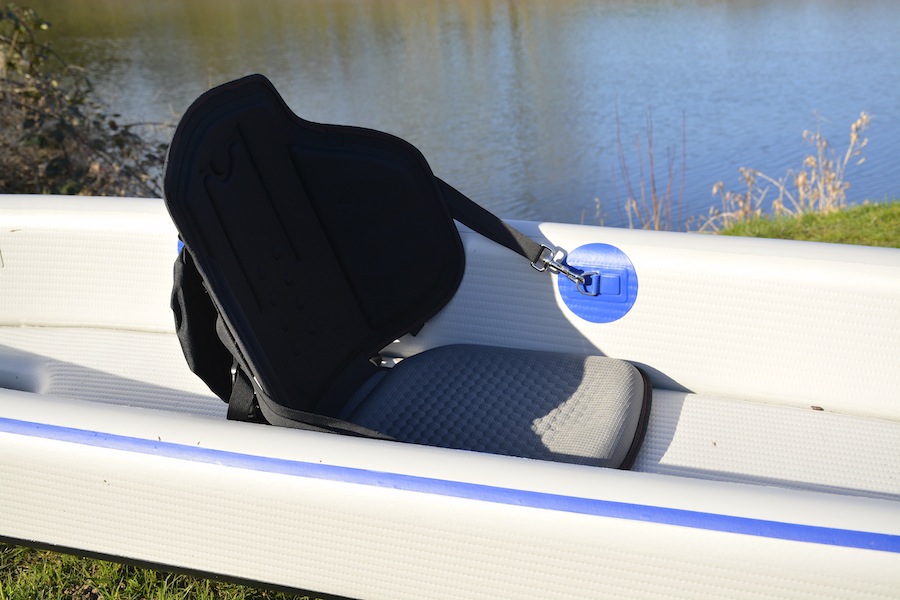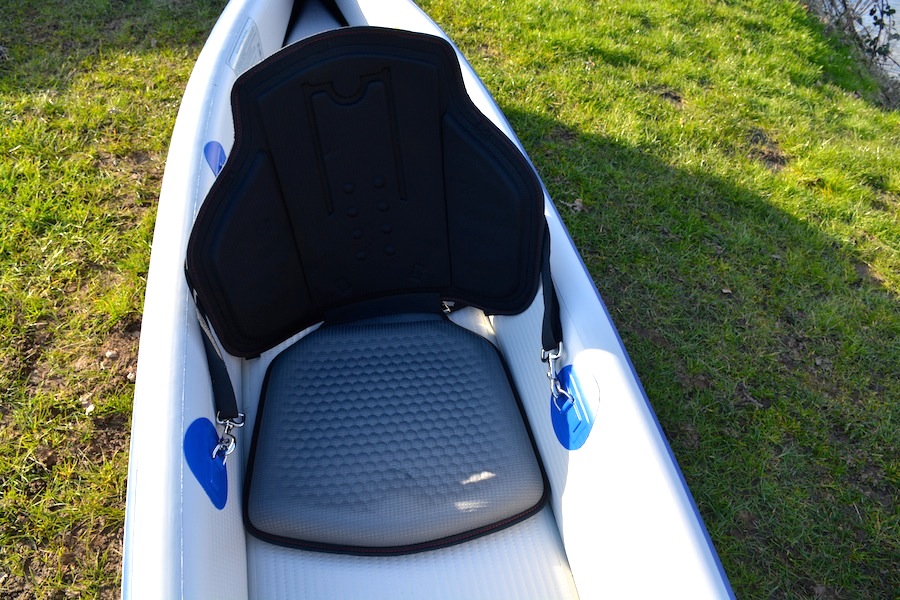 393rl RazorLite Package Options
At the moment there are three package options to choose from.
1. The Pro Package – Includes the kayak, the removable rear skeg, the tall back padded seat, the AB40 four-part paddle, the adjustable foot rest, the backpack carry bag, the high-pressure pump with inline pressure gauge and the repair kit.
2. The Pro Carbon Package – This package includes everything in the Pro Pacakage except it has an upgraded 2-piece AB50 carbon fiber paddle that is half a pound lighter than the AB40 paddle.
The paddles are decent. I wouldn't say they are exceptional but they will do the trick. If you get serious about your paddling and the amount of time you spend on the water you may want to invest in a better paddle down the road.
3.  The Adventure Package – This package includes everything in the Pro Package but the paddle is upgraded with the adjustable AB60 ergonomic paddle.  The carbon blend ergonomic shaft on this paddle has been specifically designed by a sport physiologist to keep your wrists, forearms and elbows properly aligned while you are paddling.
I just upgraded my paddle to one with an ergonomic shaft.  It is different than the one offered here (this package wasn't available when I got my RazorLite) however it is just as awesome.  I absolutely love paddling with it and I do find it makes a big difference comfort wise.  I also notice less fatigue while paddling and my power stroke has improved and I really feel I am more efficient.
An ergonomic shaft is not critical.  It took me years before I got one.  However if you have the extra cash, it's a really nice option!
Paddling The 393rl With A Dog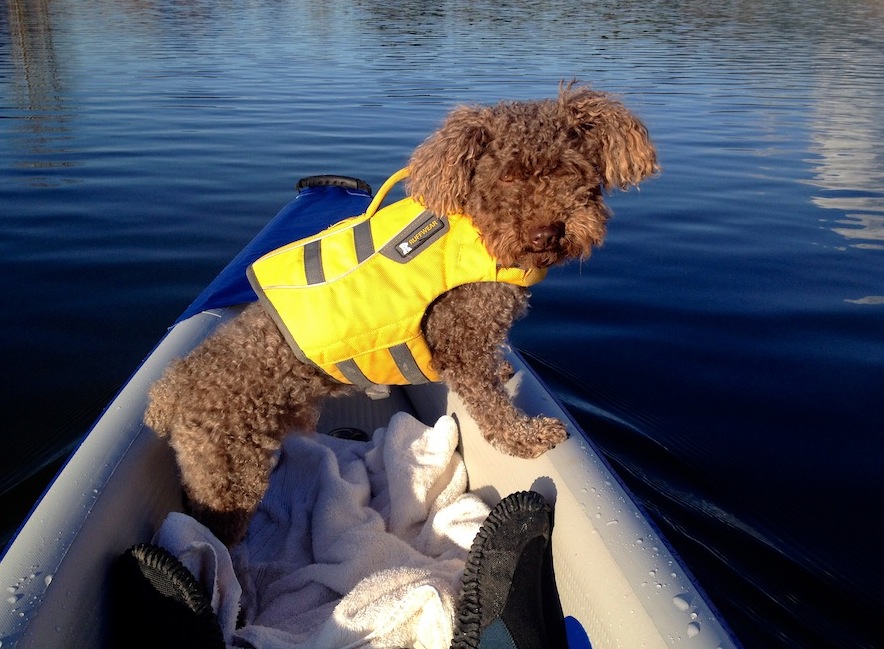 I find inflatable kayaks in general to be absolutely ideal for bringing your dog along for the ride.  They tend to be very stable and comfortable for the dog and for you.
You might notice my little dog Seth in most of my pictures.  He is my constant paddling companion and he tests out most of the kayaks that I review.
I noticed with the Razorlite that he was a little wobbly and uncomfortable when he first hopped into the kayak on the water.  The narrow width of this kayak makes it far more wobbly when first entering and when you first start paddling.
However within a minute he was fully comfortable sitting inside the kayak, hanging off the edge and standing with front paws on the side wall.  There is enough room up front to put a towel down for your dog and for him to sit comfortably.
Seth of course is quite small (only 13 lbs.) so he doesn't take up much room.  However there is enough room for a larger dog to sit and still not be in the way of your legs/feet.
I think with a larger dog it would be extra important to teach them to sit still in one place so as not to affect the balance of the kayak.  With Seth he is so small that it doesn't make much difference in the overall stability if he moves around.  However it would with a larger dog.
There is also extra room behind the seat in the back if you have two dogs you want to bring along.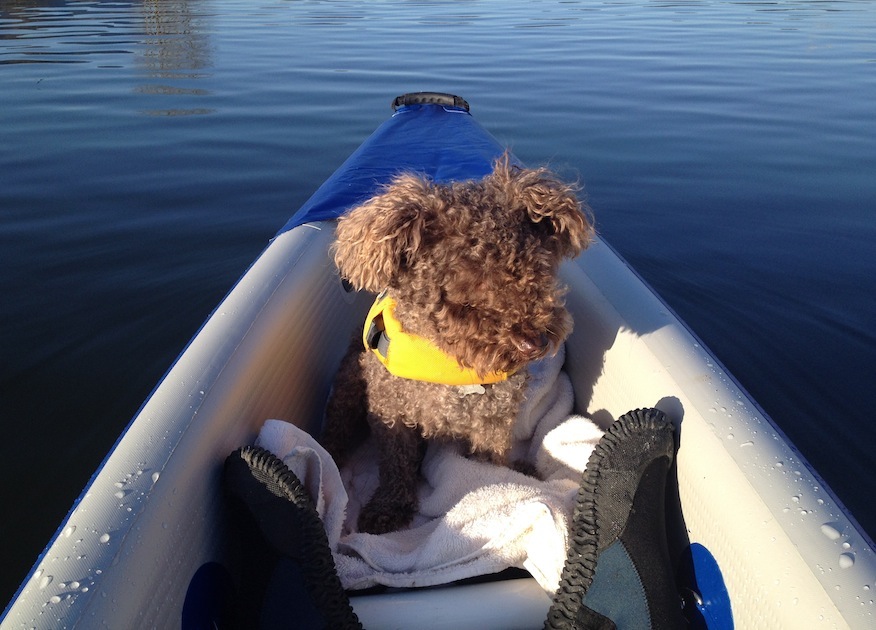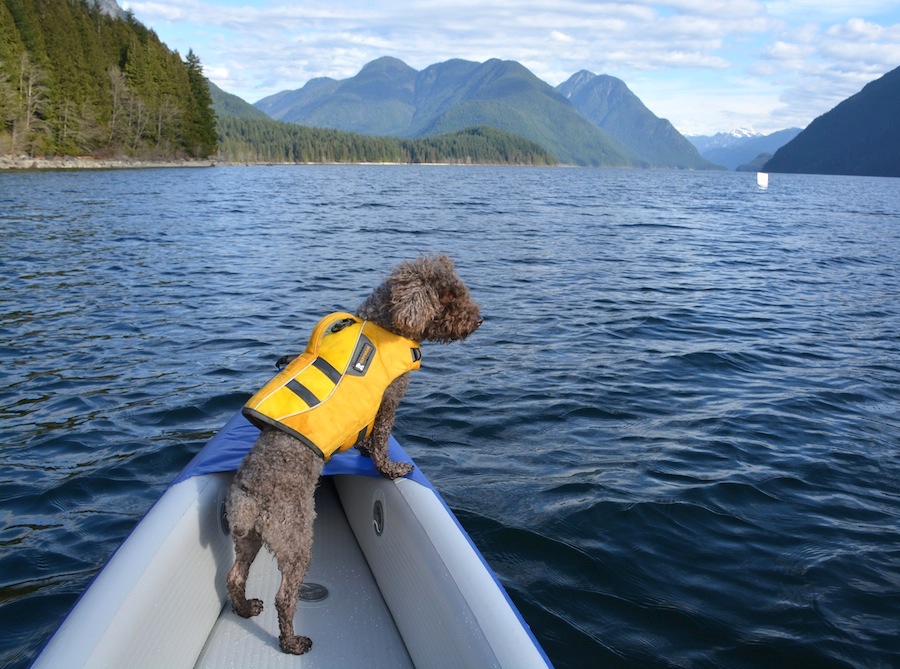 RazorLite or FastTrack
For those who are trying to make a decision between the new RazorLite and the popular FastTrack I wrote a comparison article based on my experience with the two of them that might help.
I find they are quite unique from each other and serve their own purposes, both with their own pros and cons.  You can get a good idea of the different design features from the pictures.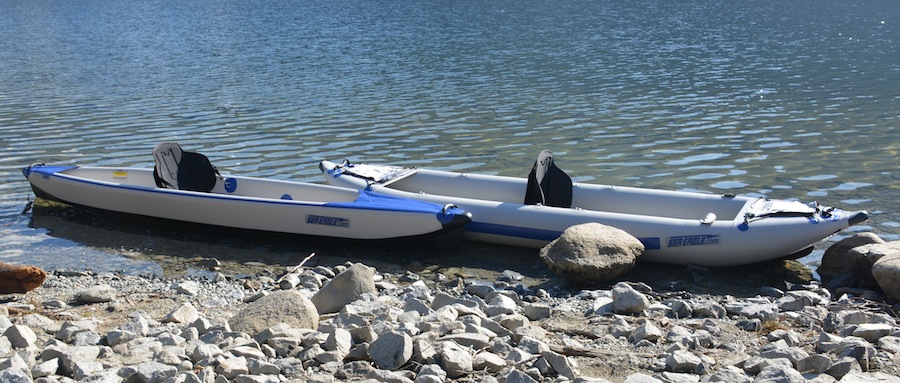 Our RazorLite Video
We did a quick video so you could see the RazorLite in action. It didn't turn out as good as we'd hoped so we're planning to do another soon. However for now you can at least get an idea of how it paddles…
More Pictures Of The Sea Eagle RazorLite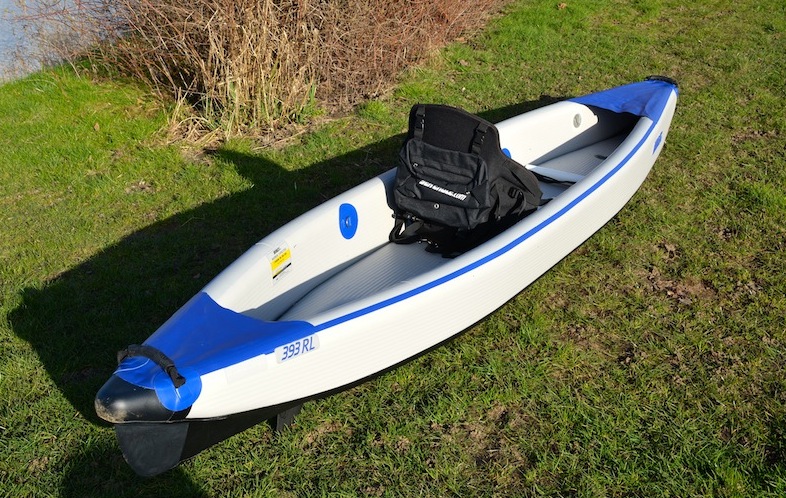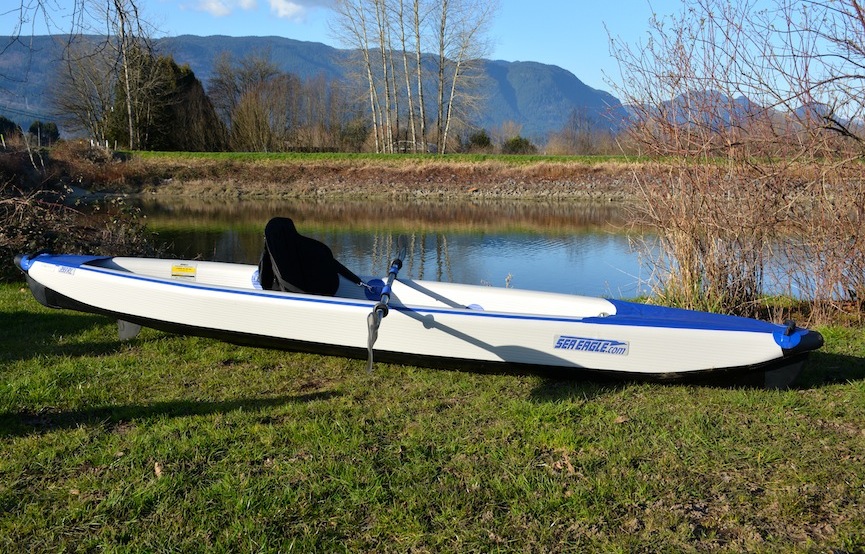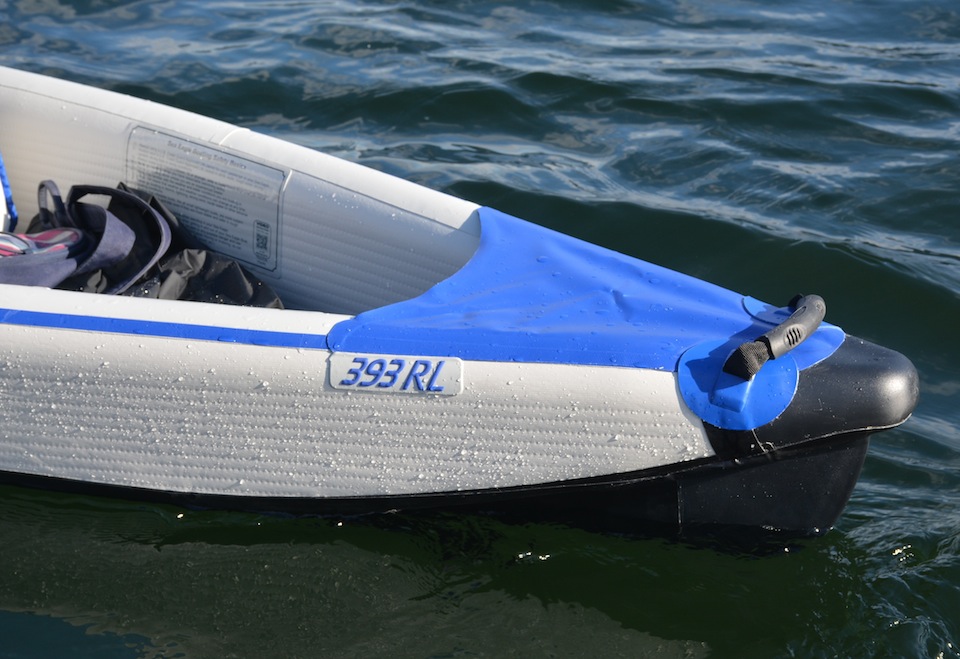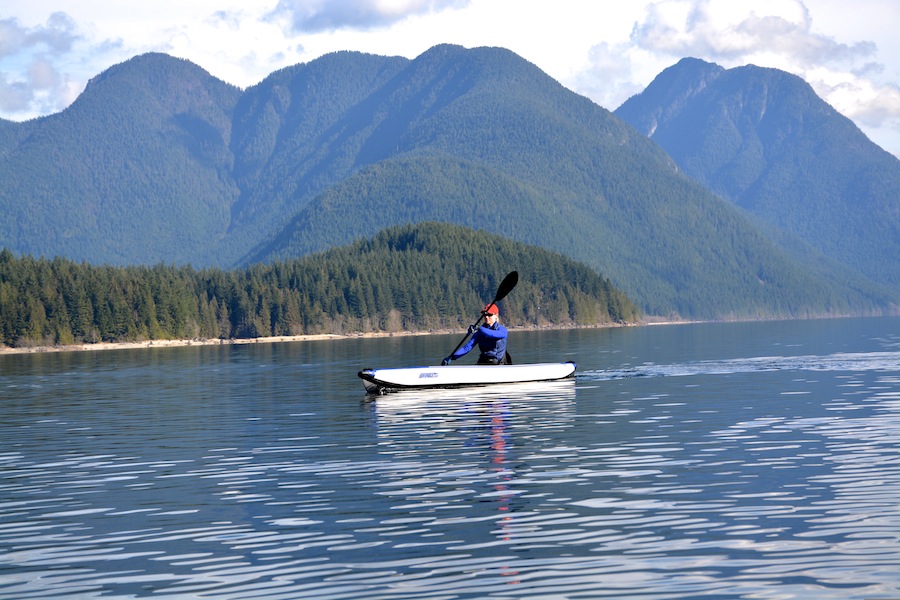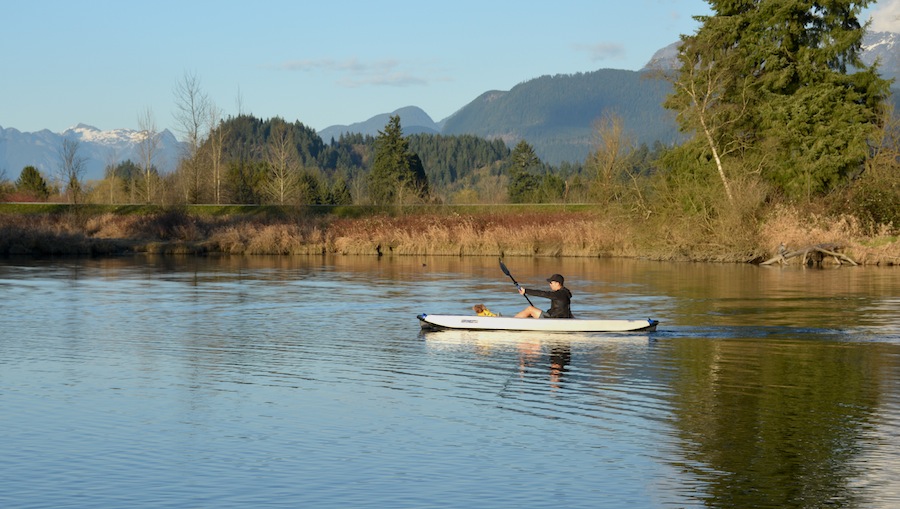 Final Thoughts
Overall I love the 393 RazorLite inflatable kayak. It is so unique and super fun to paddle.
As a solo kayak, this is a fantastic option for anyone who wants the convenience of an inflatable but doesn't want to sacrifice the performance that one normally gets with a good hard-shell kayak.
I would still use my FastTrack for tandem paddling and even for solo paddling when I wanted a little extra stability.
I think for activities such as fishing, photography, paddling with kids, etc. the FastTrack is the way to go.
However for solo paddling, exercise, racing, and exhilarating fun, the RazorLite is super cool!
It is not as solid feeling as the Sea Eagle FastTrack or the Sea Eagle Explorer but that has nothing to do with the quality or strength of it.
It is simply because there is less to this kayak… Thinner sidewalls, a narrower width and an overall sleeker design. So even though it is super strong and is able to be inflated to a more rigid air pressure, it takes a bit to get used to the sleeker feel that you don't normally get with an IK.
It can be paddled on rivers, lakes and ocean bays and it comes with Sea Eagle's standard 180-day risk free trial and 3-year warranty.
If you are not happy with it at any point within 180 days of purchase you can return it for a full refund as long as it is in good condition.
Where To Buy
When you buy directly from the manufacturer you are able to take advantage of their 3-year warranty and 180-day risk free trial.
Sea Eagle often has some excellent package sales.
Click Here For The Best Deal On The 393rl RazorLite Inflatable Kayak From The Official Sea Eagle Website.
Did You Know?
By clicking on the above seller links you can help keep InflatableKayakWorld.com growing. When you make a purchase after clicking on our links, the retailer will contribute a portion of the sale to help support this site. It won't cost you anything extra and it's a simple way to help us fund our kayak and gear reviews. Thanks!