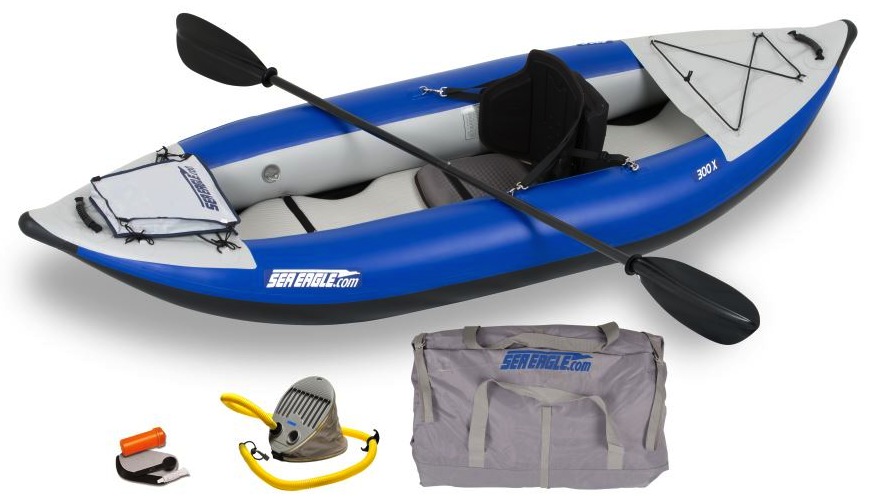 Best Uses: Whitewater – up to class IV, ocean surf, rivers, lakes
Brand: Sea Eagle
Available At:
Click here for the best deal on the Sea Eagle 300X inflatable kayak at SeaEagle.com.
Stats:
Length: Exterior 9.8', Interior 8.8'
Width: Exterior 40", Interior 18"
Weight: 30 lbs. (14 kg)
Load Capacity: 395 lbs. (179 kg)
Accessories Included: Deluxe inflatable seat, 4-part paddle, carry bag, large slide in skeg, foot pump, repair kit, bow and stern bungee tie cords, 12 D-rings to secure seat and gear, 16 self-bailing drain valves
Optional Accessories: Tall back seat, upgraded carbon-fiber paddle, small kayak stow bag
Kayak Material: 1100 Decitex Reinforced, electronic welded seams
Pros: Stable, very strong, versatile, easy to maneuver, easy entry and exit, compact, comfortable
Cons: This kayak excels at whitewater and comes with a slide-on large skeg to be able to track well in flat water. Although this versatility is great, it does not excel on flat water. Tracking is good but the size and width do not make it fast.
More Detailed Info
The Sea Eagle Explorer kayak was my first inflatable kayak I ever owned. I bought it originally for its versatility and the fact that you really get a lot for your money.
They continue to remain very popular and this new solo version the Sea Eagle 300X is an awesome addition.
The shorter length of the 300X makes it highly maneuverable in whitewater and it is able to handle up to class IV rapids.
It is fairly wide so extremely stable. It excels in rivers, whiteater and even riding ocean surf.
It comes with a removable slide-on skeg that allows you to paddle it in flat water as well. The skeg greatly helps with the tracking and you won't want to paddle on a lake or open water without it.
The bow and stern bungee tie-down cords work great for securing gear. There isn't a ton of space for storage but it's not too bad considering it is a solo kayak.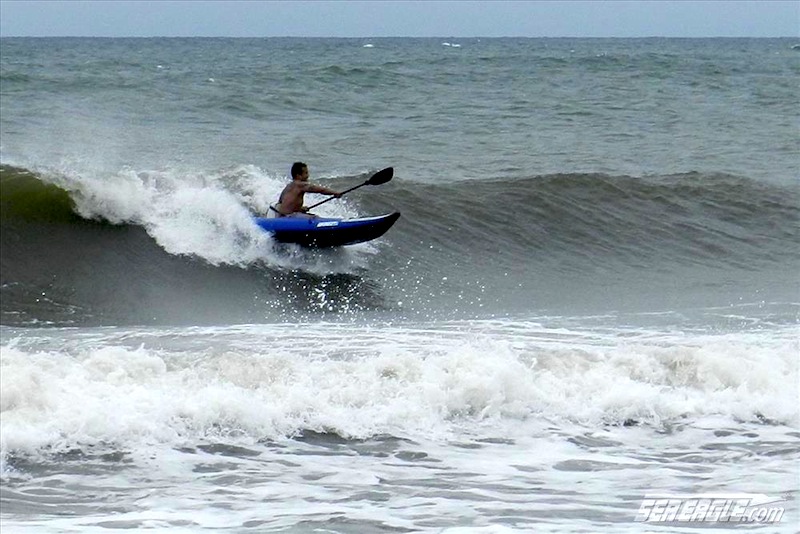 Improvements
Over the years since I first bought my 380X Explorer kayak I have seen quite a few improvements made.
There has been a reduction in weight which makes the kayak even easier to transport anywhere you want to got.
The structural strength has improved, the removable floor has become more rigid, more drain valves have been added (16 in total now!) which allows for fast self-bailing in whitewater.
Also the removable skeg as added for improved tracking on open water.
My original Explorer kayak rocked and I used it for years. However all of these improvements made for a far better and more well rounded kayak.
Today you get even more for your money and I believe this new 300X kayak is a great deal.
Set-Up
Set-up is fast and easy. With the included foot pump, this kayak takes roughly five to eight minutes to inflate. The seat easily clips on to the side D-rings.
If you plan to paddle in open water such as on a lake or ocean bay then you will want to use the skeg. It slides into place and locks in.
Deflating the kayak is just as fast. A quick dry off, roll it up and store back in its carry bag. Very simple.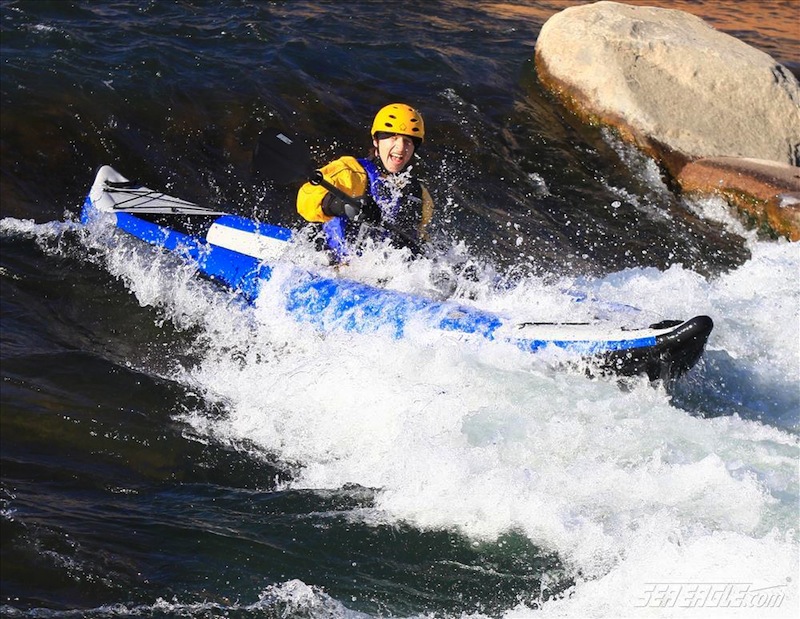 Package Options
There are three different package options to choose from for the 300X.
1. Deluxe Package Includes the hull, a 7'10" 4-piece paddle, deluxe inflatable kayak seat, kayak carry bag, foot pump, slide-in skeg and repair kit.
2. Pro Kayak Package Includes the hull, a tall-back seat, an 8' 4-piece paddle, the kayak carry bag, a foot pump, the slide-in skeg, a small kayak stow bag and the repair kit.
3. Pro Carbon Package Includes the hull, an upgraded 2-piece carbon-fiber paddle, the tall-back seat, the kayak carry bag, the foot pump, the slide-in skeg, the small kayak stow bag and the repair kit.
Choosing Your Package
Which package you choose will depend on the type of kayaking you plan to be doing.
The first package is great for a large majority of people. It's great for simple kayaking trips where you'll only be out for a couple of hours at a time.
The Pro package is nice because it offers the tall-back seats, which are very comfortable for longer paddling trips. I find they offer great back support and personally prefer to use them.
The kayak stow bag is convenient for packing a lunch or storing some extra gear. The longer paddle included in the Pro package is also more ideal for longer paddling trips.
The Pro Carbon package is really nice if you don't mind spending a few extra dollars. The upgraded carbon-fiber paddle is much lighter and really nice to use.
Typically as people get better at paddling, they want to upgrade their paddle. So although this carbon-fiber paddle is not absolutely necessary, I will admit it is extremely nice to use.
Final Thoughts
This is a fantastic option for anywhere who wants a compact solo inflatable kayak that will excel in whitewater but also track well on flatwater.
It's not the fastest kayak out there but for what it's meant for, it's an awesome product.
This kayak is strong, versatile, comfortable lightweight and convenient for traveling. It is backed by Sea Eagle's great 3-year warranty and 180-day risk free trial. I'd say this is a good one.
Click here to read more information on the longer 380X version of this kayak.
Where To Buy
You are able to get this kayak directly from the manufacturer, which typically means you will get a lower price.
Buying from Sea Eagle means that not only do you get the 3-year warranty but if you are unsatisfied at any point within 180 days of purchase you can return the kayak for a full refund as long as it is in good condition.
Click Here For The Best Deal On The Sea Eagle 300X Inflatable Kayak From The Official SeaEagle.com Website.
Did You Know?
By clicking on the above seller links you can help keep InflatableKayakWorld.com growing. When you make a purchase after clicking on our links, the retailer will contribute a portion of the sale to help support this site. It won't cost you anything extra and it's a simple way to help us fund our kayak and gear reviews. Thanks!