Best Uses: Lakes, ocean bays, mild whitewater (up to class II)
Brand: Sea Eagle
Available At:
Number of Paddlers: 1, 2 or 3 – seat positions are all adjustable so this kayak can be used as a solo, tandem or with three people
Specs: Length 14' 9" (exterior), 14′ 2″ (interior), Width 3′ (exterior), 1′ 3″ (interior), Weight 38 lbs., Load Capacity 796 lbs
Accessories Included: Large removable skeg, 2 high capacity self-bailing drain valves, front & rear spray skirts, 6 D-rings, bow and stern grab lines, nylon carry bag, separate high pressure drop stitch floor (increases rigidity), repair kit, 3 seats, 3 paddles, air foot pump
Kayak Material: 1000 Denier Reinforced with wide overlap seams (hull material is completely resistant to sun and saltwater)
Pros: Glides well, can hold a lot of weight, enough room to fit three people comfortably but can also be paddled solo or tandem, lightweight for its size, 2 closable self-bailing valves, versatile, decent amount of storage space (below spray skirts as well as rope lacing for storage above), very rigid drop stitch floor, really good tracking (with use of fin), quick set-up time (8 minutes), excellent for families or for those transporting lots of gear
Cons: Definitely needs the fin for good tracking in open water – don't forget it!
More In-Depth Info
The 465 FastTrack is the larger version of the 385 FastTrack inflatable kayak that has become so popular. This longer version of the FastTrack is completely ideal for families or for those who will be paddling with large amounts of gear.
The 465 FT is almost fifteen feet long and can sit up to three people. I would think you could also easily fit two adults and two small children (you could remove the third seat and the kids could sit on the floor).
This makes it ideal for families who would like to go out kayaking together and keep everyone in the same kayak.
The FastTrack is known to be able to pick up some excellent speed as well as provide great tracking in open water with the use of the extra large fin.
In my opinion there are a few things that make the FastTrack special and stand out from many others inflatable kayaks in the market. They are:
the unique design allows for speed and good tracking
it is extremely light weight for the size – at 38 lbs. the 465 FT can still be easily transported and carried anywhere
it has a large weight capacity (796 lbs.)
it offers versatility – it will paddle best in flat open water (lakes and ocean bays) but can be paddled in whitewater with up to class II rapids as well (simply remove the fin and open the self-bailing drain valves)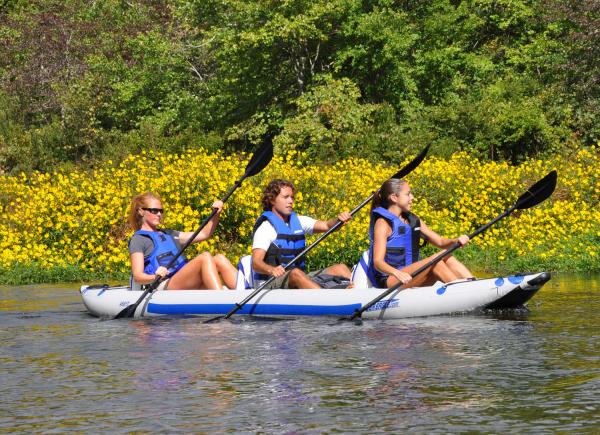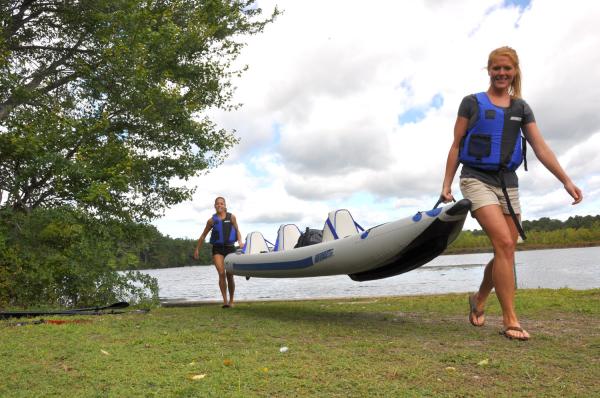 What Makes the FastTrack Fast?
The 385 and the 465 FastTrack are new inflatable kayak models are designed quite differently from their older Explorer kayak models.
They have a unique shape that allows them to glide through open water with decent speed. Sea Eagle states that the FastTrack is able to pick up better speeds for three reasons:
There is a drop stitch outside keel at the bow which provides buoyancy and helps to stop the natural yaw of an inflatable kayak.
There is a large removable rear fin that helps to keep the kayak heading straight.
It comes with a separate very rigid drop stitch floor which increases the overall rigidity of the kayak and creates side chines under the pontoons which enhances the overall paddling performance. In fact the floor is so rigid that this kayak could even be paddled as a stand-up paddle board.
Tracking Fin
The fin greatly helps with the tracking of this inflatable kayak and you would not want to paddle in open water without it. Therefore it is important to make sure the skeg is attached properly and that you protect it when it is not in use.
Remember to remove it after you have deflated your kayak so that it does not get knocked loose or bent when rolled up and stored away.
Tip: The rigid floor greatly helps with the performance of this kayak. When you are inflating the floor make sure to get it as solid as you can as this will help with the strength of the skeg for the best tracking.
For more information on the FastTrack kayaks please see our review of the Sea Eagle 385 FastTrack.
Package Options
The Sea Eagle 465 FastTrack has 7 different package options to choose from.
Deluxe 2-Person Package – There is the option of purchasing the 465 FastTrack as a tandem model. This is a great way to get the longer kayak for a cheaper price. It comes with two inflatable seats, two paddles, a waterproof bag and a foot pump.
Deluxe 3-Person Package – This option comes with three inflatable seats, three 7'10" AB30 paddles, the kayak carry bag, a slide in skeg, a repair kit and a foot pump.
Pro Package – This package comes with three tall back seats, three 8′ AB40 paddles, two small kayak stow bags, a slide in skeg, the kayak carry bag, repair kit and a foot pump.
Pro Carbon Package – Similar to the Pro Package but comes with three high-end carbon-fibre AB50 paddles.
QuikSail Package – This package comes with three comfortable tall back seats, three 8′ AB40 paddles, the QuikSail which will turn your kayak into a sailing vessel in less than one minute, as well as the kayak carry bag, two small kayak stow bags, a slide in skeg, the foot pump and a repair kit.
Videos
This first video is of Cecil Hodge (Sea Eagle President) paddling his 385 FastTrack. You can get a good idea of the speed of the FastTrack as well as some good shots of the inside of the kayak in this video.
This next video is one of our own. It shows me paddling the Sea Eagle 385 FastTrack solo. It is exactly the same as the 465 FastTrack except it is slightly shorter and weighs a little bit less.
Final Thoughts
I think the 465FT will be especially popular with those who want to bring their kids out paddling with them or for those who want to paddle with lots of gear and their dog or a friend… it is a really convenient size that can offer a lot of versatility.
There are very few inflatable kayaks on the market that offer this amount of flexibility with seating.
There are two price options for the 465 FastTrack… the higher priced option gives you seats with better back support as well as longer paddles and two gear bags. I find that Sea Eagle always gives you a lot for your money and it is no different with the 465 FastTrack package.
I personally really love the FastTrack, I paddle the 385FT often . I would recommend it for those who plan to paddle mostly in flat water such as lakes and ocean bays.
Although it can handle some mild whitewater I would not recommend it strictly for whitewater use. If you plan to be mostly paddling in rivers then I would suggest taking a look at the Sea Eagle Explorer kayaks such as the Sea Eagle 420X which still offers a lot of room but is far better suited for heavier rapids.
Where To Buy
You are able to purchase the Sea Eagle FastTrack directly from the manufacturer which typically means cheaper prices and very often good sales.
Also you get to take advantage of their great 3-year warranty as well as their 180-day risk free trial. If you are not satisfied with your kayak for any reason you can return it within 180 days of purchase for a full refund as long as the kayak is in good condition.
Click Here For The Best Deal On The 465 FastTrack Inflatable Kayak From The Official SeaEagle.com Website.
Did You Know?
By clicking on the above seller links you can help keep InflatableKayakWorld.com growing. When you make a purchase after clicking on our links, the retailer will contribute a portion of the sale to help support this site. It won't cost you anything extra and it's a simple way to help us fund our kayak and gear reviews. Thanks!