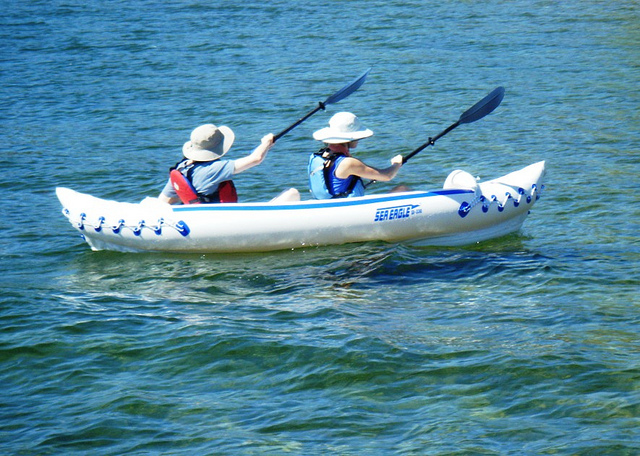 Best Uses: Day trips, flat water, rivers, ocean bays, recreation, camping
Brand: Sea Eagle
Available At:
Number of Paddlers: 2
Stats: Exterior Length 11' 2", Exterior Width 2' 10", Interior Length 9' 6", Interior Width 1' 1", Weight 26 lbs, Load Capacity 500 lbs
Accessories Included: 2 Packages to choose from that include 2 paddles, foot pump, 2 kayak seats and storage bag as well a standard repair kit and instruction manual
Kayak Material: Extra thick 33 mil PolyKrylar & I-Beam Construction Floor (extra rigidity)
Pros: Very Stable, lightweight, easy to lift, comfortable, great maneuverability, compact, 2 skegs, easy entry and exit, inexpensive
Cons: No ropes on side to rope tie down gear, tracking not so great (even with the two skegs), susceptible to blowing in the wind
More In-Depth Info
The Sea Eagle 330 is considered a sport inflatable kayak but can also be paddled as a canoe if desired. It is a very good model to start with if you are brand new to inflatable kayaking as it is virtually impossible to sink or tip it.
It is easy to turn and maneuver and will go over just about anything except for perhaps very sharp sticks.
It can be setup quite easily by any person of any age is light enough to be taken literally anywhere in the world by car, RV, airplane,by a larger boat, or even by bike.
This kayak is great for exploring, fishing, camping and relaxing days on the lake, river or calm sea. It has a self bailing drain valve which means that if water gets in the boat you can open the valve and easily let it out.
More about Sea Eagle
Sea Eagle is strictly an inflatable boat company that has been in business for over 40 years.
They have an excellent reputation and consequently they are able to offer a 3-year warranty on all of their kayaks and boats as well as a no risk 180 day-money back guarantee.
They are a great company to purchase an inflatable boat from and if you are looking for an entry level kayak that is very affordable and super lightweight then this one is a great choice. It also comes in a slightly larger version, the SE 370.
The larger 370 offers a fair amount more leg room than the 330 and is better suited for taller people or those who simply wish for a little extra room for gear or comfort. Many people have mentioned that the 330 can be cramped.
Great For Beginners and Traveling
My honest opinion is that although I know the Sea Eagle 330 is a great inflatable kayak and is perfect for day tripping, it is truly an entry level kayak.
It is a good model to choose if you do not want to spend much money and want to find out if you actually enjoy kayaking.
If however you plan on getting out on the water more then a few times a year and are able to afford the extra few hundred dollars, I would highly recommend going for one of their higher end models such as the Sea Eagle 380X or the new Sea Eagle 385 FastTrack. Here is why:
First, the higher end kayaks will last you a lot longer. They are much more rugged and practically impossible to puncture. Second, they are sturdier and can withstand many different weather conditions as well as handle beautifully in just about any type of water.
They will perform much better, get better tracking and be able to reach higher speeds. They are really an all around better inflatable kayak. Once you get better with your paddling skills, you will probably want to upgrade to one of these models.
However as mentioned before, the 330 is ideal for beginners as well as for those who want an affordable option that is still great quality and will be really easy to paddle and transport.
My Pictures and Video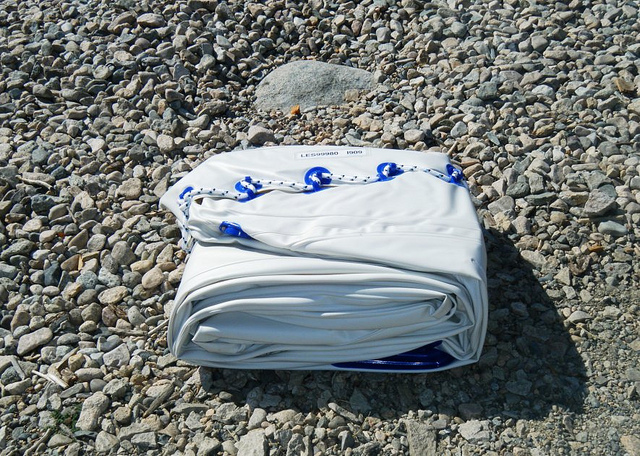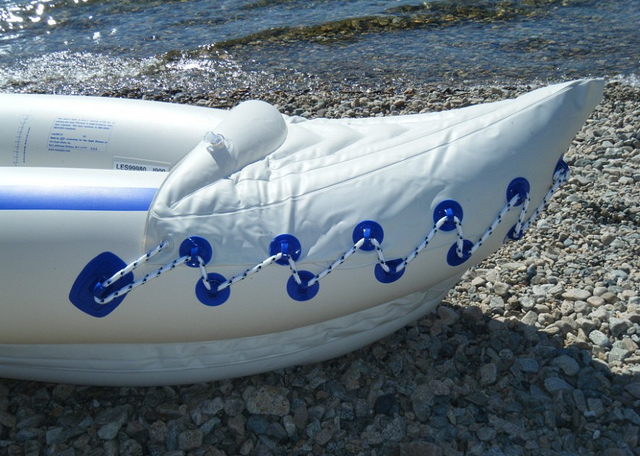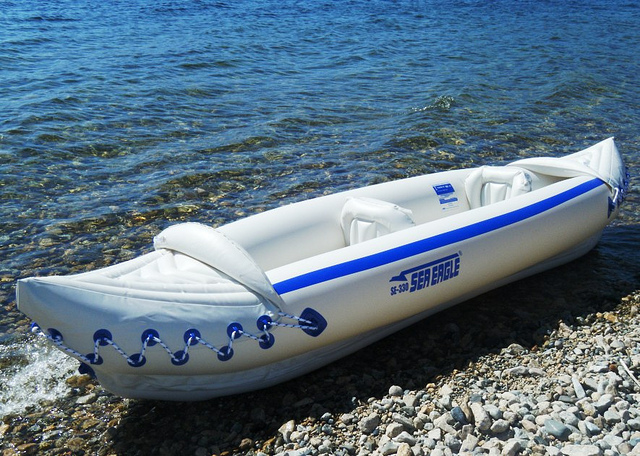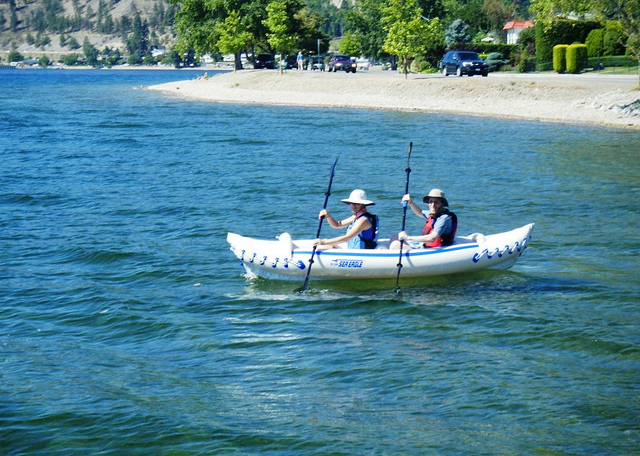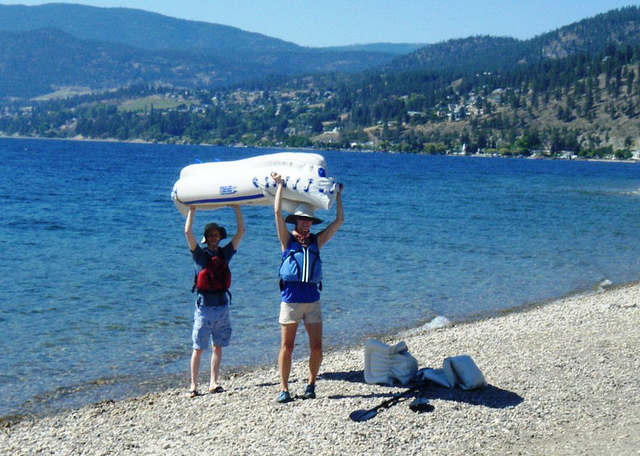 See more pictures of the Sea Eagle 330 on the IK World Flickr page.
Package Options
There are four package options to choose from…
Deluxe Solo Pacakage – This is the cheapest option. It comes with one kayak seat, on kayak paddle, a foot pump and a repair kit.
Deluxe Package – This is the same as the first package except it comes with two kayaks seats, two kayak paddles, a foot pump, a carry bag and a repair kit.
Pro Kayak Package – The Pro package comes with 2 deluxe kayak seats, 2 kayak paddles, a foot pump, a repair kit and a carry bag.
QuickSail Package – This option comes with the very cool QuickSail and allows you to turn your kayak into a little sail boat. It also comes with 2 deluxe kayak seats, 2 paddles, a foot pump, a carry bag and a repair kit.
Final Thoughts
The bottom line is yes this is a great beginner kayak and if you are just starting out you can be completely confident that the 330 will be stable and easy to paddle.
It is affordable and tough and versatile enough to be used in many different situations. Even though it can handle some mild whitewater and surf, I really think it is best suited for mainly flat water kayaking or calm rivers.
Where To Buy
You are able to buy the Sea Eagle kayaks directly from the manufacturer which typically results in some excellent prices.
They often have sales and you can take advantage of their 3-year warranty as well as their 180-day risk free trial. If you are not happy with your purchase you can return it for a full refund within 180 days of purchase.
Click Here For The Best Deal On The 330 Sport Inflatable Kayak From The Official SeaEagle.com Website.
Did You Know?
By clicking on the above seller links you can help keep InflatableKayakWorld.com growing. When you make a purchase after clicking on our links, the retailer will contribute a portion of the sale to help support this site. It won't cost you anything extra and it's a simple way to help us fund our kayak and gear reviews. Thanks!