Best Uses: Day trips, flat water, rivers, ocean, camping, families, great for dogs
Brand: Sea Eagle
Available At:
Click here for the best deal on the Sea Eagle 370 Sport Kayak at SeaEagle.com.
Number of Paddlers: 2 people
Stats: Exterior Length 12' 2", Exterior Width 2' 10", Interior Length 10' 8", Interior Width 1' 1", Weight 32 lbs, Load Capacity 650 lbs
Accessories Included: 2 Packages available that include 2 paddles, 2 kayaks seats, foot pump and storage bag.
Kayak Material: Extra thick 33 mil PolyKrylar & I-Beam Construction Floor (extra rigidity)
Pros: Stable, rugged, easy to lift, comfortable, great maneuverability, compact, two skegs, easy entry and exit
Cons: No ropes on side to rope tie down gear, tracking not so great (even with the two skegs), susceptible to blowing in the wind
More In-Depth Info
The Sea Eagle 370 sport inflatable kayak is virtually identical to the Sea Eagle 330 (see Sea Eagle 330 Review) except that it is slightly larger, weighs 6 pounds more and can hold an extra 150 pounds.
It has a self bailing drain valve that allows you to quickly rid the kayak of excess water if needed. The 370 is quite versatile and great for all different water types but is truly an entry level kayak.
It is affordable and stable and a great option for beginners that are just starting out in the sport of kayaking or novice paddlers.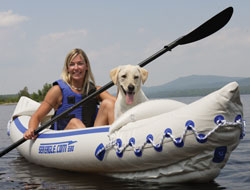 One thing you can be sure of is that Sea Eagle kayaks are sturdy and extremely hard to puncture. They can literally be dragged over anything and take a huge beating.
They are tough and have earned the reputation as being some of the best. This is not a high end model, however it is still good quality and ideal for recreational fun, fishing and paddling adventures.
Performance
Even though this is an entry level kayak and the cheaper of the Sea Eagle models, it is still a lot more solid than many other inflatable kayaks in this price range.
The 370 can hold up to 650 pounds of cargo and consequently can be loaded right up and keep on floating.
It maneuvers very well, is responsive to quick turns and is really easy to paddle. The tracking is decent but not fantastic… however it is probably a little better than you might expect for a kayak in this price range.
A Lot For Your Money
I think that one of the biggest selling features of this inflatable kayak is that you really get a lot for your money.
The price on the Sea Eagle sport kayaks is quite low and it includes the kayak, the paddle(s), the inflatable seat(s), the carry bag, the pump and the repair kit. The only other thing you need to get started is a lifejacket.
Convenience
The Sea Eagle 370 is extremely light weight for a tandem kayak which makes it a breeze to bring anywhere you want to go.
It is very easy for even one person to carry and it rolls up into a nice little package. Besides transporting in the trunk of your vehicle, it can also easily be taken on an airplane.
I have actually met a few people on my travels who also keep this exact kayak model on their larger boat and use it to paddle from ship to shore. It is a really convenient kayak to have.
Another great feature is that the seats can be moved around. If you want to paddle solo, you can remove one of the seats and place the one you will use in the center of the kayak. It is very easy to make it suit your needs.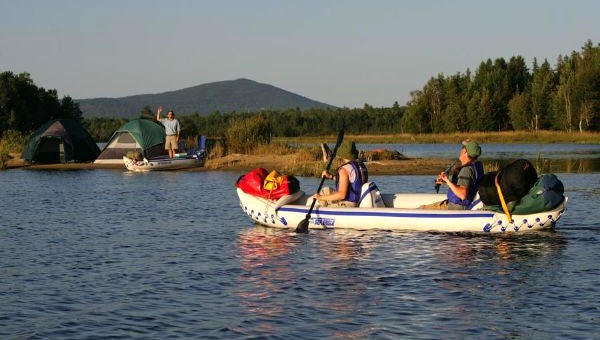 Recommendations
If you can I would highly recommend going for the Pro Package that comes with the deluxe kayak seats. They are well worth the little bit of extra money and will be a huge help for any back aches and pains during your paddling adventure.
I am not personally a big fan of the regular inflatable kayak seats offered in the first two package options as I find they offer very little support.
They might be fine for very short kayak trips but for if you plan to be out on the water for any length of time the deluxe seats are a real bonus.
If you are debating between the two different sport kayak sizes I would say that the SE 370 is a better option if you plan on kayaking with 2 people as it truly offers far more leg room than the SE 330. It also offers much more room for fishing gear and camping trips.
The SE 330 is great for solo paddling, kids, or shorter people. It can certainly be used for two, but I personally find it a little squishy when paddling the 330 tandem.
Video
Below is my video of the Sea Eagle 330 Sport inflatable kayak. The 330 is identical to the 370 model except that it is slightly smaller.
Package Options
There are now four different package options to choose from…
The Deluxe Solo Pacakge – This is great if you only want to paddle this kayak solo. It comes with one inflatable kayak seat, one kayak paddle, a foot pump and a repair kit.
The Deluxe Package – This option comes with two inflatable kayak seats, two kayak paddles, a foot pump, a carry bag and a repair kit.
The Pro Kayak Package – Included in this package is two deluxe inflatable kayak seats, two kayak paddles, a foot pump, a carry bag and a repair kit.
The QuickSail Package – This is an awesome package if you want an affordable kayak that can sail. It comes with two deluxe inflatable kayak seats, two kayak paddles, the QuickSail, a foot pump, a carry bag and a repair kit.
Final Thoughts
This kayak will not be the fastest or the best performing kayak in the water. However with the affordable price and the fact that it is comfortable, stable, super rugged and is backed by a great three year warranty, you really can't go wrong.
You get a lot for your money and it is perfect for traveling because of its light weight. It will satisfy any beginner kayaker and work well for recreational use, families, fishing, camping or traveling.
Where To Buy
You are able to purchase this kayak directly from the manufacturer. This is a good thing as you eliminate the middle man and typically get a better price.
They often have sales and you get to take advantage of their 3-year warranty as well as their 180-day risk free trial – if you are dissatisfied with your purchase at any time within 180 days you can return the kayak to Sea Eagle as long as it is in good condition.
I don't know of any other inflatable kayak company that offers such a long return policy and such great security in your purchase.
Click Here For The Best Deal On The 370 Inflatable Kayak From The Official SeaEagle.com Website.
Did You Know?
By clicking on the above seller links you can help keep InflatableKayakWorld.com growing. When you make a purchase after clicking on our links, the retailer will contribute a portion of the sale to help support this site. It won't cost you anything extra and it's a simple way to help us fund our kayak and gear reviews. Thanks!