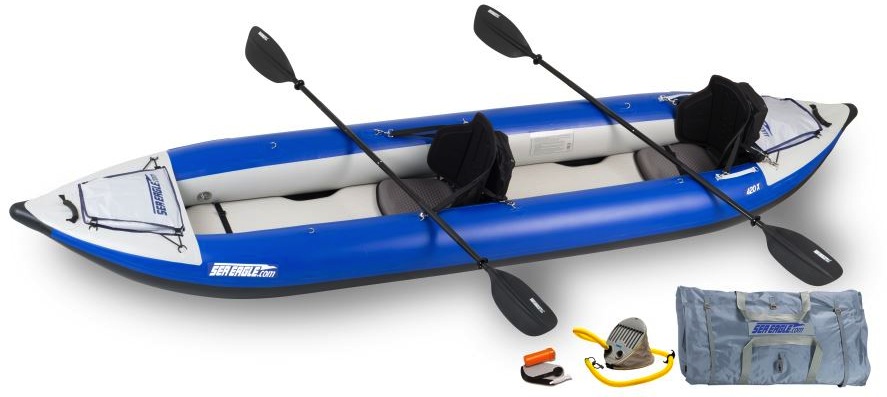 Best Uses: Whitewater in up to class IV rapids, lakes, ocean bays, overnight expeditions, camping, families, dogs
Brand: Sea Eagle
Available At
Number of Paddlers: 2+
Stats:
Length: Exterior 14', Interior 13′ 3″
Width: Exterior 40", Interior 15"
Weight 42 lbs
Load Capacity 855 lbs
Accessories Included: Large slide-on skeg, 2 removable seats, Separate high pressure drop stitch floor (very rigid), 2 double-ended paddles, 2 Velcro paddle holders, Inflation pump, Convenient carry bag, Repair kit, Full instructions (printed and on DVD)
Optional Accessories: High back seats, Longer fiberglass paddles, Bow and stern storage bags, QuickSail
Special Features: NMMA Certified, 16 High capacity self-bailing drain valves, front & rear spray skirts with carry handles and bungee cords for tying down gear, 6 D-rings to secure seat for one or two people, 3 easy to use one-way valves on main chambers
Kayak Material: 1o00 Denier Reinforced, electronic welded seams
Pros: Stable, rugged, easy to lift – great new lightweight design, very comfortable, great maneuverability, compact, easy entry and exit, great for families and dogs as well as overnight trips, excellent for camping trips, versatile as it can paddle well in many different types of water
Cons: Definitely needs the skeg for better tracking. Not real fast.
More In-Depth Info
The Sea Eagle 420x is the family sized model of their explorer inflatable kayaks. It is over a foot longer than the 380x but only weighs roughly an extra 5 pounds.
The great thing about the 420X is that it can hold a lot of cargo. In fact it can hold over 850 lbs. so it can be loaded up with gear, people or dogs. It is ideal for families, longer paddling trips, fishing or for those who want the general convenience of a bigger kayak.
Sea Eagle kayaks are very well made and the 420X is rugged and strong. It is great for people of all ages because of its good stability and it will truly get you just about anywhere.
The 420X is very versatile and will paddle fairly well in most types of water including whitewater with up to class IV rapids, flat water such as lakes and slow rivers as well as ocean shorelines. It is big, tough and lots of fun.
The large skeg helps control any side-to-side motion as you paddle. I find it a huge help when paddling on flat water.
The newer models are even more rigid than they used to be and this kayak performs really quite well.
It is extremely stable and makes it feel very comfortable and safe – children and adults alike will really enjoy being in this kayak. This skeg locks in place but can easily be removed if you are in whitewater.
Recommendations For The Explorer Kayaks
If you decide one of the Sea Eagle explorer kayaks is the right fit for you I would highly recommend the tall back seats that come with the Pro Kayak Package as well as the better paddles.
These seats are great for back aches and pains – especially on longer paddling trips. Although many people do not mind the regular inflatable seats (you sit up higher with these), I find the extra back support on the tall back seats to be really helpful and well worth it.
As of 2014 the tall back seats have more cushioning on the seat part, which provides even more comfort.
The higher end and longer paddles that come with the pro package offer more power and will cause you less fatigue.
The Sea Eagle explorer kayaks are fairly wide and the longer paddles are a big help when paddling. They are not absolutely necessary, but they do make life (in your kayak) easier.
Also if you plan on paddling in open water make sure you use the large slide-on skeg as mentioned above. It makes a world of difference in keeping the 420X going in a straight line.
Please read the longer detailed Sea Eagle 380X Review for more information as they are virtually the same kayak except for size, weight and load capacity.
Final Thoughts
Here is the run down… If you need a big solid inflatable kayak that can hold all the gear, people and cargo you want to bring but is still light enough to take anywhere then the 420X is a great option.
Versatile enough to handle most water conditions, this kayak will not let you down. It is well made, extremely stable, very rugged and secure and comes with a great 3 year warranty.
Where To Buy
One of the great things about the Sea Eagle kayaks is you can buy them directly from the manufacturer. This typically results in cheaper prices and they often have great sales.
When buying directly from them you also get to take advantage of their 3 year warranty as well as their 180-day risk free trial. Basically if you are unsatisfied with your purchase you can return it in good condition for a full refund at any point within a 180 days from the time of purchase.
Click Here For The Best Deal On The 420X Explorer Inflatable Kayak From The Official Sea Eagle Website.
Did You Know?
By clicking on the above seller links you can help keep InflatableKayakWorld.com growing. When you make a purchase after clicking on our links, the retailer will contribute a portion of the sale to help support this site. It won't cost you anything extra and it's a simple way to help us fund our kayak and gear reviews. Thanks!