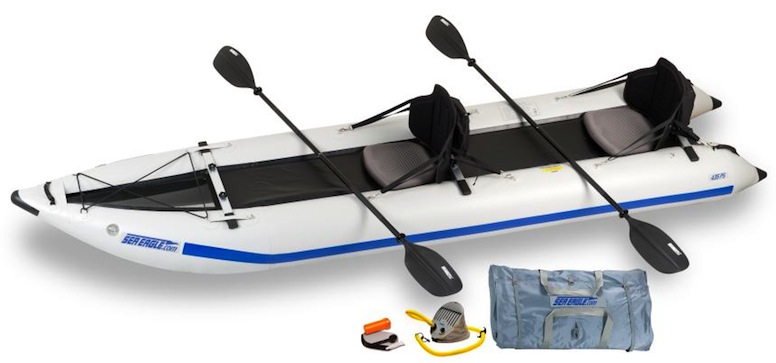 Best Uses: Day trips, flat water, rivers, ocean bays, camping, fishing, rowing, sailing
Brand: Sea Eagle
Available At: Sea Eagle.com – Sea Eagle Paddleski
Number of Paddlers: 2
Stats: Exterior Length 14'5″, Interior Length 12' 5" ,Exterior Width 39", Interior Width 16.1" , Weight 42 lbs, Load Capacity 651 lbs
Accessories Included: Comfortable Seats, high performance paddles, foot pump, carry bag, repair kit, owners manual
Optional Accessories:  Motor mount, electric motor, sail rig, fishing seat and rod holders, upgrade cushioned tall-back seats
Kayak Material: 1100 Decitex reinforced seam: Quadruple overlap seam floor: 2000 denier reinforced material air valves
Pros: Stable, rugged, comfortable, great maneuverability, compact, easy entry and exit, versatile – can be used for paddling, motoring, fishing, and/or sailing
Cons: Lacks back end storage space as this is where a motor can be mounted – plenty of storage room up front though.
More Detailed Info
The Sea Eagle Paddleski is pure fun. It is extremely unique in that it has a catamaran kayak design that allows for versatility and performance.
This is the only kayak with this design and if you are looking for a versatile kayak that can be used for many different types of water play, the Paddleski is a great way to go.
Weighing only 41 pounds this kayak is still easily transportable to any location and very easily carried by two people. It can be paddled anywhere and loaded right up for camping trips and longer excursions.
The unique catamaran design allows the hull to stay out of the water and creates low drag in the back which allows for a fair amount of speed. This inflatable kayak can be paddled by any person of any age.
It is extremely stable and consequently great for a lot of different activities.  you sit a little higher up on this kayak providing a better view, which is ideal for fishing and motoring.
Amazing Versatility
The Paddleski is truly unique and if you want versatility, this kayak is awesome.
It has several package options to choose from depending on your needs and you can customize the kayak as you like.
Whether you're into sailing, motoring, paddling or fishing… or all of the above, this kayak can do it all.
Considering what's included in these packages they are very well priced.  This kayak is solid, strong, rigid and backed by a 3-year warranty.
Package Options
Deluxe Package – Includes the Paddleski, two 4-part feathering 7'10" AB30 paddles, two inflatable seats, the hull carry bag, the foot pump and a repair kit.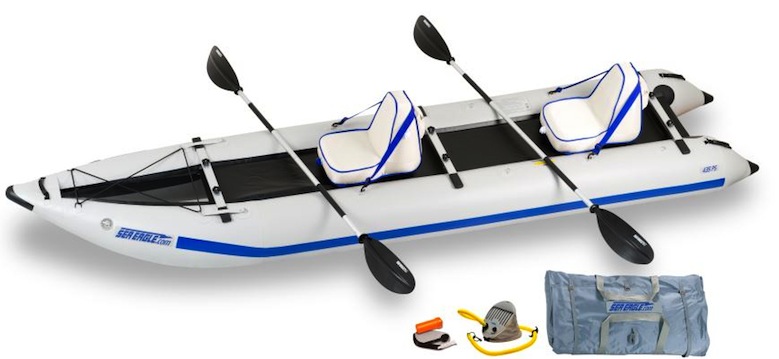 Pro Kayak Package – Includes the Paddleski, two high-performance 8′ AB40 paddles, 2 cuishoned tall-back seats, the hull carry bag, the foot pump and a repair kit.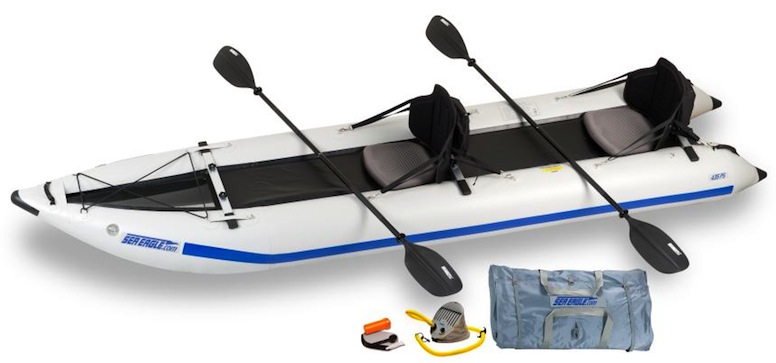 Fishing Package – Includes the Paddleski, one high swiveling fishing seat, the universal Scotty® Mount System with Two Scotty® Rod Holders, one 7'10" AB30 4-part paddle, side motor mount, kayak carry bag, foot pump and the repair kit.
With the swivel seat in this package you sit up higher providing a better view and more flexibility when fishing.

Pro Carbon Package – Includes the Paddleski, 2 cuishoned tall-back seats, two top end 2-part, ultra-light carbon-fiber paddles, the carry bag, the foot pump and the repair kit.
Water Snake Motor Package – Includes the Paddleski, 2 cuishoned tall-back seats, two high-performance 8′ AB40 paddles, side motor mount, the Watersnake Venom 34 lbs. thrust electric dual purpose motor, kayak carry bag, foot pump and the repair kit.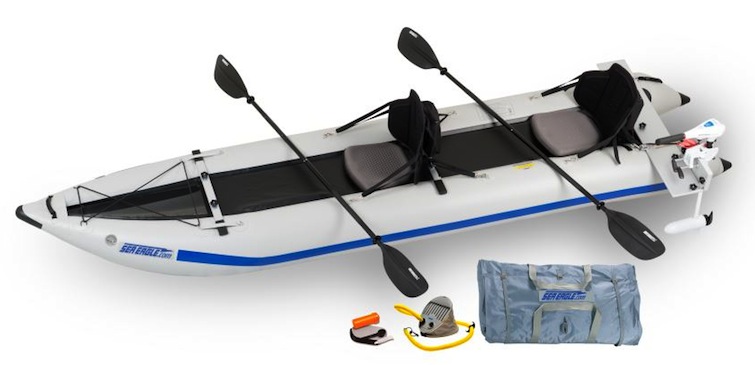 Sailing Package – Includes the Paddleski, easy set-up boom-less sail rig, one cushioned tall-back seat, one 4-part 8′ AB40 paddle, rigging bag for sail parts, carry bag for Paddleski.
The sailing package only comes with one seat and one paddle but you can definitely add an extra seat and paddle if needed.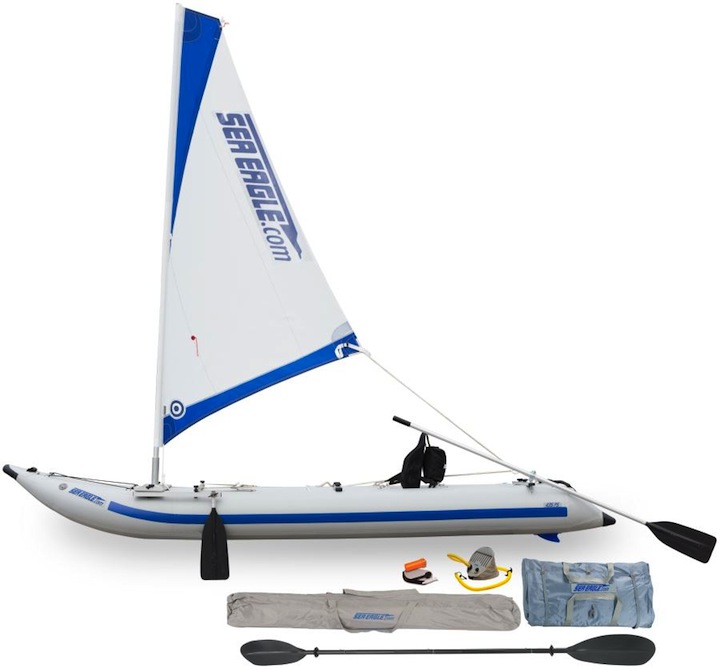 Final Thoughts
The reviews on this inflatable kayak are excellent. Those who have it seem to love it. I think the convenience and versatility it offers is fantastic.
As far as speed I would not expect the Paddleski to be the fastest kayak in the water if you are paddling. However it performs well and if you need to go faster you can always add a motor.
Storage space is located on the front end of the kayak. There is not a lot of room in the back so all gear will either need to be tied down up front or by your legs.
It can hold a fair amount of weight (651 lbs.) so you can load it right up with no worries.
This is an excellent inflatable kayak for someone who really wants some versatility out of their boat for a decent price. The Paddleski is great for fishing, paddling, motoring and sailing. It is a super fun kayak.
It is wider than many other inflatable kayaks which makes it extremely stable yet the catamaran design allows it to cut throught he water easily and paddle smoothly.
As with all other Sea Eagle kayaks and boats, the Paddleski comes with a great 3 year warranty and a 180 day risk free trial.
If you are not happy with your kayak at any point within 180 days of purchase you can return it for a full refund as long as it's in good condition.
Where To Buy
The Paddleski is available directly from the manufacturer which typically means you will get a good deal. Sea Eagle often has great sales on their package options.
Click Here For The Best Deal On The Paddleski Inflatable Kayak From The Official Sea Eagle Website
Did You Know?
By clicking on the above seller links you can help keep InflatableKayakWorld.com growing. When you make a purchase after clicking on our links, the retailer will contribute a portion of the sale to help support this site. It won't cost you anything extra and it's a simple way to help us fund our kayak and gear reviews. Thanks!