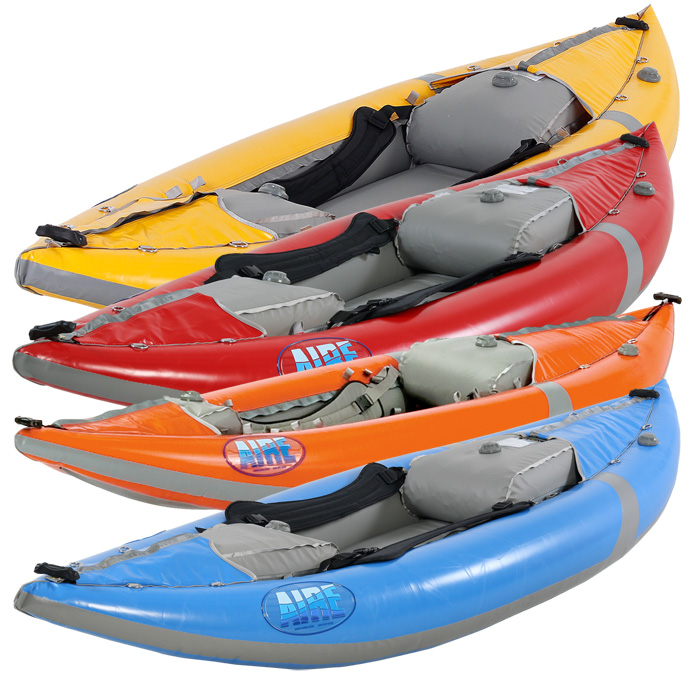 Best Uses: Whitewater, rivers up to class IV
Brand: Aire
Number of Paddlers: 1
Stats: Length 9' 6", Width 36", Weight 32 lbs, Load Capacity 275 lbs
Accessories Included: Thigh straps, 1 set of drain holes, 2 carry handles, repair kit, 10 year warranty
Kayak Material: 1100 Denier polyurethane
Pros: Rugged, easy to lift, comfortable, great maneuverability, compact, easy entry and exit, loads of fun, hardly any water can get into the cockpit, excellent for rolling
Cons: Backrest can become uncomfortable when flat water paddling (very much designed for whitewater kayaking only), pricier than many other whitewater solo inflatable kayaks
Available At:
More Detailed Info
Many hardcore kayakers wouldn't even bother using an inflatable kayak unless it was an Aire kayak.
The Aire inflatable kayaks are known for top notch excellence and the Aire Force I is no exception.
This is a whitewater self-bailing inflatable kayak for intermediate to advanced kayakers.
It is a little pricier than some of the rest, but when you compare quality, performance and the fact that it comes with a 10 year warranty (wow!) you can understand why.
You will find that the Aire Force is fairly tippy and it is important you understand the use of hips and a good brace when paddling this kayak. It is designed for those with previous whitewater experience.
Having had previous experience you will find the Aire Force handles very well and will plow through anything.
The thigh straps and foot pedals are easy to manage and it is extremely responsive and fast. There is not a lot of room for gear so this is definitely not a kayak for overnighters or camping.
Also if the Aire Force is loaded down with gear it can become harder to control and not as easy to maneuver.
Excellent Features to Handle Any Situation
The Aire Force is one of the best inflatable kayaks on the market that can be rolled if you possess the skill.
A great feature is that the interior cockpit has built-in flotation in the bow and stern which reduces the amount of water that can get inside the cockpit. This will enhance the ease of rolling.
It has the same continuous rocker of a hard-shell kayak for ease of spinning and surfing. The inflatable seat back and footrest can be adjusted to trim the kayak and fit the paddler.
The Aire Force will likely exceed your expectations as far as performance goes. An intermediate to advanced whitewater kayaker will find the Aire Force will handle most situations beautifully.


Travel and Paddle
One of the great things about the Aire Force is that it is easy to bring traveling . It weighs only 32 lbs. and can easily be carried onto an airplane.
Traveling with an inflatable kayak can allow you to explore rapids and waterways that you may never have been able to experience otherwise.
Keep in mind that the Aire Force is really at its best in the whitewater rapids.
If you are looking for an inflatable kayak that will be good in whitewater but also would like to sometimes use it in flat water as well I would recommend the Innova Safari.
The Safari has a tracking fin that can be attached that will make for much better tracking on flat water.
Update for 2010:
In 2010 Aire redesigned the Aire Force I and discontinued the Aire Force XL (which was a slightly larger version of the Force I). They created more kick and added some diameter to the tubes.
This made a hybrid between the old-style Force and the old-style Force XL. The Force now fits a larger range of paddlers and they therefore decided to discontinue the XL model.
Pictures
Pictures from Aire.com.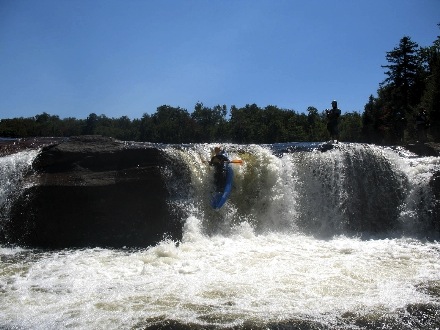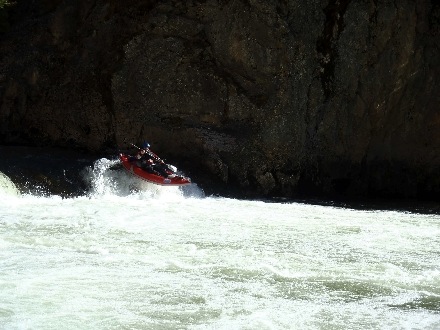 Final Thoughts
All in all you cannot go wrong with the Aire Force if you are looking for a convenient and high quality inflatable kayak that will perform very well in whitewater.
Built to handle just about any whitewater situation with ease and style it is super fun and sporty.
If you are used to a hard-shell kayak and want the same kind of performance, the Air Force will deliver.
Plus it has the added bonus of being able to be thrown in the trunk of your car, stored in a closet and taken on an airplane.
Where To Buy
The Force is available at several different retailers. Click the links below to find the best deal.
Did You Know?
By clicking on the above seller links you can help keep InflatableKayakWorld.com growing. When you make a purchase after clicking on our links, the retailer will contribute a portion of the sale to help support this site. It won't cost you anything extra and it's a simple way to help us fund our kayak and gear reviews. Thanks!