Best Uses: Whitewater (up to class IV), all-day river adventures
Brand: Aire
Number of Paddlers: 1
Stats: Length 10' 3", Width 37", Weight 32 lbs, Load Capacity 350 lbs
Accessories Included: 10 year warranty, repair kit, owners manual, thigh straps, 3 sets of drain holes, 2 carry handles. cargo hold
Kayak Material: 1300 Denier, 22oz PVC coated polyester
Pros: Stable, rugged, easy to lift, comfortable, easy to maneuver, compact, easy entry and exit, great for all skill levels, option of closed-cell floor or air-cell floor
Cons: Higher price
Available At:
More In-Depth Info
The Aire Lynx I is by far one of the most popular inflatable kayaks of the Aire series.
It is a whitewater kayak designed for paddlers of all skill levels that will get you through even the toughest whitewater conditions with rugged class.
It is known to be stable, easy to paddle, very responsive and overall just really well made.  This is a kayak that can take a lot of abuse.
Closed-Cell Floor or Air-Cell Floor
The Lynx is a self-bailing inflatable kayak that comes with the option of:
a closed-cell floor
or a lighter, more compact Aire-cell floor
The closed-cell floor is supposed to give higher performance and dependability and the Aire-cell floor is perfect for trips on airplanes and backpack excursions as it makes the kayak very lightweight and highly portable.
It seems that for most people the closed-cell foam floor is the better all around choice. For one thing it is less expensive. It is also easier to set up as there is one less chamber to inflate and it truly does perform better.
The light Aire-cell floor will be the choice of those who want the kayak to be as light as possible.
The Lynx will handle class III or IV rapids beautifully and many have proclaimed that they would trust this inflatable kayak with their life… it performs that good!
I have heard others state that they would not even touch an inflatable kayak unless it was an Aire kayak.
I don't agree with that statement as I believe there are many good ones out there, however it gives you an idea as to the quality of the Aire inflatables.
Comparison
If you are considering the Lynx you may also be looking at the Aire Tributary Strike as they are quite similar in many ways.
The main difference is that the Lynx is American made, is a little more stable, extremely well constructed, and costs a few hundred dollars more.
However for that price increase you get a kayak that weighs 4 pounds less than the Strike, has a ½" larger tube and has an incredible 10 year warranty (as opposed to only 5 years for the Strike).
For people who have tried both of these kayaks it seems that the deciding factor is that if you are going to be in class III or larger rapids than the Lynx will be well worth the extra money.
If you are mostly going to be in less than class III rapids then the Tributary Strike will probably be all you need.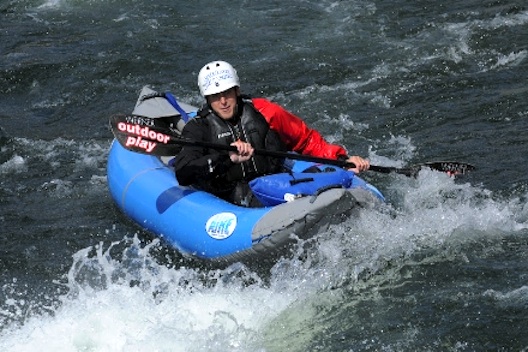 Photo from Outdoorplay.com. Gorge Run Sept 2011. Paddle, sink or swim. Photo submitted by: Matt Fritsch
Excellent Features for Better Control
This is one of the few inflatable kayaks that comes with thigh straps and it is highly recommended that you use them in anything over class II whitewater.
They will allow you to control the edge of the kayak (much more like a hard-shell model) and have more powerful strokes.
The Lynx is unlikely to tip on you but if you are hitting a big wave or a hole the thigh straps will help you to lean into it and absorb the energy as opposed to going up and over.
The seat that has an optional flip strap for righting the kayak after a spill, tie-down loops to accommodate the adjustable seat and a handy cargo hold for securing a dry bag or gear.
The Aire Lynx also comes in a larger two person version if you want to be able to paddle with a friend or maybe just have a little extra room for gear.
See our Aire Lynx II Review for more information on this larger tandem model.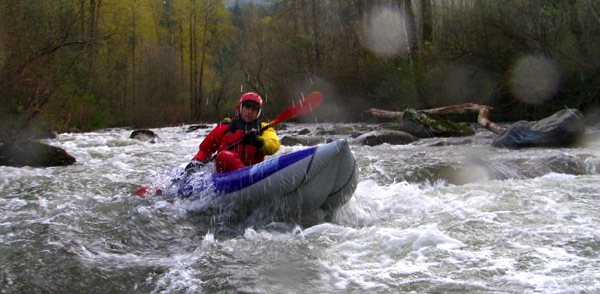 Photo credit:  riverlog.blogspot.com
The Negative
This kayak gets very positive reviews from the majority of people who have tried it. For someone like me who isn't really a whitewater kayaker I would say this kayak is sluggish and feels very different than my sleek touring IK.
However touring was not what it was designed for. For those who love whitewater rapids, the Lynx is an ideal option as it really excels in the rapids.
The only real negative is the higher price tag. However it seems that those who have it think it is worth every penny.
Final Thoughts
The Aire Lynx I can handle just about any situation as well as any condition including smacking up against jagged rocks, sharp sticks and being dragged on gravel.
These kayaks are tough and will last a very long time with a little care. If you want one of the best whitewater inflatable kayaks out there, then this is an awesome choice.
Where To Buy
The Lynx is a popular kayak and available at several different retailers. Click on the links below to find the best deal.
Click Here For The Aire Lynx Inflatable Kayak At Outdoorplay.com
Click Here For The Aire Lynx Inflatable Kayak At NRS.com.
Click Here For The Aire Lynx Inflatable Kayak At Backcountry.com.
Click Here For The Aire Lynx Inflatable Kayak At Amazon.com.
Did You Know?
By clicking on the above seller links you can help keep InflatableKayakWorld.com growing. When you make a purchase after clicking on our links, the retailer will contribute a portion of the sale to help support this site. It won't cost you anything extra and it's a simple way to help us fund our kayak and gear reviews. Thanks!