Over the years I have been asked a lot of different questions regarding inflatable kayaks. This is a collection of them that hopefully will be of help to those who are new to the inflatable kayak world.
If there are any important questions and answers that you feel I have missed and would benefit others, please leave a comment below and I will do my best to answer them.
Q1. Are they durable?
This is definitely one of the most asked questions. It is a valid question as many people think of inflatables like pool toys. The truth is that quality can very but in general they are extremely durable. In fact they can be so tough that you often see them used by outfitters, water rescue agencies and adventure companies.
A good quality model can take a lot of abuse and they are hard to puncture or tear. I have been using them for several years now and I have never personally had a leak or a puncture.
Q2. Are they slow or sluggish when paddling?
The answer to this question will depend on which model you choose. Some of the cheaper models are most definitely slow and can be sluggish. They are still fun to use but you will be too fast.
However the performance will depend on the quality of the kayak. There are many that track well and are able to paddle fairly fast. Some of the models I have paddled have definitely outperformed some of the hard shell kayaks I have used over the years.
Keep in mind though that they are typically wider and will not reach the speed of a true streamlined plastic or fiberglass kayak.
I don't think it is realistic to expect to be the fastest kayak in the water, but I do find that most people are impressed with the performance of a good inflatable kayak. Companies are continually making improvements to their design and quality so each year they get better.
Q3. Are they stable?
They are VERY stable. Their pontoon-like sides make them nearly impossible to tip. Some models that have a super rigid floor can even be used for stand up paddling.
They are known to be very safe and stable, which makes them popular with people of all ages.
Q4. Will I sink if my kayak gets a leak?
They are known to be almost unsinkable. The reason for this is that the majority of them have three separate air chambers, one for each side and one for the floor. If you should get a leak in one of the air chambers, you still have two others that will stay inflated and keep you afloat.
Unless you get a large tear, most leaks are extremely small and air is slow to leak out. All inflatable kayaks come with their own repair kit so you can do a quick patch up job for any small leaks when you are out.
The bottom line however is that your kayak may not perform as well if you get a leak, but I have never ever heard of anyone sinking.
Q5. Are they safe?
This has basically already been answered when we discussed stability and leaks in the questions above. The answer is that yes they are extremely safe.
Good quality inflatable boats are known to be some of the safest in the world. With the advanced technology, innovative designs and strong materials, they have an excellent reputation for safety.
Q6. Are they hard to care for?
Actually they are extremely easy to care for. Simply hose down with fresh water if you have been in salt water, dry off after use in the sun or with a towel (to prevent mold growth), deflate and roll it up into its bag. Then store it in a dry place away from extreme heat or cold.
The only other thing I would suggest is to use a 303 UV protectant spray once in awhile in order to protect the material from exposure to the elements.
Q7. What size kayak should I get?
The size you get will depend on what type of kayaking you plan to do as well as how many others you want to bring out with you.
Longer and leaner kayaks tend to glide better through the water and are more often used on lakes and for ocean touring.
Shorter kayaks are often more suited for rivers and whitewater paddling.
A larger model will obviously be more useful if you plan to do overnight trips and have a lot of gear to bring or even for fishing.
There are all different sizes available. As a solo paddler, I find the shorter models to be a lot of fun because they don't take a lot of strength to move and they are very responsive to quick turns and fancy maneuvers.
However the longer models are ideal for flat water paddling and can really glide beautifully through the water. Also it is great to have the option of bringing along a friend or your dog as well in a longer tandem kayak.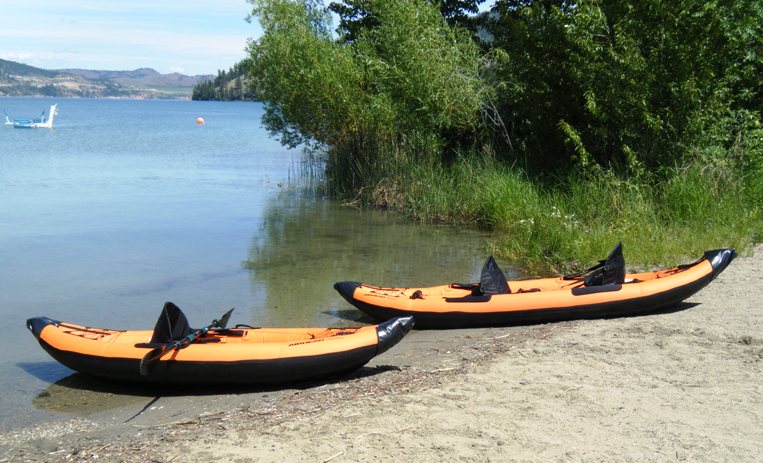 Q8. What kind of material are they made with?
The materials used today are tough and resilient. A large majority of them are made with a strong plastic called PVC (polyvinyl chloride). PVC is widely used in construction because it is so strong. It is made more flexible by adding plasticizers that make it more effective for inflatable products.
PVC can be worn down after repeated exposure to the elements. Therefore it is important to use a 303 protectant spray to keep the material strong.
Some inflatable kayak manufacturers are using other types of materials such as Hypalon (such as the AIRE and Tributary kayaks) and Nitrylon (such as the Innova kayaks).
Hypalon is a synthetic rubber that is very resistant to chemicals and extreme temperatures as well as ultraviolet light and salt water. It is a lighter, stronger alternative to using PVC. It is known to last for a very long time and consequently is also more expensive.
Nitrylon is an environmentally friendly alternative to PVC and Hypalon. It is extremely strong and resistant to punctures and abrasions. Nitrylon material can be heavy so it is normally only used where there will be the most wear and tear.
Q9. Where do I get extra parts?
You can usually get extra or replacement parts directly from the manufacturer or possibly from the online store where you made your purchase.
Q10. What should I use to clean it with?
You can actually use any mild household cleaner on an inflatable boat. If you have some tough stains from oil, grass or dirt that won't seem to come off then get an inflatable boat cleaner which I have always found will remove just about any stain.
It can be purchased at just about any retailer that sells inflatable boats or kayaks.
Q11. How do I protect it from wear and tear?
The first thing to do is just be aware of protecting the material. For example do your best to keep it away from sharp objects or debris. Try carrying it over gravel and rocks as opposed to dragging it.
Then as mentioned before use a 303 protectant spray to protect the material from UV damage and exposure to the elements. Store it away from extreme heat or cold and your kayak should last a very long time.
Q12. How do I find a leak?
If you suspect you have a leak then follow these steps…
Inflatable your kayak
Prepare a soapy water mixture in a spray bottle
Spray the mixture all over your kayak
Watch for any areas where the soapy water bubbles or hisses – that will be your leak
Q13. How do I repair a leak or tear?
If your leak is only a pin hole then just apply some water proof glue over the tiny hole… that should do the trick. If you feel that is not enough then add a tiny patch.
If you have a tear larger than a pin hole then you will need to dry the area, then apply some waterproof glue to a patch (supplied in your repair kit) and secure it over the tear. Let dry for a couple of hours.
If you have a much larger tear, then you can either contact the manufacturer or take it to an inflatable boat dealer to get a professional repair job.
Q14. What type of pump is best for inflation?
For years I always used a standard foot pump. It works great, is easy and quick to use, costs very little and saves your back from aches and pains (which I always suffered from when using a hand pump).
Now I almost strictly use a good electric pump, mostly because it's just so easy. However even if you use an electric pump it is good to have a foot or hand pump to top off the kayak at the end – so as not to overinflate it with the electric pump.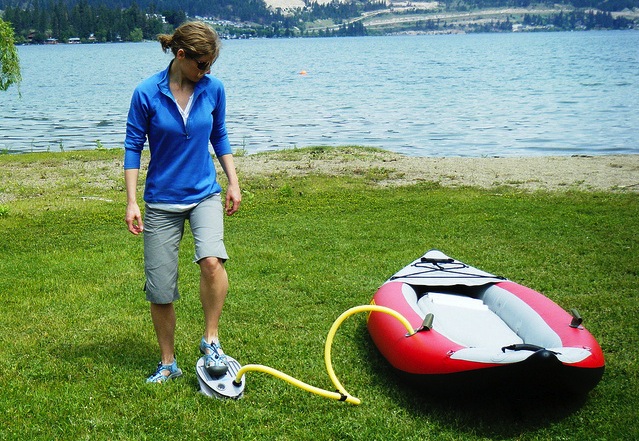 Q15. What type of valves do they have?
The most common valves used are Boston valves and Halkey Roberts military valves.
Q16. How long will inflatables last?
This will depend on a few different factors such as:
How often it is used
How and where it is stored
The amount of abuse it endures
If you use a protectant spray for the material
If you are conscious about protecting the material and looking after it then you can expect your inflatable kayak to last for years and years and years. My guess is you will more than likely want to upgrade your model before it every wears out.
Q17. What kind of wear and tear should I watch for?
Besides a small leak or tear you should check around all the valves and seams once in awhile to make sure they are secure and not leaking any air.
You can do this by using the same soap and water mixture in a spray bottle. Simply spray the whole kayak and watch for any bubbles or hisses.
Other wear and tear to be aware of is any breaking down of the material or stains that should eventually be removed with a cleaner.
Q18. How should I store it?
Store it in a dry place away from direct exposure to hot sunlight or cold conditions. Deflated and rolled into its carry bag, it can be stored in any small space such as in a closet or garage.
The important thing to remember is to make sure it is completely dry before packing it away so you don't end up with mold and mildew to clean up later.
Q19. Why is my kayak paddling in circles?
This is a funny question that you may not expect. It might seem strange for a kayak to simply paddle in circles but it can happen.
The reason for this is normally because the skeg has either bent or fallen or broken off. Some models simply do not paddle well without some type of directional stabilizer like a skeg or rudder.
If you lose or damage your skeg, it can normally be easily replaced.
Q20. Does it need to be registered?
Usually you only need to register a boat that has a motor. If you want to add a motor to your kayak then check with your local Department of Motor Vehicles to find out the requirements in your area… they tend to vary from district to district.
Q21. What kind of warranty do they have?
The warranty's vary anywhere from 1 year up to 10 years. I try to state the warranty in the reviews of each individual model but if you are unsure you can contact the manufacturer directly.
Q22. Are they easy for kids or older people to paddle?
The fact that they are so stable makes them ideal for people of all ages. The smaller kayaks will be easier to paddle and maneuver.
There are a few of small inflatable kayaks that are ideal for kids such as the Advanced Elements Firefly, the NRS Rascal, the Advanced Elements Lagoon and the Sea Eagle 330.
If you are an older person that is concerned about strength then I would suggest sticking with the lighter weight models as they are easier to paddle forward.
Check out our comparison charts for exact size and weight specifications.
Q23. Are there any models suited to families?
Yes there are a few kayaks that are long enough and have enough room to carry a family of 2 adults and two or three children or even a few dogs.
The Sea Eagle 465 FastTrack, which comes with 3 seats, is the best one that comes to mind. Other options are the Sea Eagle 420X and the Aire Super Lynx.
Q24. Can I bring my dog(s) paddling with me?
Yes absolutely! Do not be concerned about your dogs claws, there are no issues. I have had many dogs in my kayaks and never had a problem.
It might be a good idea to put a mat of some kind in the kayak for them to lie down on. This can help them to feel more comfortable and secure when paddling.
Also I found that it helps to keep them from tracking their muddy paws all over the kayak, which just has to be cleaned off later.
Q25. Can I check it on an airplane?
Yes I have done this often. Depending on the size of the kayak you might be able to fit it in a large suitcase or duffel bag and check it as an extra piece of luggage. Some of the carry bags that come with the kayak are quite good and you can simply check it in that – just tape up any hanging cords or handles so they don't get caught or torn.
If your kayak weighs less than 50 pounds (which most of them do), then you can check it on most airlines for not extra charge.
Some of the smaller kayaks can even be taken on as carry on luggage and stored in the overhead bins. They are ideal for travelling.
Hopefully this answers the majority of your questions about the ins and outs of owning an inflatable kayak.
Are you ready to get on the water and join us for some paddling fun in an inflatable kayak?
Click Here To View Our Top 5 Inflatable Kayaks. This is a great place to start looking.