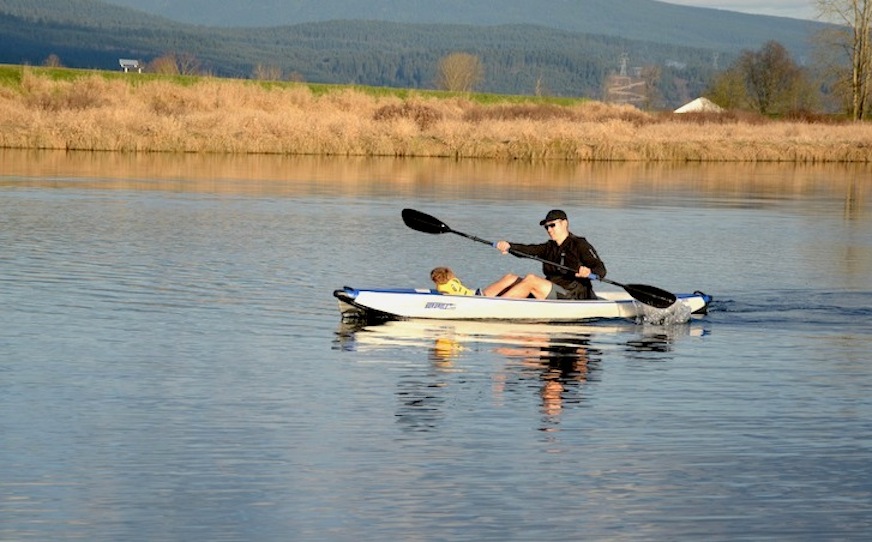 When making a purchase online, especially a large one like an inflatable kayak, it is important that you are purchasing from a 100% secure, reputable and established website. The outdoor recreation stores listed here are some of the very best.
Not only have they been around for a long time, they also provide phenomenal customer service, most of them have outdoor gear specialists ready to answer any of your questions and also have the best prices and deals.
Listed below are the online retailers for inflatable kayaks and for kayaking gear and accessories.
…………………………………………………………………………………………………………….
Been around for 40+ years.
Sell only top quality, rugged inflatable boats.
Great selection of inflatable boats and kayaks for all different types of water activities including kayaking, canoeing, fishing, sailing, motoring, stand-up paddling and yachting.
3 year warranty on all of their boats!
Offer a 180 day risk free trial.
Excellent prices – often have great sales.
Lots of excellent pictures of real people using their boats and customer videos.
Good FAQ page.
Offer some used inflatable boats at a discounted price.
Free shipping within the contiguous US (for boat packages).
Will ship to Canada and Internationally.
Downloadable instructions available on their site for the boat your purchase as well as video instructions.
Very helpful customer service.
Inflatable kayak brands available: Sea Eagle
…………………………………………………………………………………………………………….
Website dedicated to kayaking and kayak gear
Large selection of inflatable kayaks
Excellent customer service
Offer lots of informative information on kayaks and gear
Will ship internationally
15% of gear when a kayak is purchased
Free shipping and no sales tax with purchase of a kayak – in the US
Founded in 1995, online business since 1998
Inflatable Kayaks Available: Advanced Elements, Aire, Airis, Aquaglide, Bic Sport, Innova, NRS, Sea Eagle, Tributary

…………………………………………………………………………………………………………….
Founded in 1972.
Excellent resource for kayaking information.
Always lots of sale items.
Excellent customer service.
Every kayaking gear option you can think of.
Will Ship to Canada and Internationally.
Rock solid guarantee. Return or exchange any item you are not satisfied with.
Gift cards available.
Fast & very low priced shipping.
Inflatable Kayak brands available: NRS, Aire, Tributary
…………………………………………………………………………………………………………….
Usually has a decent selection of different inflatable kayaks
Sometimes have some good sales prices
Huge website with very established reputation
Also sell just about anything else you can think of
Can ship all over the world
Inflatable kayak brands available: Usually carries most inflatable kayak brands
…………………………………………………………………………………………………………….
European inflatable touring kayaks as well as whitewater inflatable kayaks and canoes
Based out of Burlington, WA
Most of Innova kayaks are made PVC-free – better for the environment
One of the original producers of high end inflatable kayaks
Very popular on the West Coast
Sells all of the Innova brand inflatable kayaks as well as clothes, PFD's and equipment
Excellent customer service and very knowledgeable staff
On-site blog with pictures, stories and news
2 year warranty on all Innova kayaks
Shipping to all over the world
Inflatable kayak brands available: Innova
…………………………………………………………………………………………………………….
Free shipping on orders over $50 within the contiguous U.S.
Will ship to Canada and Internationally.
100% guarantee – If you are ever not satisfied with your gear at anytime, even 30 years from now, send it back for a full refund.
Live chat available with a customer service rep/gear expert.
Gift certificates available.
They have a great blog available on their website.
Excellent customer service.
Voted one of the top 50 internet retailers.
Great outlet store on the website with huge savings.
Good selection of UV protective clothing.
Inflatable kayak brands available: NRS, Aquaglide, Aire
…………………………………………………………………………………………………………….
Sell the Hobie inflatable kayak s as well as tons of kayak gear and accessories
Michigan based retailer – online store been around since 1997 – 12 years
Gift certificates available
No hassle returns within 30 days
Free shipping for orders over $99, excluding Hobie within the contiguous U.S.
International shipping available
100% secure shopping
Earn powder points with every purchase to put toward future purchases
Inflatable kayak brands available: Hobie

…………………………………………………………………………………………………………….
Deals mainly with whitewater kayaks and some stand-up paddle boards
Tons of paddling accessories
International shipping available
Great articles and information
100% satisfaction guarantee
Gift cards available
Loyalty club members receive a 10% store credit and 10% off accessories
For kayaks there is an oversized shipping charge of $29.95
Inflatable kayak brands available: NRS, AIRE, Tributary
…………………………………………………………………………………………………………….
Huge outdoor gear storeStarted by 23 climbers in 1938
80-plus stores all over the U.S. as well as their huge online store
Great outlet selection
100% satisfaction guarantee – if you are not satisfied with your purchase it can be returned for a full refund
Option to become an REI member with lots of benefits
Great expert advice
International shipping
Free shipping to any one of the REI stores where you can pick it up from there
Gear and accessories for paddling, cycling, climbing, hiking, camping, travel and fitness
Inflatable kayak brands available: Aire, Advanced Elements, Aquaglide

…………………………………………………………………………………………………………….
$2.95 shipping on any order over $99
International shipping available
Marine store with good inflatable kayak selection
One of the world's largest boating supply retailers
Been around for a very long time
Excellent reputation
Besides being an online retailer they have over 375 stores in 38 states, Puerto Rico and Canada
No hassle returns – if you are ever dissatisfied with your purchase they will replace it
Excellent customer service
Very passionate about making sure the customer has a good experience and with providing great products
Inflatable kayak brands available: Advanced Elements, West Marine inflatable kayaks
…………………………………………………………………………………………………………….
Great outdoor gear retailer
Offers lots of paddling gear and accessories
Awesome customer service
Has a great blog
Often has really good sales and free shipping
Has a reward program
Carries a couple of the Advanced Elements kayaks
…………………………………………………………………………………………………………….
Good selection of inflatable kayaks and inflatable SUP's
Lots of paddling gear to choose from.
Offer a price match guarantee
Based out of Boise, Idaho
Inflatable kayak brands available: Advanced Elements & Innova Kayak
…………………………………………………………………………………………………………….