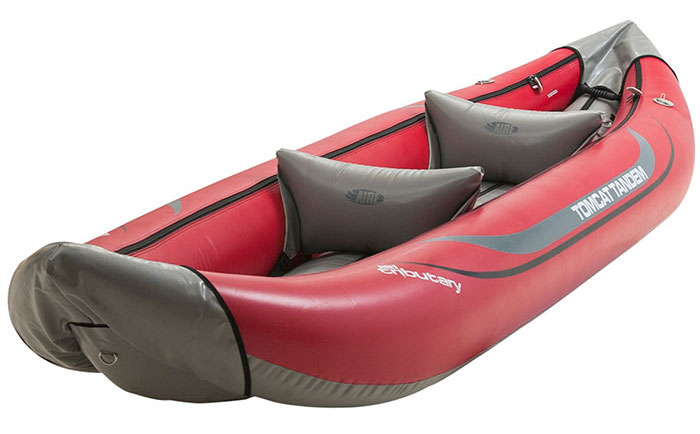 Best Uses: Whitewater, Day Trips, Camping, Flatwater
Brand: Aire
Available At:
Number of Paddlers: 2
Stats: Length 12' 9", Width 38.5", Weight 54 lbs, Load Capacity 450 lbs
Accessories Included: Carrying bag, removable and adjustable seats, repair kit, 1 year warranty
Kayak Material: 1200 denier, heavy duty PVC shell
Pros: Stable, rugged, comfortable, great maneuverability, compact, easy entry and exit, high load capacity, quick self-bailer, more affordable than the American made Aire kayaks
Cons: There have been reports of stitching coming loose after heavy use, this kayak is a little heavy at 54 lbs.
More In-Depth Info
The Tributary Tomcat Tandem is the two person version of the Tomcat Solo. The Tomcat Tandem is a highly affordable, quick self-bailing inflatable kayak that is great for two people wanting to do recreational whitewater paddling.
Tributary is Aire's Chinese imported line that offers good inflatables – not as well constructed as their American made line – but much more affordable in price.
The underside stitching of the Tributary kayaks was done on a sewing machine as opposed to being welded like the American made Aire kayaks.
For that reason Tributary kayaks will not stand up as well as the Aire kayaks. However that is why the price is cheaper and the warranty is less. They are also a little heavier.
All of that being said, this kayak will offer a lot of fun in whitewater rapids and will hold its own for recreational use.
It is extremely stable and comfortable and works great for beginner to novice whitewater paddlers. If you plan on using it hardcore season after season, then you may want to look at a higher-end model. However for recreational use, which is how I would describe most kayakers, this is a great option.
I really think the Tomcat Tandem is ideal for families, fishing, and those looking for great stability and comfort.
Please read the Tributary Tomcat Solo Review for more detailed information as they are virtually the same kayak except for size and weight.
The Down Side
There are two negatives that stand out for me with this kayak:
For one, it is quite heavier – much heavier than the majority of tandem inflatable kayaks out there. Although this does make it solid in the water, it also makes it that much harder to carry and transport. If weight is not an issue for you then this may not seem like a big deal. If it does worry you, you can always get a kayak cart with wheels to help bring it to the water and back to your car.
Second, there had been talk by a few people that the seems can start to come loose after heavy use. I have not heard any negatives about this issue now in a couple of years so I'm not sure it is something to really be concerned about anymore. However as stated before if you really plan to run this kayak into the ground so to speak, then you may want to look at one of the Aire kayaks that are known to last longer and have a 10 year warranty.
Final Thoughts
The Tomcat Tandem is a great 2 person whitewater inflatable kayak for under $1000. The high load capacity of 450 pounds makes it ideal for all different types of situations and adventures.
It is truly ideal for camping, overnight paddling trips, fishing, families and recreational fun.
I would recommend this kayak for beginner to novice paddlers who want a stable and safe affordable whitewater inflatable kayak that is versatile enough to be paddled on flat water as well.
Where To Buy
Tributary kayaks are popular because they are priced right and a lot of fun to use. They are available at several online stores.
Click on the links below to see the current prices at retailer…
Did You Know?
By clicking on the above seller links you can help keep InflatableKayakWorld.com growing. When you make a purchase after clicking on our links, the retailer will contribute a portion of the sale to help support this site. It won't cost you anything extra and it's a simple way to help us fund our kayak and gear reviews. Thanks!