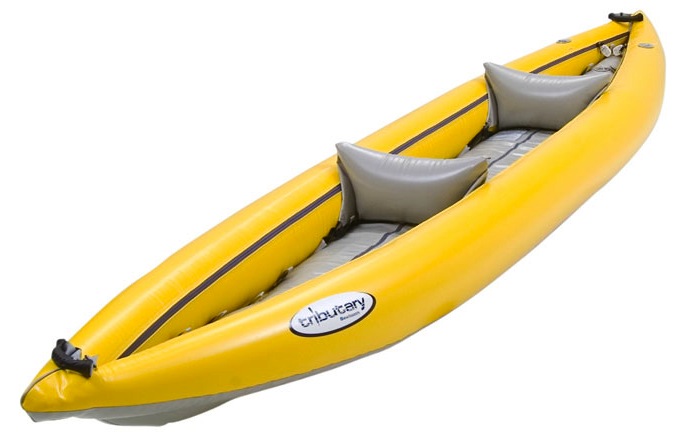 Best Uses: Lakes, bays, easy rivers
Brand: Aire Tributary
Available At:
Number of Paddlers: 2
Stats: Length 15'1", Width 32", Weight 51 lbs., Load Capacity 460 lbs
Accessories Included: Removable skeg, carry case, repair kit, owners manual, 2 comfortable seats, 1 year warranty
Kayak Material: 900 denier tube fabric & 900 denier floor fabric
Pros: Good tracking, stable, rugged, comfortable, great maneuverability, compact, self-bailing, easy entry and exit, lots of room for two people plus gear or even for a dog, good price
Cons: Only a 1 year warranty, kayak is fairly heavy at 51 lbs., load capacity is not that high for a long two person inflatable kayak
More Detailed Info
The Sawtooth II is a great inflatable kayak for flat water paddling. It is one of the fastest inflatable kayaks available and is extremely popular for those looking for a little paddling speed.
What makes the Sawtooth inflatable kayak so fast is the design of the floor. It bends up slightly at each end and glides very nicely through the water.
It is designed for flat water paddling so anyone who uses this inflatable kayak should stick to lakes, calm rivers or bays and estuaries although it will handle fine in some choppier water.
The Good…
What I think is really nice about this kayak is that it is really long. It is just over fifteen feet long and has plenty of room for two people plus a fair amount of gear and maybe even a dog.
The length, smaller width, removable skeg and the design of the floor make this inflatable kayak paddle fast and beautifully through the water.
The Bad…
The one thing that bothers me about the Sawtooth II is the weight. It weighs 51 lbs. which isn't too bad if you have two people carrying it but it is getting a little heavy for transporting around.
The extra weight is to be expected because this kayak is quite long and the weight can actually add to the performance of the kayak in a very positive way. However when I think about my own tandem inflatable kayak that weighs 45 lbs., I know I wouldn't want to have one that weighs any more.
If the weight is not an issue for you then the Tributary Sawtooth II is a great choice.
Final Thoughts
My opinion of the Sawtooth II comes down to this… We know that it is manufactured overseas and does not have the same extremely high quality of construction that Aire's American line of inflatable kayaks have. That is why it only comes with a one year warranty.
However it is made very strong, sturdy and rugged and Aire's Tributary line of kayaks have a great reputation for being solid yet affordable.
If you are looking for a fast, flat water inflatable kayak for an affordable price then this is a great option. For what you are getting the price is fantastic.
It is versatile in the fact that it has 32 cargo/seat loops and the seats can be adjusted to how you like. It has lots of room and a good deal of pep.
The Tributary Sawtooth inflatable kayaks are not as tough as some others on the market and for this reason they really are only designed for calm waters.
That fact aside I personally think this model has two major downfalls… It is fairly heavy and the load capacity is not as high as one would think it should be for a kayak of its size.
If neither of those things are a concern for you then you will likely be quite happy with the Sawtooth II.
Where To Buy
The Sawtooth II is available at several online stores. Click the links below to find the best deal.
Did You Know?
By clicking on the above seller links you can help keep InflatableKayakWorld.com growing. When you make a purchase after clicking on our links, the retailer will contribute a portion of the sale to help support this site. It won't cost you anything extra and it's a simple way to help us fund our kayak and gear reviews. Thanks!