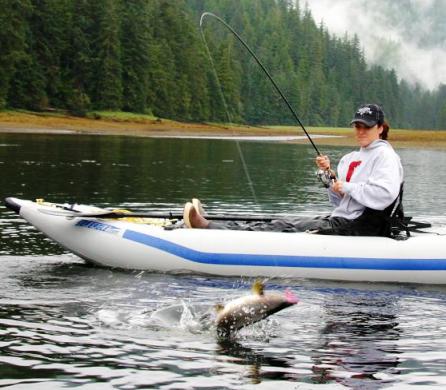 Inflatable kayaks can differ in length, width, size, weight, and design.  Many can work well for fishing but there are certain things you will need to consider when choosing an inflatable fishing kayak so that you find one that will suit your needs.
1. Sit-In Inflatable Kayak or Sit-On-Top Inflatable Kayak
Traditionally kayaks were always sit-in kayaks. Most inflatable kayaks are sit-in kayaks although there are a few that have a sit-on-top design. Which one you choose will be a matter of personal choice.
A sit-on-top has the convenience of allowing you to sit higher up which may give you a better range of motion and reach for fishing. However many people do consider the sit-in inflatable kayaks as there tends to be more room to store gear and cargo. Some sit-in models come with seats that swivel and sit you up higher which then give you the best of both worlds.
2. Solo or Tandem
There are solo fishing inflatable kayaks that are perfect for one person and there are tandem fishing inflatable kayaks that allow you to fish with a partner or bring extra gear or a pet along.
There is also the option of a convertible fishing inflatable kayak which seats two or three people but can be converted for solo use if needed. Which size you choose will depend on your needs and budget.
3. Stability
Stability can greatly differ in different inflatable kayak models. For fishing you not only want the kayak to be "steady" on the water but you also want it to be able to lean a fair ways over without tipping. If you are reeling in a fish and find yourself leaning out of the kayak, the last thing you want to worry about is your kayak flipping you over.
Typically the wider the inflatable kayak, the more stable it will be. The models that have larger pontoon sides and a very rigid inflatable floor will allow you to lean over further without tipping. Take special note of the overall kayak design as well as the hull design when researching this factor.
4. Manoeuvrability
Depending on where you plan to paddle your fishing inflatable kayak you will likely want a kayak that handles and manoeuvres well. A kayak that is quick to respond makes a world of difference when you are trying to hit the right fishing spot.
A good rule of thumb is that the shorter the kayak, the quicker it will respond, however the longer and slimmer the kayak the faster it will paddle. For fishing it is all about finding that balance… a kayak that can move when you need it to and stay steady when necessary.
5. Weight of the Inflatable Kayak
The lighter the kayak the easier it will be to transport and carry. If you plan to take your inflatable kayak by airplane then the lighter the better. If you simply plan to transport it in the trunk of your vehicle then weight may not be as much of a factor.
If you plan to fish/kayak solo, then make sure you get one that you are able to easily carry yourself. Take note of the size and weight of the different models when you do your research.
6. Weight Capacity
How much weight the kayak can hold and still be able to perform well is very important for anglers. You will likely want to bring along all your fishing gear and cargo. Make sure the inflatable kayak is able to easily hold your weight plus that of all your gear.
7. Length
We touched on this a little bit above. Usually the longer inflatable kayaks will be able to pick up more speed. They will also offer more room for storage and for long legs.
Length also becomes a factor when considering what type of water you will be paddling on. Shorter models tend to be better for rivers and whitewater, while longer kayaks will perform better on the ocean and lakes.
8. Comfort
With long hours spent fishing, comfort is very important. You want to be able to sit, relax and enjoy your time on the water without having to worry about aches, pains and feeling cramped.
When researching the comfort of the different inflatable kayaks for fishing, take note of the seating as well as the leg room. These are the two factors that are going to determine how comfortable you feel.
A tall back seat will offer the most back support and a swivel seat will offer the most range of motion. Longer kayaks will offer more leg room. If the model of your choice does not look like it has a comfortable seat I would recommend spending the money to get one. This will make a big difference in your kayak fishing experience.
9. Accessories
Some accessories to look for are:
fishing seat
dry bags
rod holders
cup holders
D-rings for tying down cargo
cargo boxes
motor
Most inflatable kayaks will not come accessorized for fishing although there are a couple of exceptions. If the model of your choice has no real fishing accessories included in the price, research to see if you are able to add the accessories you need.
If you are a do-it-yourself kind of person you could consider adding any of the above items to any kayak model.
10. Price
The final thing to consider in a fishing kayak is price. Prices can range from $100 up to the thousands. How much you spend will depend on your own personal budget. It is very possible to get a very good fishing inflatable kayak from anywhere between $250 and $1500.
These are the top 10 things to consider when buying an inflatable fishing kayak. Read the reviews and do your research carefully. There are many options to choose from and even some great fishing kayak packages.
Start your search with our inflatable fishing kayak reviews.


Photo on this page courtesy of SeaEagle.com