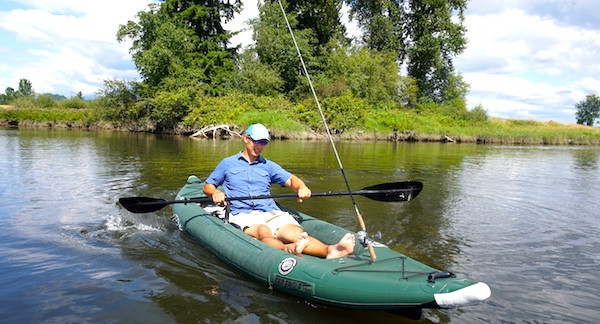 The new FastTrack Angler is about as cool as it gets for kayak fishing.
We loved reviewing this inflatable kayak and found it to be not only extremely functional but also well thought out, comfortable and fun to use.
Similar in size and shape to the regular 385 FastTrack the 385 FastTrack Angler series glides and cuts through the water just as well.
However because this kayak is designed specifically for fishing it has a few upgrades such as:
29% thicker PVC material
Non-slip protective padding on the floor and the side pontoons
Built-in rod, tool, hook and lure holders
36" fish ruler
This new series is fully decked out for fishing and provides four different package options to choose from depending on your needs.
The 385fta is extremely portable and will go anywhere you need it to. It is ideal for storing in a small space, on a larger boat, in an RV or for transporting in the trunk of your vehicle!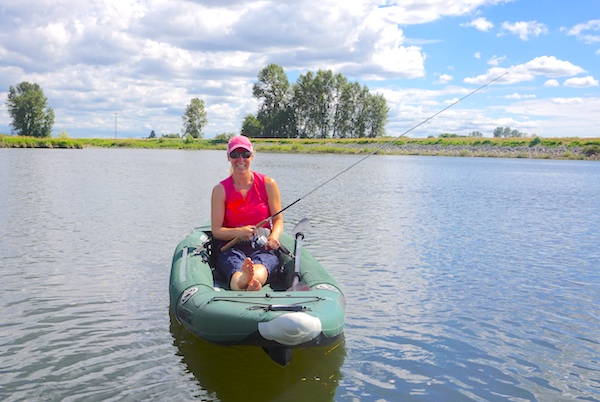 Best Uses: Fishing on lakes, ocean bays or rivers (can handle up to class III rapids)
Number of Paddlers Seats can be moved so it can be used solo or tandem
Specs:
Length: 12'6"
Width: 36"
Weight: 44 lbs.
Load Capacity: 635 lbs.
Pros: Very rigid and strong, high quality durable construction, stable and easy to paddle, very quick setup, good tracking, decent storage space, can hold a lot of weight, deck bungees for securing gear, four rod holders, versatile and can be paddled solo or tandem, great package options so you can tailor to suit your needs
Cons: A little on the heavy side especially if carrying solo. However this is a strong sturdy boat so makes sense that it weighs a little more.
Available At:
Click here for the best deal on the Sea Eagle 385 FastTrack Angler at SeaEagle.com.
Important Features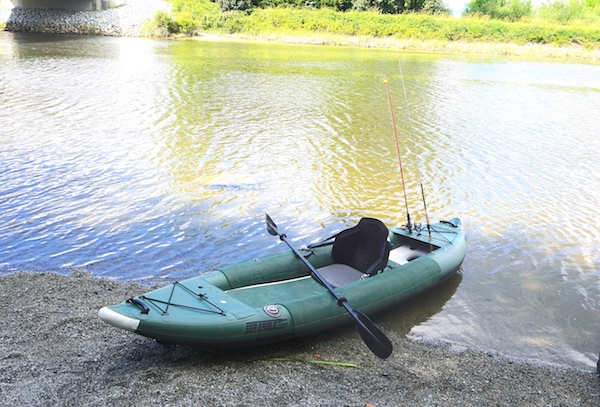 Technically any inflatable kayak can be used for fishing and we have known many people who have done some pretty cool DIY projects on their kayaks to make them more functional for fishing.
However we love that this one is specifically designed for anglers. All the thought has already been put into it.
All you have to do is choose your package, set it up and go!
The 385fta has some unique and very appealing features that we think most anglers will appreciate.
Spray Skirts
There are front and rear attached spray skirts that serve a few purposes.
They not only help keep water out of the kayak from waves and spray but also provide sheltered storage areas for your gear.
There are bungee tie downs on top of both spray skirts for securing gear on top of the kayak as well.
Then specific for the angler series the spray skirts have built-in rod, tool, hook and lure holders.  How convenient is that!
Bungee Rope Lacing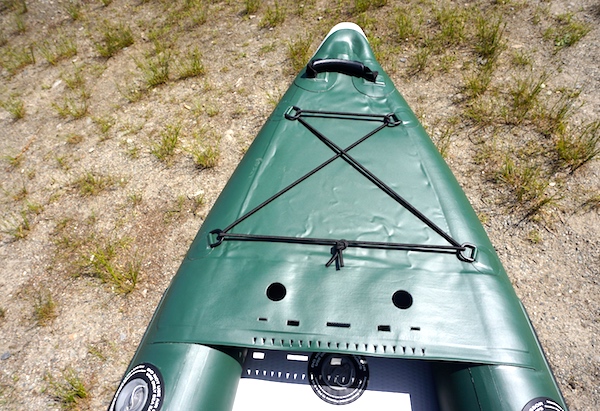 The bungee rope lacing on top of both the front and rear spray skirts are perfect for securing gear.
You can easily fit a couple dry bags or a lifejacket and other gear under the bungee rope.
Extra Strong Seams
Seams can sometimes be a weak point on inflatable kayaks, more so with some of the cheaper brands.
However with this kayak there is definitely nothing to worry about. It has a combination of double reinforced welded/glued seams. They are extra strong.
You can really tell when it is fully inflated how rigid and durable it is.
Built-In Fish Ruler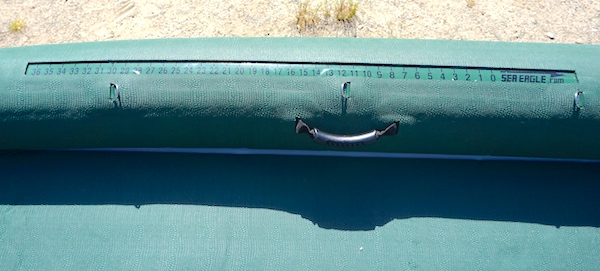 Love the built-in fish ruler! It allows you to easily measure your catch without bringing along any extra tools.
It is one of those features that isn't critical but nice to have.  I have never seen one on any other inflatable kayaks.
Separate High-Pressure Floor
A separate high-pressure floor is something you will see in many of the newer inflatable kayaks, especially the better quality ones.
It provides a few different benefits such as:
a more rigid structure
improved stability
better performance – helps with tracking and speed
allows you to stand if you want to
There is a really big difference in paddling an inflatable kayak with a separate high-pressure rigid floor as opposed to one without.
You will need to dry underneath the floor after use but that only takes a moment. It is definitely worth having for all the benefits that it provides.
EVA Foam Padding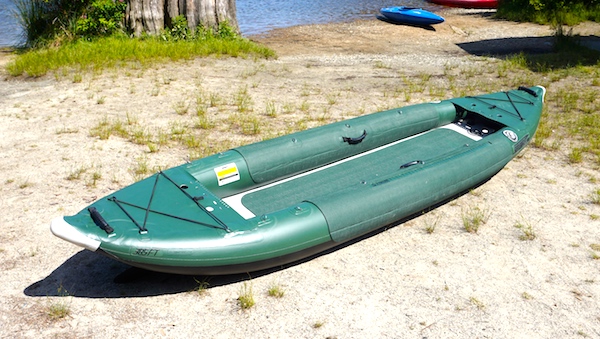 Unique to the 385fta is the non-slip crocodile EVA foam padding on the floor as well as on the side pontoons.
The foam padding provides extra traction, which helps to prevent slippage. It also adds an extra protective layer that keeps the material safe from punctures from fishing hooks.
Ergonomic Carry Handles
There are four carry handles… One at each end and two center balanced on each side.
With the center handles you can carry the kayak by yourself. It isn't light but it is doable.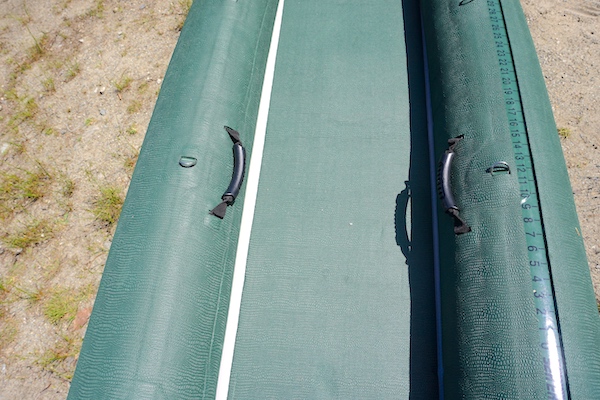 However, once the swivel seat and/or engine are attached it gets much harder to lift solo so you might want to attach those at the water.
If you are out with a friend then you can make it a little easier and each carry one end of the kayak.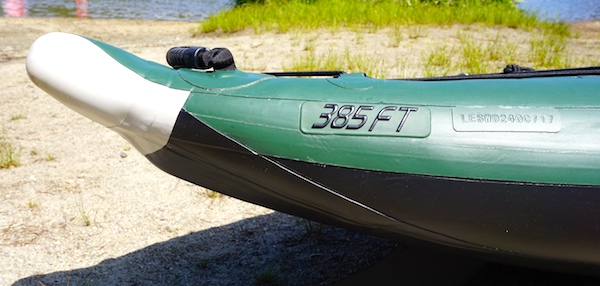 Or you could also use the very convenient and portable EZ Cart and pull it to the water.
Drain Valves
There are two open and close drain valves on the floor. These are basically just to let water out if you need to.
Although I have tried these in my FastTrack just to test them out, I have never actually had to use them while out paddling.
However it is nice that they are there if needed.
Removable Skeg
The large removable skeg easily clips into place. It greatly helps to control yaw movement, keep you gliding straight and improve speed.
We would recommend always using it unless you are in really shallow water.
Tons of D-rings
There are a whopping 18 stainless steel D-rings on the FastTrack Angler.
You can use these D-rings to secure the seat and all the gear you want to bring.
Drop-Stitch Keel
There is an inflatable Needleknife high-pressure drop stitch keel at the bow. This is also unique to the FasTrack and it helps to improve the tracking.
It literally takes just a few seconds to inflate the keel and it is a really great feature that helps with performance.
385fta Setup
Once you arrive at the water take the kayak out of the bag and unroll.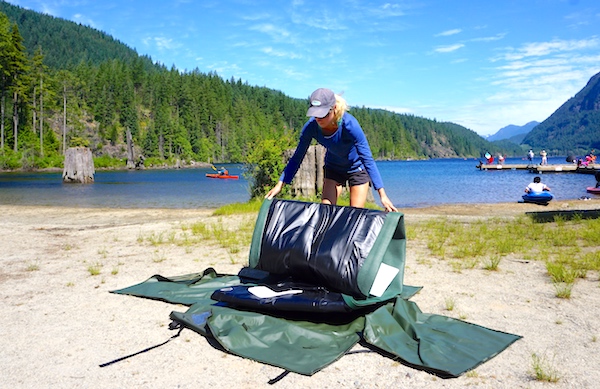 It has four separate air valves that you will need to inflate.
Start with the inflatable drop-stitch keel valve located on the floor just under the spray deck at the front of the kayak.
Then inflate the high-pressure rigid floor followed by each side.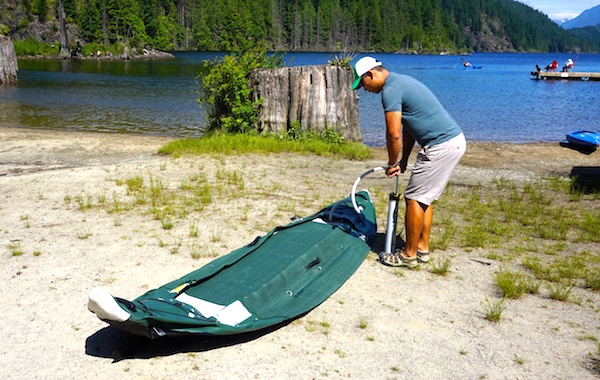 A helpful tip is to only partially inflate one of the side pontoons, then partially inflate the other side. When they are partially inflated press the floor down to make sure that it is positioned properly.
Then continue to fully inflate each side.
It is quite a fast process and you can expect to have the kayak fully inflated in six to eight minutes when using the included hand pump.
The skeg can be attached after the kayak is fully inflated. Then attach the seat, secure your gear and you are ready to go.
If you have the swivel seat fishing rig package (which we highly recommend, it is awesome), then we would suggest attaching the seat to the rig before you get to the water.
The first time setup of the swivel seat can take a bit of time (you may want to do it at home first) but it only needs to be done once. Follow the instructions and you'll be fine.
After your outing, dry the kayak off with some old towels, remove the seat, deflate the air valves and roll it up. It is very easy to put it back in the extra large carry bag.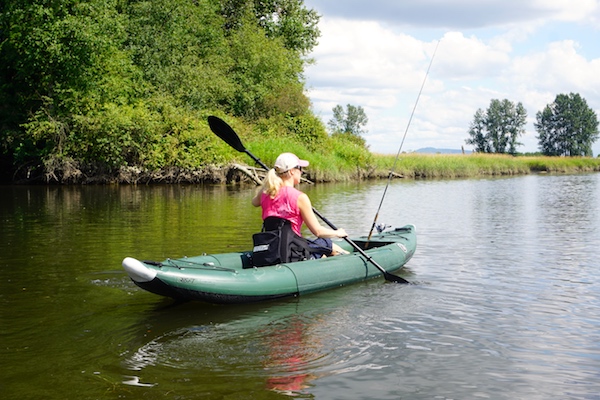 Versatility
Although specifically designed for fishing, this kayak is actually quite versatile.
I used the regular FastTrack for years and really appreciated it's versatility.
You can paddle the 385fta on lakes, on rivers and it handles really well in choppy ocean water.
It feels secure, handles great and although it isn't the fastest boat in the water it moves well for its size.
It also has the option of paddling it solo or adding a second seat and bringing a friend or family member.
With the rigid floor and extra protection on the floor and sides it is also ideal for bringing along your dog!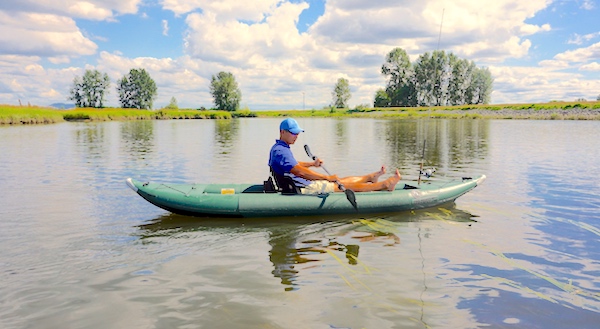 Quality
I won't go into too much more detail on the quality as it was already mentioned above.
Important to know is that it is well made, durable and strong. Sea Eagle always stands by their products and offers a 180-day risk free trial and 3-year warranty.
My older regular FastTrack is still being paddled after several years of continuous use and I have never had a single issue with it.
This 385fta is even more durable and I would expect it to last for many years with proper care.
Carry Bag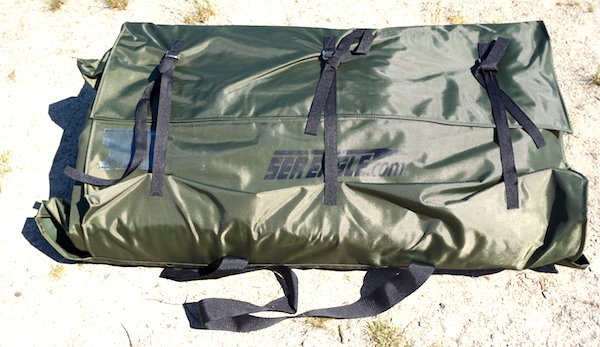 The nylon carry bag is quite a good size. It easily fits the deflated rolled up kayak as well as the pump.
The bag is easy enough to carry and is ideal for storing in a small space.
Package Options
At this time there are four package options to choose from. Each package comes standard with:
385fta Hull
Dual Action Hand Pump
Slide-In Swept Back Skeg
Green Kayak Bag
Repair Kit
Below are the four package options as well as the extra accessories that come with each.
1. Deluxe Solo Angler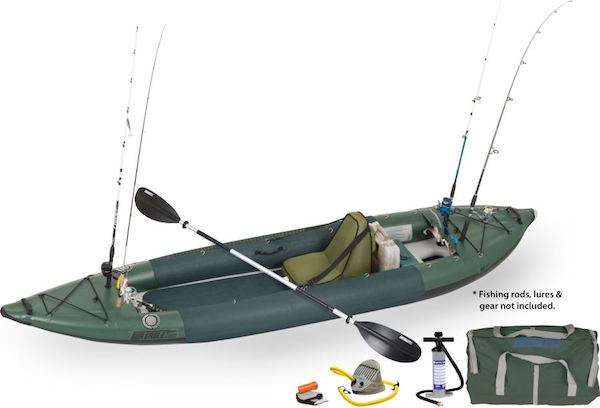 This is the base package and the cheapest option.  It includes:
One 7'10" AB30 Paddle
Green Inflatable DKS Seat
A41 Foot Pump – to inflate the seat
2. Swivel Seat Fishing Rig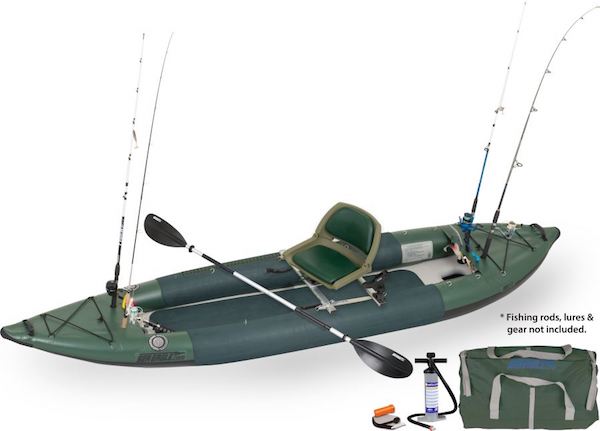 If you don't need a motor then this package is awesome.  The swivel seat fish rig adds a whole other level of comfort and convenience.
You sit up higher with this seat and can swivel 360 degrees for better positioning and reach.  The padded back and bottom are extremely comfortable to sit on for hours.
Plus the Fishing Rig includes two Universal Scotty Deck Mounts with Rod Holders for even more options.
This package includes:
Green Swivel Seat Fish Rig with Universal Scotty Deck Mounts with Rod Holders
7'10" AB30 Paddle
3. Pro Angler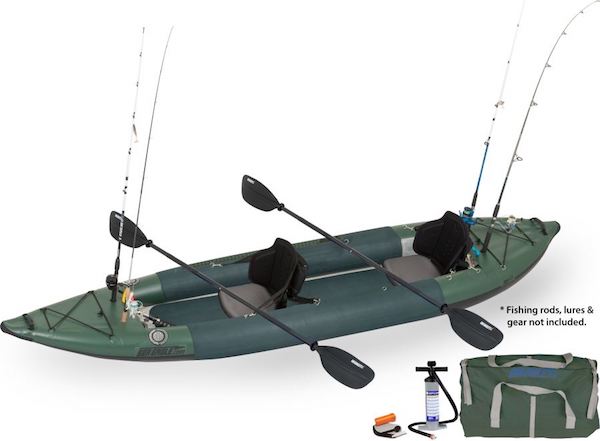 The Pro Angler option is ideal if you want to bring a friend along for the ride. The two seats can be moved so it can also still be paddled solo as well.
The tall back seats are very comfortable and provide more back support compared to the inflatable seat in the base package. This package includes:
Two Tall Back Seats
Two 8′ AB40 Kayak Paddles
4. Pro Motor Fishing Rig
This is the deluxe option that comes with not only the Green Swivel Seat Fish Rig but also with an electric motor and motormount kit.
The price is excellent considering you get a fully decked out kayak with motor.
This package includes:
Green Swivel Seat Fish Rig
Watersnake ASP T24 Electric Motor
Motormount Kit
7'10" AB30 Paddle
Final Thoughts
Bottom line the 385 FastTrack Angler makes it very easy to get to those hard to reach fishing spots.
It is highly portable, easy to paddle and loaded with great features.
We loved reviewing it and think it is fantastic to have a high quality fishing-specific IK added to the inflatable kayak world.
With the 385fta you can easily pull of some epic fishing adventures!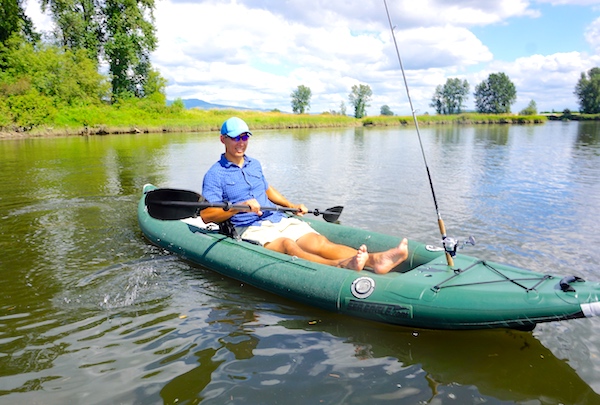 Where To Buy
When you buy directly from Sea Eagle you get to take advantage of their 180-day trial (if you are unhappy with your purchase at any time within 180 days you can return it as long as it is in good condition) and their 3-year warranty.
Click Here For The Best Deal On The Sea Eagle 385 FastTrack Angler At The Official SeaEagle.com Website.
Did You Know?
By clicking on the above seller links you can help keep InflatableKayakWorld.com growing. When you make a purchase after clicking on our links, the retailer will contribute a portion of the sale to help support this site. It won't cost you anything extra and it's a simple way to help us fund our kayak and gear reviews. Thanks!