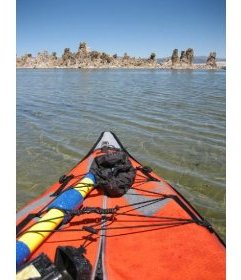 If an inflatable kayak has become your #1 self-powered mode of transportation, recreation and fun then there are a few accessories that you will need to have.
Most of the accessories listed below are essential to have with you at all times, but some you will only ever need if doing a longer excursion.
Accessories you will likely need at some point while using your inflatable kayak:
Bilge Pump – I normally bring my bilge pump with me each time I go paddling even if it is very unlikely I will need it. It is typical for a little water to get in my kayak while paddling but I have never needed to use the bilge pump when flat water kayaking. However if there is a chance that you may tip over or that you will be in stronger waves or whitewater then a bilge pump is a very handy accessory to have. Most kayak outfitters will tell you to have one with you at ALL times.
Boat Sponge – I really LOVE my boat sponge. This is a fantastic accessory for mopping up uncomfortable wetness in the kayak. I didn't use a boat sponge for several years but now that I have one, I will never go out again without it. It is the most convenient little accessory you could get for your inflatable kayak and it costs next to nothing.
Cell phone – This is a personal choice of course, but I rarely go kayaking without it. Sometimes I am kayaking out of cell phone range but I still seem to always have it handy. I have never actually used it while kayaking but it seems like a good safety item to bring… just in case.
Comfortable Seat – Not all inflatable kayaks come with a supportive and comfortable seat. If you don't find your regular kayak seat to be as good as it should be, I would highly advice looking into a good supportive kayak seat as it makes a massive difference in your overall kayaking experience – not to mention will save you from many aches and pains.
Dry Bag – If you don't have a dry bag then you won't be able to bring anything along with you on your kayaking trip. Dry bags come in all shapes and sizes and can cost very little. As most of my kayaking trips are one day recreational types of adventures I mostly use my dry bag for food, extra clothing, my camera, my cell phone, my repair kit and my car keys.
Foot Pump – Obviously if you have an inflatable kayak you will need to be able to pump it up. Which type of pump you use will be personal preference but I definitely prefer the foot pump. It is easy to use, weighs next to nothing and takes a lot less effort than a hand pump. Electric pumps can be good too, but even if you use one you will want a foot pump to top it off.
PFD – A lifejacket is essential for kayak safety and all water safety. I actually very much dislike wearing my lifejacket on hot sunny days while kayaking on a calm lake. However you cannot deny that ultimately anything could happen, including tipping your kayak and bumping your head, so it is very necessary to always wear one.
Repair Kit – If you have an inflatable kayak, it would have come with its own repair kit. Keep it with you in your dry bag at all times as you never know when you might need it.
Rope – I don't always bring rope with me, but it can be an important safety accessory. It is very easy to keep rope stored in your kayak so you might want to add it to your kayaking checklist before you go out for the day. If you are doing an overnight trip I would definitely recommend bringing rope with you.
Whistle – Store a whistle in your repair kit or you can attach it to your PFD. This is a very easy little accessory to acquire and one that every kayaker should own. Do not go kayaking without a whistle, it could save you in a stressful situation.
Of course there are lots of other accessories you could bring with you, especially some other safety items but these are the main ones to be aware of. The most important thing to remember is that if you are prepared for anything then you can relax and enjoy your paddling experience.
Check out our list of the top kayaking online retailers for the best places to suit up.