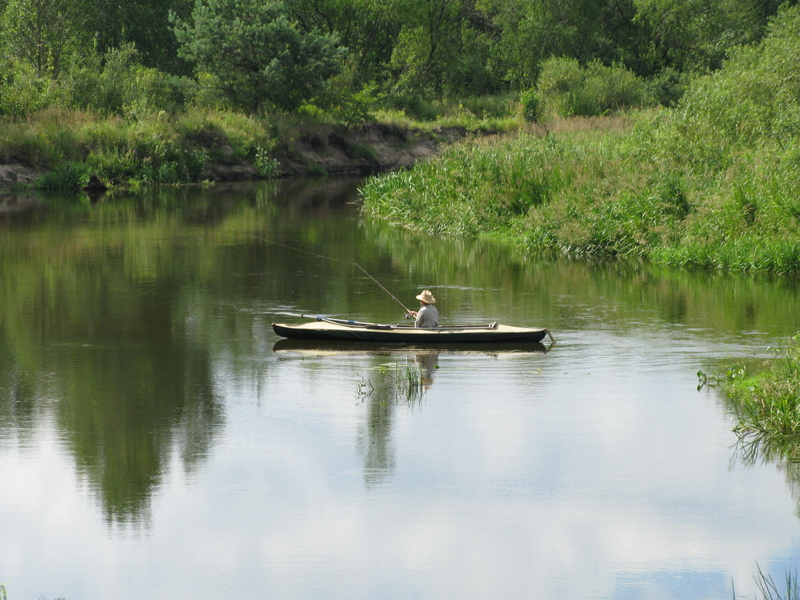 If you enjoy the sport of fishing you may want to consider using a kayak for your fishing expeditions. I will not pretend that I am a fishing expert… I don't fish so it is hard for me to give out fishing advice.
However I do have some very good friends who love to go fishing and often use a kayak on their outings. I have learned a few things from them on why they choose to use a fishing kayak and in some of their cases an inflatable fishing kayak.
Advantage # 1
A kayak is very quiet. There is no motor or loud noise. Even I know that fish get spooked by noise and paddling a kayak allows you to find the fish before they have a chance to disappear. Also it helps to create a very calm and serene atmosphere.
Advantage # 2
You will have more access. A kayak can get in and out of places that a motor boat may not have access to. To be able to get into remote areas on lakes, ponds or in the river seems to be a huge advantage.
Advantage # 3
The kayak is quicker. This seemed a bit unreal to me but I am told that when actually fishing the kayak can go much quicker than a trolling motor boat.
Advantage # 4
A kayak is hugely economical. If you ask any kayak fishermen / fisherwomen, they will tell you this is a huge benefit to fishing with a kayak. There is no gas to pay for, next to no upkeep, no storage fees, no repairs, no boat registration, no insurance, no oil, etc.. A kayak is basically a one time fee and with a little care will hardly ever cost you another cent. It is a very economical way to travel in the water and is a no brainer with cost comparison.
Advantage # 5
A kayak can cover great distance A kayak can go a very long way with very little effort. It paddles much more efficiently then a canoe and can tackle all sorts of situations like winds, waves and weather changes.
Advantage # 6
A kayak is totally convenient. A kayak can be easily stored away… especially if you have an inflatable kayak as they can be dried out, deflated and stored away in a closet. Also an inflatable kayak can be transferred to and from the water in the trunk of a car or even taken on an airplane. A hard-shell kayak can be tied up on roof racks within minutes, which is also much easier than transporting a motor boat. The kayak is the ultimate in convenience.
There are lots of kayaks that are very suitable for fishing as well as lots of fishing accessories that can always be added to the kayak.
If you are interested in paddling with an inflatable please check out our inflatable fishing kayak reviews.