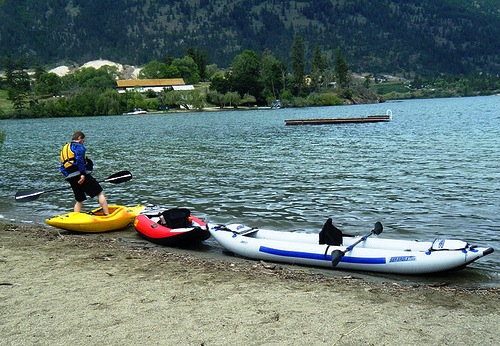 If you have kayaked before in a regular plastic or fiberglass kayak and are now considering purchasing an inflatable kayak you may be wondering how they measure up. If you have never kayaked before at all you might wonder what is the difference between the two.
There are some noticeable and real differences between an inflatable and a hard-shell kayak. I have spent a fair amount of time in both types and believe both have their advantages and disadvantages.
8 Main Differences
Besides the obvious fact that one is inflatable and needs to be pumped up and one is made of hard plastic, fiberglass or wood, these are the other main differences…
Width – The first difference you will likely notice is the difference in width. Inflatables tend to be much wider because of their pontoon-like sides. Although the width in inflatable kayaks can greatly vary as well, as a general rule they tend to be wider than a hard-shell.
Stability – The fact that inflatable's are wider means they are also more stable. Many of them are near impossible to tip and for this reason they are known to be great for beginners and for people of all ages.
However if you are into speed, don't worry there are some slicker models that are designed to paddle faster and farther while still retaining a good amount of stability.
Speed – Although as mentioned above there are inflatable models that are able to track well and pick up decent speed, as a general rule they are slower than a good hard-shell kayak. However this will depend on the model…
For example, there are some lower end hard-shells that are definitely not fast. However if you put a good inflatable kayak up against a narrow hard-shell that is designed for speed, the inflatable is very unlikely to win.
Feel – The feel of paddling an inflatable as opposed to a plastic or fiberglass kayak is different. It is hard to explain the difference except to say that you will need to adjust your paddle stroke slightly because of the extra width and feel of the kayak.
That being said it is easy to get used to and once you do you will likely forgot the difference altogether.
I find there is more space to manoeuver around in an inflatable… I don't feel as cramped in as I sometimes do in a closed-deck fiberglass kayak. This might be good for some and bad for others… all depends on your preference and the type of kayaking you will be doing.  You will also find that you do not sit as low in an inflatable kayak as you do in a plastic model.
Comfort – I personally have always found inflatable kayaks to be extremely comfortable, even more comfortable than a regular kayak. This is just my personal opinion and I think it has to do with having more room to move, more open space and in general more padding.
Open Decks – You may have noticed that many inflatables have totally open decks. This in itself gives a different feel while you paddle. There is more space to manoeuver your body, more versatility as you can often move seats around as well as easily bring your pets or kids along.
However with an open deck it is important to be aware that you are also more exposed to the elements. For this reason many of the open decked models are best suited for calmer water.
Rudders – With only a couple of exceptions very few inflatable kayaks have rudder systems. Many have excellent skegs that greatly help with the tracking but only a couple of models are designed to support a rudder with foot pedals to help with steering.
Most inflatables do not really need a rudder as many are not designed for open water ocean touring. There is no problem paddling an inflatable along an ocean shoreline and out in calmer water, across a lake or even in heavy whitewater.
However for extended open water ocean touring there are only a couple of models that will fit the bill.
Whereas with a good hard-shell sea kayak it will often come with a rudder system.
Travel, Transport & Storage – Two of the biggest reasons that people choose to paddle an inflatable kayak is because they are so easy to transport and so convenient for storing in a small space.
Unlike a fiberglass boat, an inflatable can be deflated and transported in the trunk of your vehicle, taken on an airplane or even brought along on a larger boat.
When you are done with it, the kayak can be deflated, stored in a carry bag and kept in a closet. There is no need for a large storage space or roof racks. They are known to be extremely convenient and suit a wide variety of lifestyles.
Both types can be extremely fun to paddle. Which you choose will depend on your needs and your lifestyle.
If you love to travel, want the convenience of easily transporting your kayak in the trunk of your car and don't want to deal with expensive roof racks, or having extra space for storage, then an inflatable is an ideal choice.
There is a large variety of different models to choose from with a wide range of performance levels and price points.
Check out our kayak comparison charts to find one that will suit your needs.