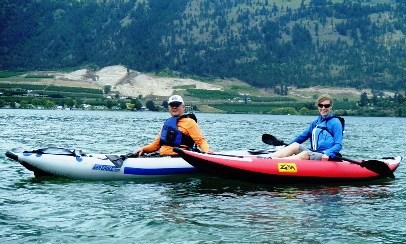 This past father's day my brother Robin and my Dad came up from Vancouver to stay with me for the weekend and Robin and I took my Dad on his first ever kayaking trip. He was a natural and it was a ton of fun.
I brought my Sea Eagle FastTrack with me and the Zoik AlterEgo since I was in the process of testing it out. My brother Robin teaches whitewater kayaking in Squamish, BC and brought up his hard-shell kayak.
We loaded the inflatable kayaks in the car with all the gear and attached the hard-shell to the roof and headed to Kalamalka Lake in Oyama, BC. The whole week before had been rainy so we were not sure how the weather was going to hold up. Luckily the rain stayed away and the sun even peaked out every now and then.
The lake was choppy and as usual a brilliant green blue colour. Kalamalka Lake is always a favourite kayaking destination for me as the water and the scenery are truly stunning.
We got the inflatable kayaks inflated, suited up and took to the water. Robin showed off with his Eskimo rolls… something I have yet to gain the courage to try. My Dad learned the proper kayak strokes and literally took off in the FastTrack while I trailed a little behind snapping a million pictures with my waterproof camera.
The nice thing about being out on the lake when the weather isn't so hot is that we had it all to ourselves. It was peaceful yet exhilarating and the hours passed by very fast.
After a few hours the wind picked up and the water got really choppy. Punching through the waves was a lot of fun and amazingly my Dad made his way back to shore like a pro.
The whole day was a great experience and I feel very blessed to have such a wonderful and adventurous family who all love the outdoors as much as I do! I hope all the other Dad's out there had a wonderful father's day.
View more of our kayaking pics on Flickr.