Over the past year I have received a LOT of questions from those looking for a good inflatable kayak that will comfortably fit a combination of two adults and two kids, or one adult and two or three kids, or two adults plus dog, etc. Essentially the question is "which is the best inflatable kayak for families?"
As kids get older it is great for them to have their own inflatable kayak to paddle alongside the adults but when they are young of course you will want them in the kayak with you. Any tandem inflatable kayak could work fine by sitting the children between the legs of the adults as long as they are quite small. However there are a few models that work best for families and will provide the most comfort.
What to Look for in a Family Inflatable Kayak
These are the key points to look for when deciding which inflatable kayak will work best for your family:
Length – the longer the better as this will offer more leg room for everyone
Width – stability is important with children in the kayak and more width does offer more stability
Weight Capacity – with several people plus possibly gear in the kayak it is important to have a kayak that is able to hold a good amount of weight
Price – inflatable kayak prices can greatly vary but there is usually an option that will fit everyone's needs
Which Inflatable Kayaks are Best for Families?
Taking all of the above points into consideration there are three inflatable kayaks that in my opinion will offer the best ride for families of all kinds. They are: (click on the model name to read our full review)


Sea Eagle 465 FastTrack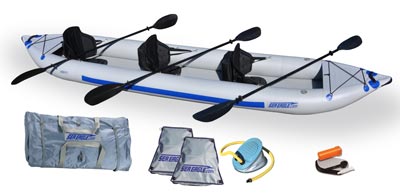 The 465 FT is brand new out for September 2010 and is finally an inflatable kayak that is completely suited for family use. It is almost fifteen feet long and three feet wide and comes with three seats. It can comfortably hold three adults and therefore can be arranged to hold two adults and two children or one adult and three children and so on. The seats are removable so they can be adjusted to suit your needs.
The best thing about the 465 FastTrack is that it only weighs 44 lbs. so it is still easily transportable and it can hold a large amount of weight… up to 796 lbs. It is best suited for open water such as lakes and ocean and was designed for good speed and good tracking. It does have the versatility of being able to handle whitewater with up to class III rapids as well. The pricing is decent and Sea Eagle includes a lot for your money including a three year warranty.


Sevylor XK17
The XK17 is no longer in production but it can still be found at a couple of online stores. It is not one of my favorite inflatable kayak models but it has been popular with families over the years. It is extremely long at 16' 7" so can easily hold a fair amount of people and has a weight capacity of 800 lbs.
It is very stable and has a width of 38" and is the cheaper option for a long inflatable kayak.  However the quality of the Sevylor XK17 does not compare to the other two listed here and although it will offer a good ride I would guess that it will not hold up as well as the others.


Aire Super Lynx

The Super Lynx is the best quality of the three models listed here. It is a fantastic inflatable kayak that comes with an awesome ten year warranty. It is not quite as long as the other two and has a length of 14'6" and a smaller width of 35". It weighs only 43 lbs. but be aware that the weight capacity is only 600 lbs… that is still quite a bit, just depends on your needs.
The Super Lynx is very popular as simply a great all around tandem inflatable kayak but also would suit families well. It is the most expensive of these three but of course the quality of this kayak warrants a higher price tag. The Aire Super Lynx is best suited for flatwater such as lakes and ocean but can handle some mild whitewater as well.
Choose an Open Inflatable Kayak
There are several longer inflatable kayaks to choose from but I think for families it is important to have an 'open concept' inflatable kayak as opposed to a closed cockpit as this makes for more room to maneuver and the possibility of fitting everyone in comfortably.
Kayaking as a family can be a fantastic experience for all involved. Hopefully the above information will help make the decision process a little easier for those looking for a good family inflatable kayak.