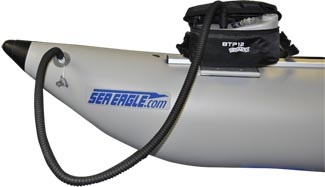 Sea Eagle has just come out with a new electric turbo pump that is able to pump up their inflatable boats and kayaks in a few short minutes flat.
There are a few things that I like about this electric pump that make it unique from other electric pumps on the market.
No Over-Inflation Worries
It allows you to set the exact pressure amount for your kayak or boat and when it reaches that set pressure it automatically stops.  It does this by pumping your boat in two stages.
At first it will quickly inflate it with a high pressure blower and once it gets near the pressure point it switches to a piston pump in order to finish off and fully pressurize the hull.
This means that you do not have to worry about over inflating your inflatable and possibly popping it.
With other electric pumps over-inflation is always a concern and it is recommended that if you use an electric pump to stop just before it is fully pumped up and then to top it off with a hand pump or a foot pump to finish.
However with the Sea Eagle electric turbo pump
this is no longer an issue and it is the only pump you will need.
Battery Pack Option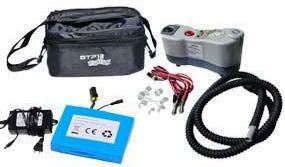 I love that this electric pump comes with the option of purchasing a portable battery pack and charger. That means that you can inflate your boat right at the waters edge where it is convenient and you do not have to hook it up to an external power source such as your vehicle.
The battery pack costs extra but I think it is completely worth it as it gives you the versatility and convenience of being able to pump it up absolutely anywhere.
Sea Eagle states that with a full battery charge you can easily inflate their largest boat several times over.
Specifics
Easy Configuration – set your pressure and press ON.
Stops Automatically – the pump stops when it reaches the set pressure amount
Very Fast – this electric pump will inflate a Sea Eagle 12.6 boat in less than 5 minutes and inflates a kayak in even less time
Two Stages – quickly inflates with a high capacity blower and then switches to a piston pump to pressurize the hull
Optional Battery Pack – portable lead battery and battery charger, no need for external power source
Accessories Included – includes alligator clips, hose, adaptors, and carry bag
Power Supply – 12V DC
Maximum Pressure – 14.5 PSI/1 Bar
Weight – 4 lbs.
Dimensions – 12" x 4" x 6"
Warranty – covered by their two part guarantee (30 day return policy for a full refund excluding shipping and 3 year warranty against manufacturer's defects)
Price – available with alligator clips for $149 for use with an external 12 volt battery, or with the battery pack for $199
For an inflatable boat this is the best electric pump I have yet to see on the market. It is not cheap but it is the most convenient, versatile and safe option I have seen so I think well worth the money if you want an electric pump.
The option of the battery pack, the good warranty, the two stage inflation process and the fact that you don't have to worry about over-inflating your boat makes it worth every penny.
Over the years I have pretty much stuck to using my standard foot pump for inflating my kayaks.  Switching to this electric pump makes me feel a little spoiled but it sure makes the job a whole lot easier.
Click Here For Current Prices On the BTP Electric Turbo Pump From SeaEagle.com
.