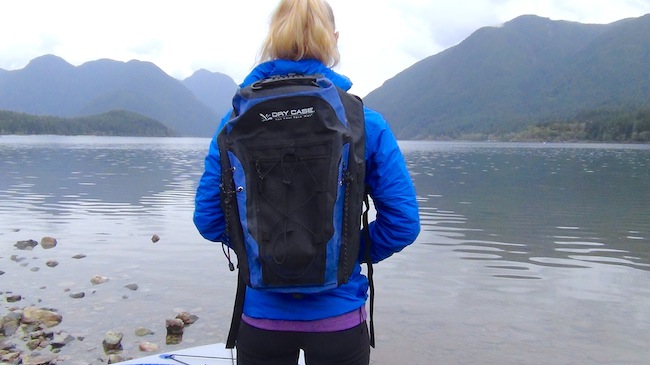 I bought this waterproof backpack specifically for kayaking and I have also used it occasionally while stand-up paddling.
I wanted a bag that would keep my lunch, camera and extra gear dry and also be functional to use outside of the kayak.
Sometimes I like to paddle to a hiking destination. The DryCase waterproof backpack works as my dry bag while paddling then as my backpack while hiking. It is super functional and convenient.
It is also awesome while kayaking or hiking in the rain.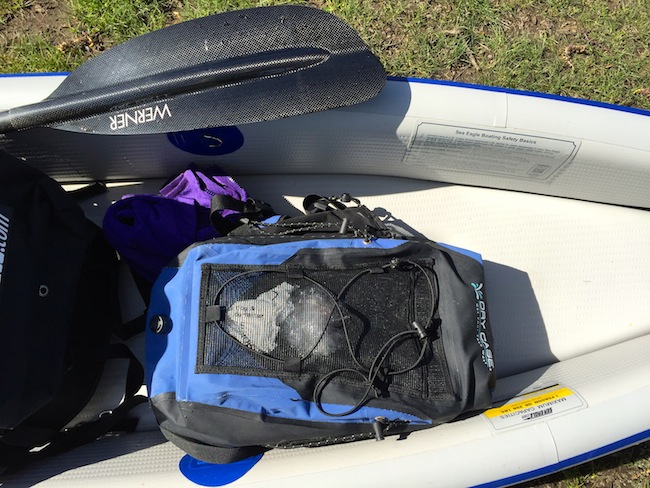 Dry Case Backpack Features
There are several features to be aware of with this bag.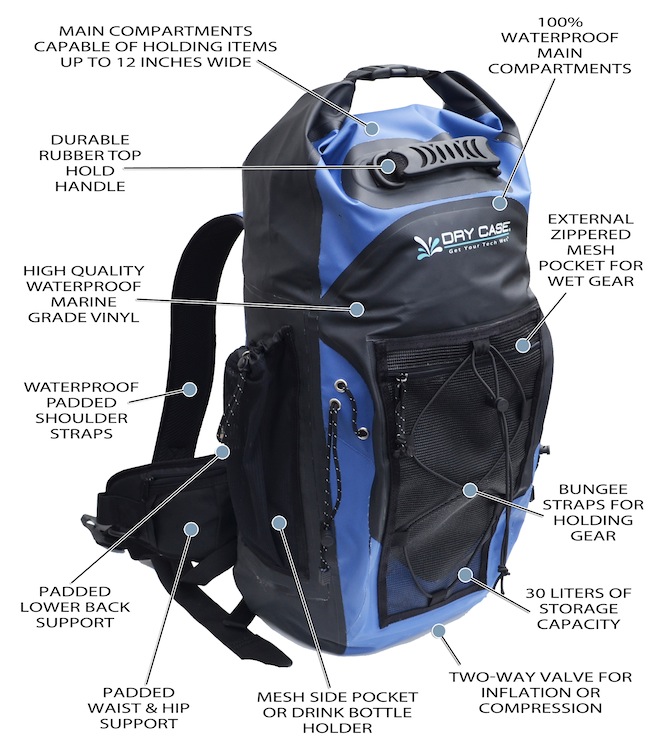 Waterproof – The most important feature is of course the fact that the main compartment is 100% waterproof.
The main compartment provides 30 Liters of storage space and is made of high quality marine grade waterproof vinyl.
The material is strong. I have used this bag a LOT over the past year and it has held up very well. No rips or tears and no leaks.
I have used this bag in the rain and also had it soaked with splashes from ocean waves and had no issues.
The shoulder straps are also waterproof keeping your shoulders and back dry while carrying this bag.
Drink Holder – There is a mesh drink holder compartment on the right side of the bag.
I noticed when searching for a waterproof backpack that many of them do not have side drink holders.
This was important to me and I am very glad this pack has at least one.
Removable Wallet Compartment – Inside the pack is a removable wallet compartment.
I have never used it myself but it's handy to have.
Rubber Top Hold Handle – The top rubber handle is durable and strong.
Front Bungee Straps – The front bungee straps on the outside of the external front pocket have proven to be very functional.
I have used to them to secure a light jacket while hiking and also to secure a towel.
They can be used for securing any items or gear where you need easy access or items that don't fit in the bag.
2 Way Purge Valve – The 2-way purge valve makes it easy to compress the bag into a small package.
It allows you to let air in or out.
Outer Storage Pocket – There is an external zippered mesh pocket on the front of the bag where you can store wet items that don't matter if they get wet.
It is also handy for storing items that may already be wet.  The zipper on this pocket is water resistant.
Internal Zippered Pocket – The internal zippered pocket is fairly large and great for separating certain items.
Roll Top – The top of this bag closes very much like a regular dry bag.  You roll the top down two or three times then secure the clip.
It works well and if secured properly you can expect your essentials to stay dry.
DryCase Size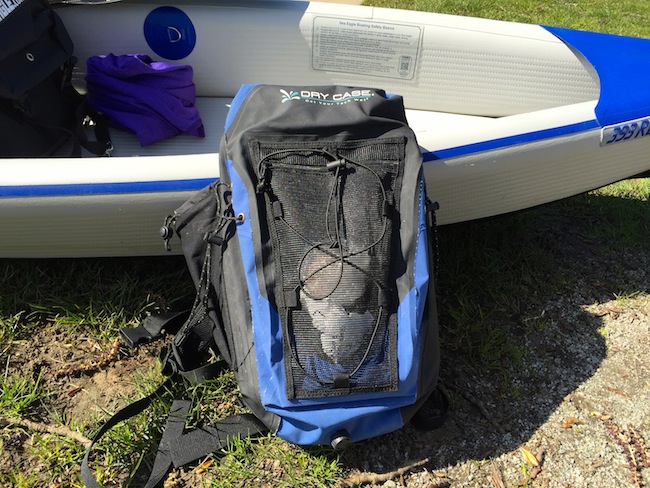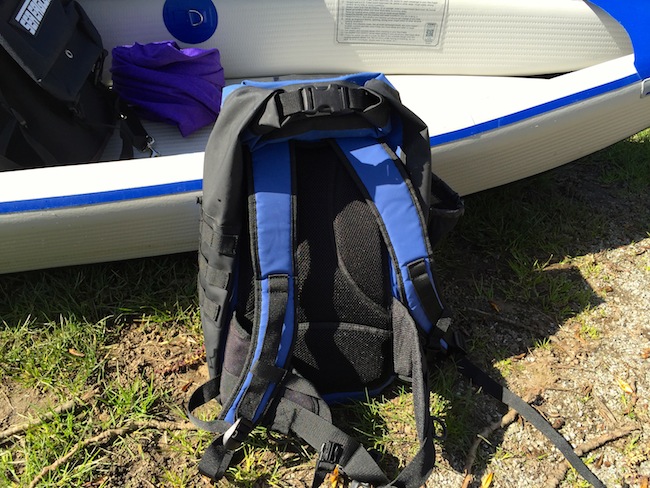 This bag has 30 liters of storage space. The inside main compartment is capable of holding items up to 12 inches wide.
There are larger and smaller waterproof backpacks available if you are looking for a different size.
I like the size of this one personally. It is basically the size of a good day pack.
For day trips kayaking, stand-up paddling, boating or hiking in wet weather, it will hold everything you need.
The actual dimensions of the bag are 28"L x 15"W x 19"H. It weighs 2.4 lbs.
*Note:  Amazon says this bag has 35 Liters of storage space.  It is actually only 30 Liters.
DryCase Comfort
I can't say I really expected a waterproof backpack to be exceptionally comfortable but with this one I was pleasantly surprised.
The shoulder straps are padded and adjustable. The waist & hip support strap is also padded and adjustable. The chest strap adds extra support and makes the bag feel snug and comfortable while wearing on your back.
I have hiked extensively with this pack and truly had no trouble with it and felt comfortable.
The waterproof material is not breathable. So if it is hot out, you will most definitely end up with a sweaty back.
However all things considered it works great and keeps everything inside dry.
Final Thoughts
This bag is very functional for any wet activity.  It looks stylish and more like a backpack than a dry bag.
It offers good protection and has proven to be quite durable.  For the price I would say it is a great buy.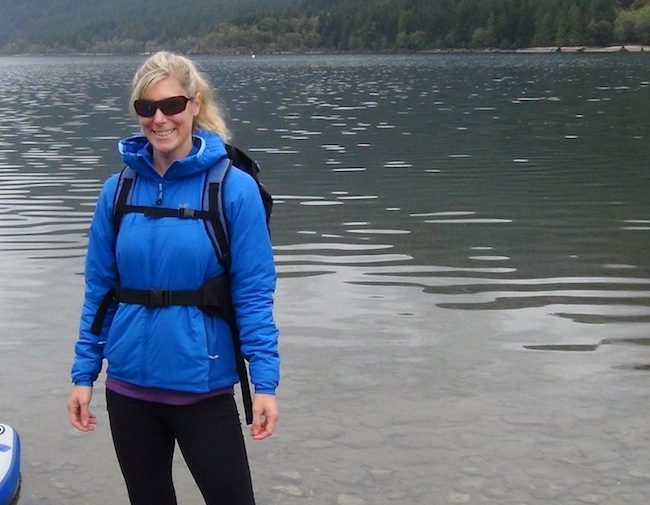 Where To Buy The Dry Case Waterproof Backpack
The best price we have seen is at Amazon.com especially with the free shipping option.
Click here for the best deal on the Dry Case Waterproof Backpack at Amazon.com.
Did You Know?
By clicking on the above seller links you can help keep InflatableKayakWorld.com growing. When you make a purchase after clicking on our links, the retailer will contribute a portion of the sale to help support this site. It won't cost you anything extra and it's a simple way to help us fund our kayak and gear reviews. Thanks!