This is a question that gets asked often. If you love to kayak and you have a dog, it is natural to want to bring your dog kayaking with you.
Can an inflatable kayak handle the claws of a dog?
The answer is YES. Most inflatable kayaks are built tough… really tough. They are more than able to handle dogs paws and claws.
I would recommend putting down some sort of blanket or pad that your dog is used to already in order for him to be more comfortable in the kayak. However even without, you do not have to worry about the dog puncturing the inflatable material.
There are certain inflatable kayak manufacturers that I would recommend over others for dogs. These are: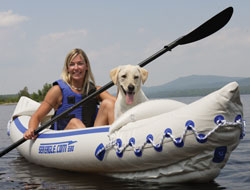 In the inflatable kayak world, the above listed companies offer the highest quality inflatable boats. They all come with warranties and are backed by solid reputations. There is quite a range of models and prices so it will not be hard to find one that suits your budget as well as your needs.
If you do plan on taking your dog kayaking with you there are certain guidelines that are wise to follow.
Never leash your dog to the kayak. This poses a serious safety risk for your dog should the kayak tip or should the dog try to jump out. This is an extremely important thing to remember as it could cause your dog to drown.

Always have your dog wear a lifejacket. A doggy pfd is essential for your dogs safety. Even if your dog is a good swimmer, a pfd will help if your dog gets tired or if the boat capsizes.

Bring the essentials… meaning water for your dog, treats and safety equipment.

Have patience when practicing training your dog to get into your inflatable kayak and to stay seated while you kayak. This may take a little time to master, so have patience with your furry friend.
For much more information and tips on taking your dog kayaking please read our post Kayaking with your Dog.